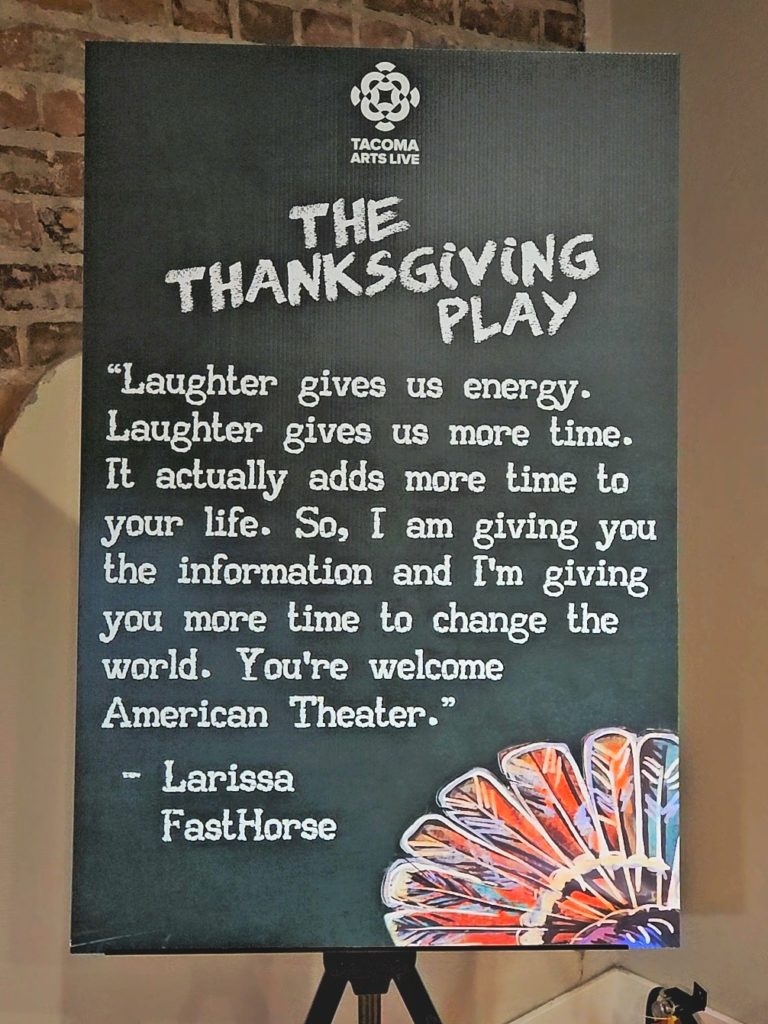 Elevator Thoughts (aka Tweet): Larissa Fasthorse's The Thanksgiving Play by Tacoma Arts Live. Funny portrayal of Americans navigating the minefield of PC culture, wokeness, & white guilt. Loved the juxtaposition between Valerie Miller's vapid character & the enlightened liberals.
Recommendation
See it if either 1) you like commentaries on woke PC culture especially in regard to Native Americans 2) or you're okay with plays that are more dialogue than action

Synopsis from the Theatre: MacArthur Genius Larissa FastHorse's shocking satire flips the bird on one of America's most prolific myths. When a troupe of well-meaning theater artists attempt to put on a culturally sensitive Thanksgiving school pageant, things get messy. Hilarious and poignant, this delicious play skewers everything right, wrong, and politically correct in America by exploring themes of privilege, historical accuracy of navigating these complexities. The Thanksgiving Play made its Broadway debut at the Hayes Theater in 2023, making Larissa FastHorse the first female Native American playwright to have a play produced on Broadway. FastHorse wrote the play in response to the difficulties she faced in finding Native American actors for her previous works. Through satire and humor, the play addresses the misrepresentation of Native Americans, the lack of indigenous casting, and the challenges of accurately representing indigenous people in American society.
Attended Performance Date: 10/21/23 – See my previous preview posts here.
Type: Play
World Premiere: No
Several or Few Scenes: Few
Several or Few Settings/Locations: Just one location, a rehearsal space in an elementary school
Static (Stationary) Set: Yes
Prior Exposure/Knowledge Required: No, but it helps if you grew up learning about the traditional Thanksgiving stories involving Native Americans.
Defined Plot/Storyline: Not really. There's only so much that can occur with few scenes/locations and mostly dialogue.
Equity Actors: 0
Total Number of Actors: 4
Perceived Pace of the Show: Medium Speed
Length (Including Any Intermission): 1.5 hours
Was there an intermission? No
Was This the First Time I Attended a Production of this Show? Yes
Would I See It Again 3 Years from Now?: No, but it wasn't terrible
Other Rave(s) Not Mentioned in Elevator Thoughts
Alica: I loved Valerie Miller's character Alicia, a ditsy vapid actor/influencer LA valley girl. She reminded me of Kim Kardashian, Elle Woods (from the movie Legally Blonde), or Quinn/Brittany (from the TV show Daria). Her personality hilariously contrasted with the woke intellectuals Logan (played by Andrea Gordon) and Jaxton (played by Rodman Bolek). It was like putting a stereotypical superficial Los Angeleno and a deep Pacific Northwesterner in the same room. Alicia's scene describing her lobotomized contentment and simplicity was reminiscent of when Chris Traeger took Ron Swanson meditating in the Parks and Recreation TV show. Alicia teaching Logan reminded me of Elle Woods teaching the "Bend and Snap" in the Legally Blonde movie.
Favorite Line:
"Dramaturg? The holy grail of American theater titles."
"What is that?"
"No one knows"
Theatre Company: Tacoma Arts Live's Theatre Northwest
Venue: Tacoma Armory
Venue Physical Address: 1001 S Yakima Ave, Tacoma, WA 98405
Price: Cheap to Medium
Tickets: https://www.tacomaartslive.org/events/the-thanksgiving-play/
Dates: October 12 to November 5, 2023
Seating: General Admission
Parking: Plentiful free street parking
Like/Comment/Share my Social Media Posts About this Performance:
Instagram | TikTok | Twitter | Facebook | YouTube | Threads
Buy a Ticket or Learn More:
Other Video +/- Pictures: See my TikTok reel below
Cast and Production Team: See after pictures and/or video below
| | |
| --- | --- |
| Name | Role |
| Andrea Gordon | Logan |
| Rodman Bolek | Jaxton |
| Valerie Miller | Alicia |
| Mikel Michener | Caden |
| — | — |
| Joshua Knudson | Director & Chief Advancement Officer |
| Kay Meier | Stage Manager |
| Lilian Oellerich | Production Manager |
| Monique Otter-Johnson | Co-Production Manager |
| Eric Clausell | DEIA Liaison |
| Maria-Tania Bandes B. Weingarden | Dramaturg & Intimacy Choreographer |
| Andre Bouchard | Cultural Consultant |
| Jeannie Beirne | Set Designer |
| Brett Carr | Lighting Designer |
| Don Littrell | Sound Designer |
| Mary Kelsay | Costume Designer |
| Kelly Zeiler Lynch | Props Designer |
| Monique Otter-Johnson & Lilian Oellerich | Set Dressers |
| David Fischer | Chief Executive Officer & Co-Producer |
| Brett Carr | Co-Producer |
| Katie Lappier | Chief Programs Officer |