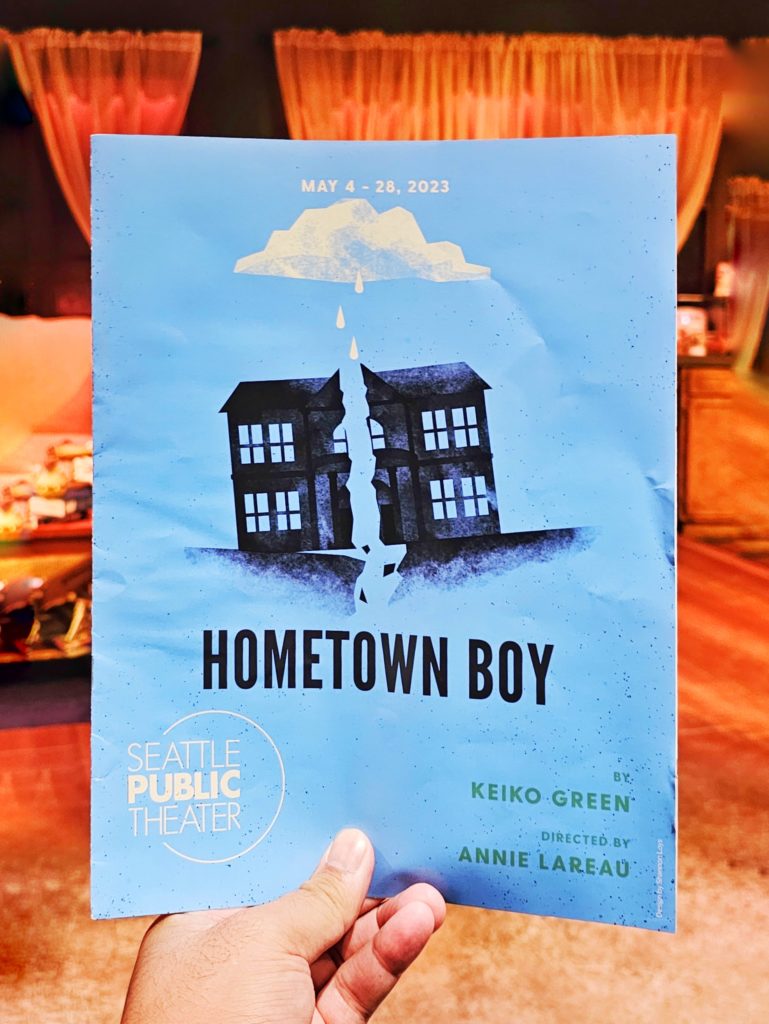 Elevator Thoughts (aka Tweet): Hometown Boy play by Keiko Green at Seattle Public Theater. A city boy visits his rural hometown and opens old wounds. Good acting and outburst scenes. Is it better to rectify past wrongs or just go on with your life?
Synopsis from the Theatre: James hasn't been back to his rural Georgia hometown in over a decade, but reluctantly returns to check in on his father, whose behavior has become worryingly erratic. And since the South has a way of holding onto secrets, he soon stumbles into a life he thought he had left behind as a child. That stench in the air isn't just his father's decaying house, but the rotten core of long-buried secrets teeming just under the surface and ready to explode.
Reviewed Performance: 5/6/23 Opening Weekend
Type: Play
World Premiere: No, this is the play's second production
Several or Few Scenes: Several
Several or Few Settings/Locations: Only around 3 locations
Prior Exposure/Knowledge Required: None
Defined Plot/Storyline: There was a storyline, but it wasn't particularly extensive. Instead, the play was filled with dialogue and reminiscing.
Recommendation: See it if you like plays that are more dialogue than action
Was This the First Time I Attended a Production of this Show: Yes
Would I See It Again 3 Years from Now: Probably not but it was good
Rating Compared to Other Shows with the Same Production Value:
4.5 stars (Out of 5 Stars)
Equity Actors: 1
Total Number of Actors: 6
Length (Including Any Intermission): 2 hours
Intermission: Yes
Other Rave(s) Not Mentioned in Elevator Thoughts
Multitasking Dialogue: There were two scenes that reminded me of TikTok/Reel "sludge content" … in a good way! In one scene, bartender Collin (Tim Gouran) mixed a drink while reciting his lines. And in the other scene, Sam (Jennifer Ewing) decorated a cake also while reciting her lines. Just like "sludge content," these bits were mesmerizing and strangely beneficial for my attention span. They were reminiscent of ACT Theatre's production of Skylight when one of the characters sauteed onions/garlic and cooked Italian dish while reciting their lines.
Other Musing(s) and Observation(s)
First Act Ending (No Spoiler): The first act ended at a weird point in the story. It would have been better to end it at a cliffhanger when they revealed the unexpected twist at the beginning of the second act.
Motivations: It wasn't clear why the main character's dad stayed in the boondocks many years ago. Let me know your thoughts in the comments of my social media links below!
Theatre Company: Seattle Public Theater
Venue: Seattle Public Theatre (aka Bathhouse Theatre)
Venue Physical Address: 7312 West Green Lake Dr N, Seattle, WA 98103
Price: Cheap
Ticket Affordability Options: You can self-select ticket prices as low as $5 on the ticketing website if you find the higher options a financial barrier to enjoying great theatre. There is also no seat placement difference between ticket prices.
Dates: May 4 – 28, 2023
Seating: Assigned Seating
Parking: Free plentiful parking lot of Greenlake Park, which is adjacent to the theatre.
Like/Comment/Share my Social Media Posts About this Performance:
Instagram | TikTok | Twitter | Facebook | YouTube
Buy a Ticket or Learn More:
Other Video +/- Pictures: See pictures in video and under video by John Ulman Photography
@showsiveseen "Hometown Boy" #play by Keiko Green directed by @annielareau1 at @seattlepublictheater. A city boy visits his rural Southern hometown & opens old wounds. Good acting & outburst scenes. Is it better to rectify past wrongs or just go on w/ your life? Photos by John Ulman. Review: showsiveseen.com/5285 #theatre ♬ HURT SO BAD – RØNIN