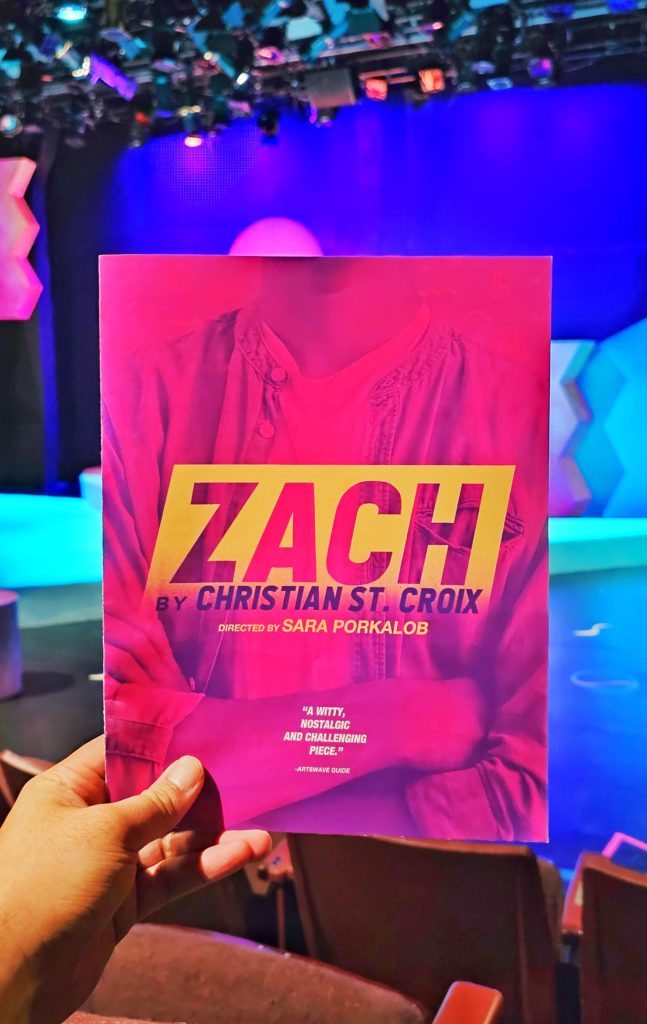 Elevator Thoughts (aka Tweet): Zach play by Christian St. Croix at ArtsWest directed by Sara Porkalob starring Amber Walker and Michael Nevárez. Reminiscent of Saved by the Bell and Funny or Die's Zach Morris is Trash series through the eyes of minority sidekicks. Complete with a 90s sitcom laugh track!
Synopsis from the Theatre: A satirical comedy that lovingly skewers the popular tropes of the 90s teen sitcom, Zach introduces us to the lives and loves of Gina and P.J., a Black girl and a Latino boy at an affluent, majority-white Southern California high school. P.J., a lovesick surfer boy, and Gina, a budding fashionista, are overjoyed when they're invited into the inner circle of Zach, the white, charismatic, prank-happy new kid at school. But when Zach plans a new prank that goes too far, P.J. and Gina must race to stop him before it's too late – and along the way, learn to see their peers, and themselves, with fresh eyes.
Reviewed Performance: 5/5/23 Opening Weekend
Type: Play
World Premiere: Yes
Several or Few Scenes: Several
Several or Few Settings: Several
Prior Exposure/Knowledge Required: You'll probably appreciate this piece more if you watched 90s teen sitcoms as a kid
Defined Plot/Storyline: Yes
Recommendation: See it especially if 1) you watched 90s teen sitcoms like Saved by the Bell 2) or you like discussing/exploring/dissecting/exposing straight white male privilege.
Was This the First Time I Attended a Production of this Show: Yes
Would I See It Again 3 Years from Now: Probably not but it was pretty good
Rating Compared to Other Shows with the Same Production Value:
4.5 stars (Out of 5 Stars)
Equity Actors: 0
Total Number of Actors: 2
Length (Including Any Intermission): 75 minutes
Intermission: No
Other Rave(s) Not Mentioned in Elevator Thoughts
Sitcom Theme: It was novel to see a play portrayed as a sitcom. I've never seen any play with this theme. It was like Saved by the Bell, Boy Meets World, Blossom, Clueless, Sabrina the Teenage Witch, or any one of the Disney formula sitcoms on-stage. There was even a laugh track and an opening scene similar to sitcom opening credits. The opening scene would have been perfect if it began with a projection of the TV show name "Zach" on the wall followed by character names while each character posed for the camera. Think of the Full House opening credits.
Cast Doubling/Size: Usually, I'm hesitant seeing a show that only contains two actors. But since I saw Sara Porkalob (who was amazing in her one-person self-written show Dragon Lady) was the director, I knew I should give this play a chance. It's surprising how many 90s sitcom character tropes Amber Walker and Michael Nevárez played. I loved how their racial background contrasted with their portrayal of Zach (inspired by Saved by the Bell's Zach Morris) poignantly revealed how problematic he was as a privileged white straight male who didn't experience consequences. It's so interesting how 90s sitcoms subconsciously indoctrinated this bias in American kids.
Other Musing(s) and Observation(s)
Ending (No Spoiler): I'm proud to have predicted the twist resolution at the end of the play. It was definitely a cliche oopsie that we see often in high school-themed shows and movies.
Mark-Paul Gosselaar: I recently learned a fun fact on TikTok that Mark-Paul Gosselaar (who played Zach Morris in Saved by the Bell) is half-Asian and his blond hair was dyed in the TV show. It's funny that this play exposes Zach Morris's white privilege but the original actor wasn't even fully Caucasian!
Theatre Company: ArtsWest
Venue: ArtsWest
Venue Physical Address: 4711 California Ave SW, Seattle, WA 98116
Price: Cheap
Ticket Affordability Options: You can self-identify as needing the inclusion rate when purchasing a ticket online.
Dates: May 3 – 28, 2023
Seating: Assigned Seating
Parking: There are paid lots and free street parking. I usually park on 44th or 45th Ave behind the theatre.
Like/Comment/Share my Social Media Posts About this Performance:
Instagram | TikTok | Twitter | Facebook | YouTube
Buy a Ticket or Learn More:
Other Video +/- Pictures: See my video below and pictures below video
@showsiveseen "Zach" #play by Christian St. Croix at #ArtsWest directed by @Sara P. starring Amber Walker & Michael Nevárez. Reminiscent of "Saved By the Bell" & @Funny Or Die "Zach Morris is Trash" series through the eyes of minority sidekicks. Complete with a 90s #sitcom laugh track! Review: showsiveseen.com/5227 #theatre ♬ Pronoia – Carly Pearl