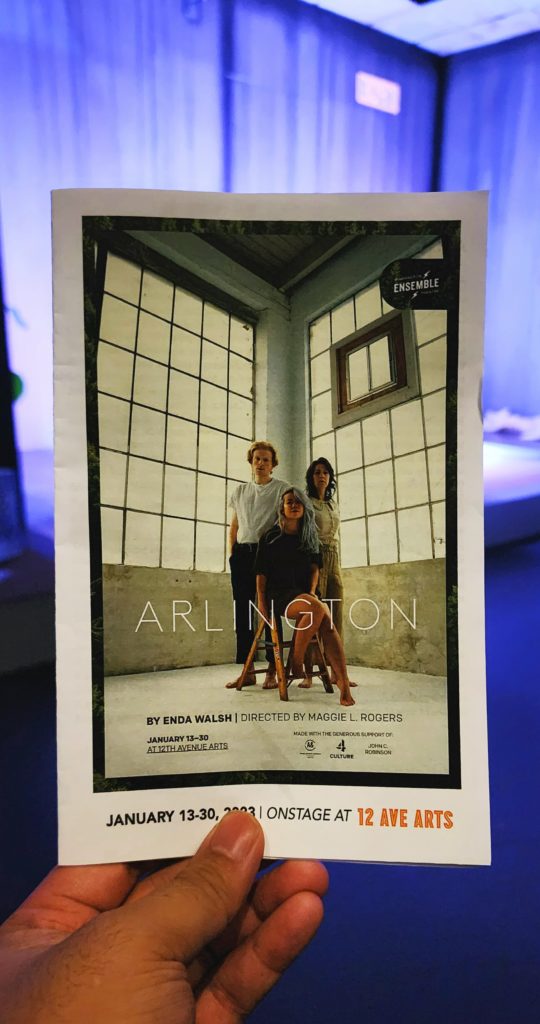 Elevator Thoughts (aka Tweet): Arlington play w/ Washington Ensemble Theatre at 12th Avenue Arts. Experimental-like & abstract. Intriguing scenic/lighting design. Dystopian postapocalyptic Orwellian feel in an asylum-like prison. Peer into the disturbed mind! #theatre
Synopsis from the Theatre: Isla waits for her number to be called. A young woman finally understands her fate. And a young man faces a stark decision. In a cacophony of poetry, art, + dance, Enda Walsh's Arlington tells an unsuspecting love story amidst a bleak Orwellian dystopia.
Reviewed Performance: 1/14/23 on opening weekend – Sorry for the late review! I was busy because my dad is in town.
Type: Play
World Premiere: No
Awards: None
Defined Plot/Storyline: No, this is more abstract, open-ended, & mysterious. Lots of dialogue and dance.
Recommendation: See it if you like weird, abstract, & experimental theatre that make you think and is open to interpretation
Was This the First Time I Saw a Production of this Show: Yes
Rating Compared to Other Shows with the Same Production Value:
4 Stars (Out of 5 Stars)
Equity Actors: None
Length: 1.5 hours
Intermission: No but there were technical difficulties that forced them to call an "intermission" and ask the audience to exit the theatre. I actually thought it was part of the performance since the play seemed experimental. Oh, the magic of live theatre!
Other Rave(s) Not Mentioned in Elevator Thoughts
Portrayals of Abused/Disturbed Minds: Great depiction of prisoners who are losing their minds in bleak isolation. They also sprinkled in some mild self-abuse and (reverse?) Stockholm Syndrome.
Bizarre Scenes: For some reason, I enjoyed the parts when Kiki Abba romanticized a homemade stuffed mannequin or when her captors fed her food from a slot near the floor like in an asylum.
Scenic and Lighting Design: Portrayed a mysterious dystopian aura that was enhanced by the intriguing steampunk factory-like lighting design/effects.
Dance Break: There was a major scene in the middle of the play dedicated to an abstract/experimental solo dance.
Rant(s)
Technical Difficulties: As mentioned previously, there were some technical issues in the middle of the show. While I typically don't ding performances for these unexpected events, it made me wonder what details I missed before they resolved the technical difficulties. For example, before the audience was asked to leave the theatre, I was thinking to myself that the surveillance room on the stage could use video footage on the screens and more lighting. When we arrived back in the theatre, there was video and more light in the surveillance room. What else did I miss due to the technical issues?
Other Thought(s)
Accents: While I appreciate the actors' effort to speak with UK accents, I doubt speaking with their actual American accents would have detracted any value from the play.
Theatre Company: Washington Ensamble Theatre
Venue: 12th Ave Arts
Venue Physical Address: 1620 12th Ave, Seattle, WA 98122
Price: Cheap
Dates: January 12 to January 30, 2023 – Get your tickets now since the opening night was sold out!
Seating: General Admission
Parking: Paid lot or paid street parking. Street parking is extremely limited since it's Capitol Hill. Your best luck would be East of Cal Anderson Park on 11th or 12th Ave. Cheapest paid lots are on 11th Ave across from the park. Sigh, "cheapest" was $16 dollars for me. :-/ I highly suggest parking far away or taking the bus.
Like/Comment/Share my Social Media Posts About this Performance:
Instagram | TikTok | Facebook | Twitter | YouTube
Buy a Ticket or Learn More:
Other Video +/- Pictures: See pictures in video and under video.
Cast and Production Team : See below pictures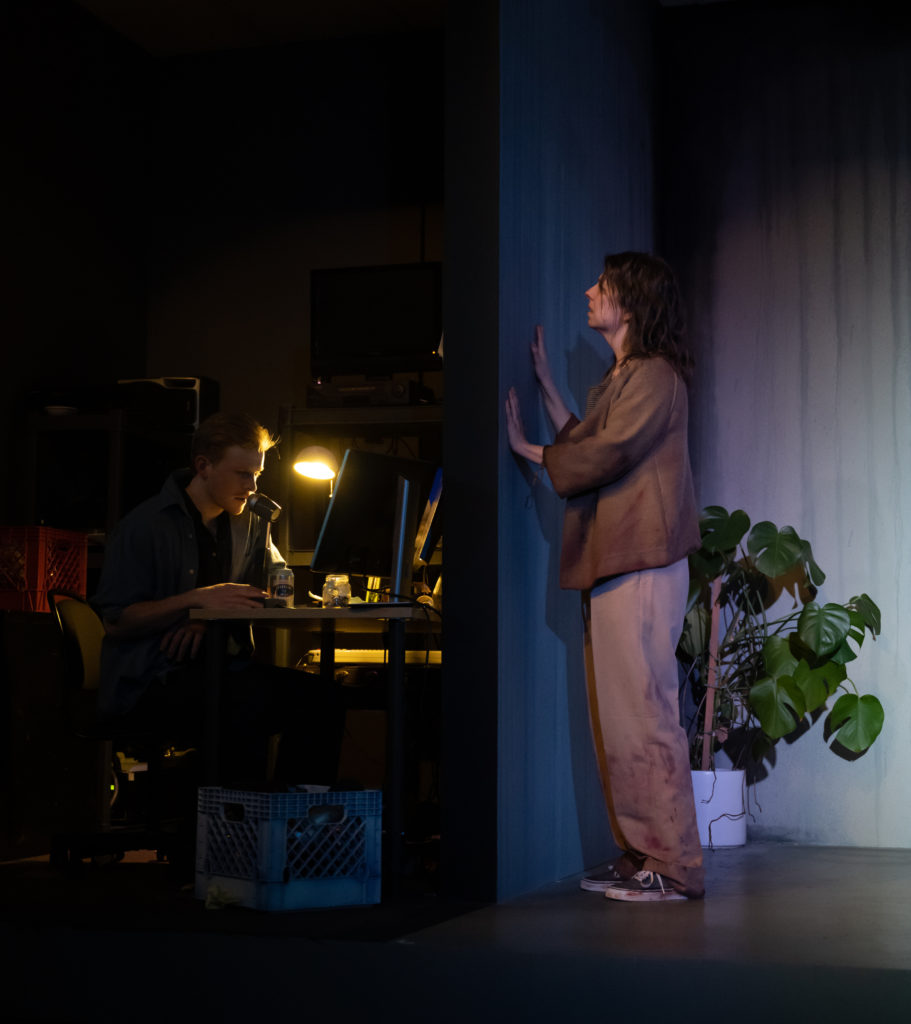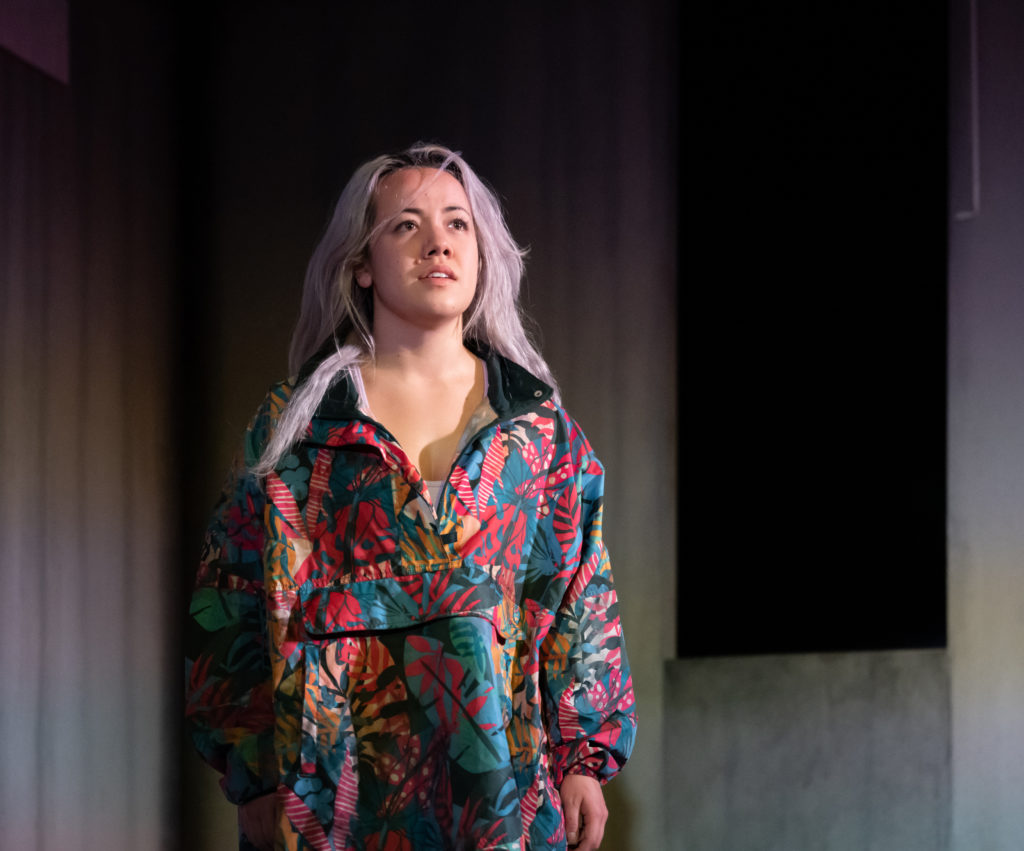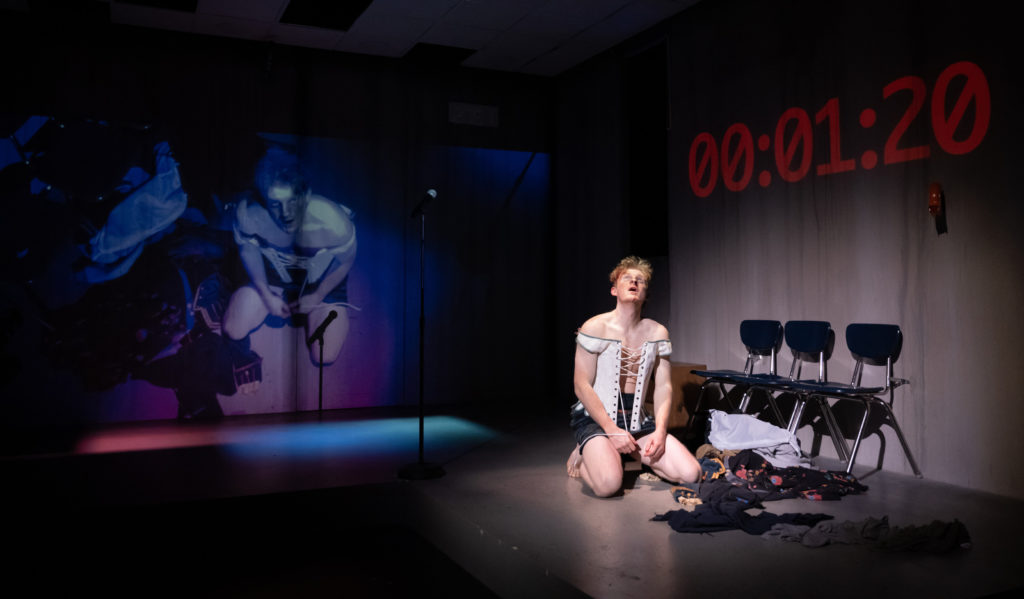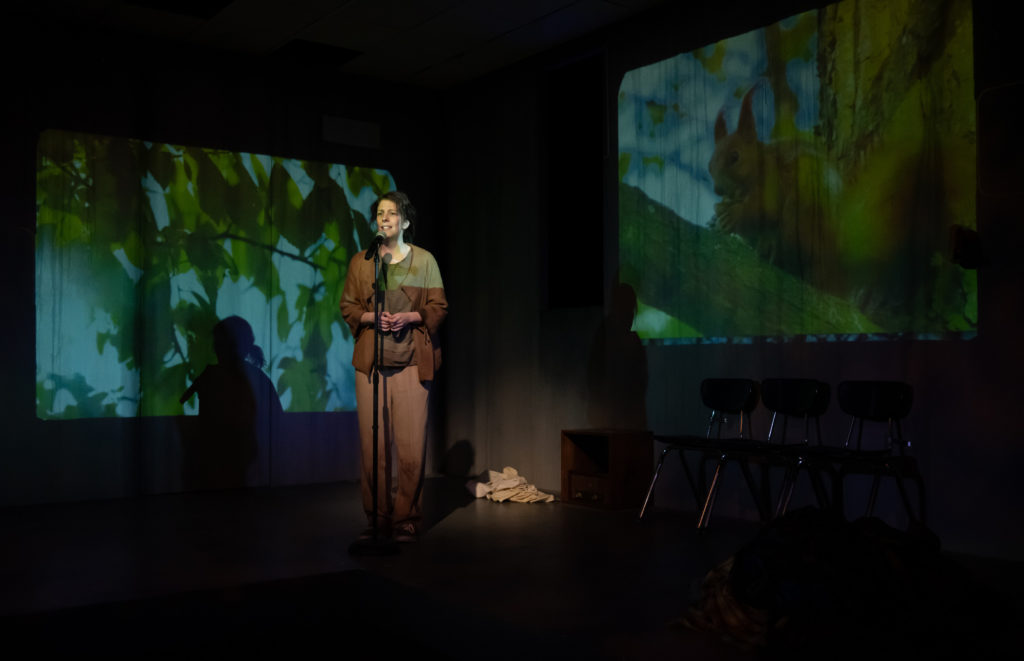 Name

Role

Kiki Abba
Isla
Ricky Spaulding
Young Man
Amber Tanaka
Young Woman
Corinne Park-Buffelen
Supervisor
Andreya Pro
Maureen
Van Lang Pham
Michael
Antony Leroy Fuller
The Usual Man
—
—
Elda Walsh
Playwright
Maggie L. Rogers
Director & Sound Design
Andy Walker
Assistant Director & Dramaturg
Symone Sanz
Choreographer
Kimberly Le
Stage Manager
Tristan Roberson
(Member of United Scenic Artist, IATSE local 829)
Scenic Director
Nabilah S. Ahmed
Projections Designer
Hannah Gibbs
Lighting Director
Saira Barbaric
Costume Designer
Castor Rosencrantz Kent
Sound Designer
Elliott Hartman
Properties Designer
Ryan Dunn
Associate Technical Director
Justin Duffiance
Shop Supervisor
Annie Duffiance
Resident Scenic Artist
Robert Mitchell
Master Electrician
Jeanette Sanches
Intimacy Coach
Kayla Walker
Dialect Coach
Monty Rozema
Assistant Stage Manager