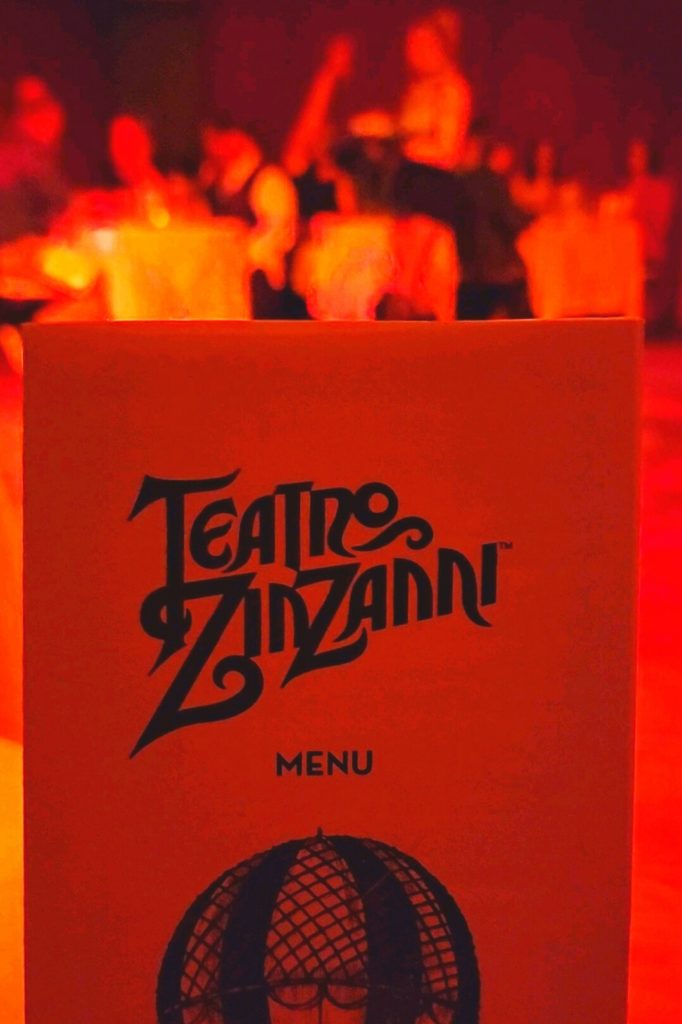 Elevator Thoughts (aka Tweet): Coming Home circus dinner show at Teatro ZinZanni. Comedy, romance, (good) chaos, camp, drag, effortless feats of wonder, singing, live band, & a delicious 4-course meal! Thanks Michelle Sanders Communications for facilitating this review! #cirque #cabaret #vaudeville #variety
Synopsis from the Theatre: Teatro ZinZanni's original brand of love, chaos, and dinner is making its long-awaited return to Seattle with a limited engagement run of the all-new show, Coming Home. When the world went dark more than two years ago, people everywhere were dispersing and lives turned upside. Today, as we rebuild and focus on our dreams going forward, we find that home is where our hearts reside — and Seattle is our home. So, join us in celebrating this return to home with an incredible cast of phenomenal talents in a limited engagement that will serve up the love, chaos, and dinner we've all been missing so very much.
Reviewed Performance: 1/15/23
Type: Circus Variety Dinner Show
World Premiere: Yes
Awards: Zero but that's expected for world premieres
Live Band/Orchestra: Yes
Recommendation: See it especially you like cirque-themed shows
Was This the First Time I Saw a Production of this Show: I've seen their last show Love, Chaos, & Dinner in Marymoor Park.
Would I See It Again 3 Years from Now: Yes
Rating Compared to Other Shows with the Same Production Value:
4.75 Stars (Out of 5 Stars)
Equity Actors: N/A – Not typically tracked in shows like this
Length: 3 hours
Intermission: The was an intermission-like break at the soup course and another at the main course. During each break, the cast members stayed in-character while conversing with the audience.
Other Rave(s) Not Mentioned in Elevator Thoughts
Audience Dress: It was surprising that most of the audience actually dressed up in Seattle … on school night (Sunday) nonetheless!
Drag: Speaking of dress, Doily's (Kevin Kent) drag costumes were so detailed and elaborate! My dad actually thought Doily was portrayed by a woman. He was surprised when Kevin spoke in his manly voice toward the second half of the performance. I loved the running gags Doily established at the beginning (her boobs and "El Tigre").
Rizo: The main singer reminded me of Lady Gaga in demenour, looks, and voice. Strangely, Rizo is also from New York like Lady Gaga
Dinner: A one-stop venue for both dinner and a show was convenient. I chose the vegetarian option with the following courses.

Appetizer – Wild mushroom-parmesan tart, crisp frizzled leaks, Madeira Gastrique, and chives
Soup – Pumpkin, coconut, and green chili sambal. I couldn't figure out the garnish. It looked like saffron, but saffron is too expensive to garnish.
Main Course – Wild rice risotto cake and seasonal vegetable ragout
Dessert – Chocolate orange mousse, hazelnut tuille cookie, and berries

Lighting Design: It goes without saying that a show like this has great lighting design. The stones or water droplets projected on the floor during an act was enchanting.
Impressive Feats: This dinner show included the following spectacular seemingly effortless acts by international performers. Many acts seemed death defying!

Hula Hoop – Sometimes 10 at a time! I was so worried a hoop would fly into the audience. But Vita Radionova didn't lose one.
Chair Balancing – Again, I was worried that the precariously stacked chairs would collapse on the audience. But Domitil Aillot kept the chairs upright.
Ariel Silk Acrobatics – Anna Nordmoe performed ariel contortions while playing the violin … often upside down. What a unique mashup of talent!
Basketball Juggling – This is something I typically don't see in cirque or variety shows. Again, I was worried that a ball would land in the audience. But Michael Evolution (Michael van Beek) had everything under control.
Trapeze Couple – Performed by Duo Madrona (Ben Wendel and Rachel Nehmer)
Chinese Pole – Also performed by Domitil Aillot
Ariel Hoop – Performed by Elena Gatilova
Other Thought(s)
Reused Characters/Tropes: I noticed a couple elements from their previous Love, Chaos, & Dinner show was incorporated into this production like the janitor, the yodeling dominatrix, and the caged audience member.
Audience Participation: It felt like they included more audience involvement compared to their last show. I was easy prey in the aisle but they thankfully didn't pick on me!
Theatre Company: Teatro ZinZanni
Venue: Sodo Park
Venue Physical Address: 3200 1st Ave S, Seattle, WA 98134
Price: Expensive … but at least it includes food!
Ticket Affordability Options: None that I could find
Dates: November 16, 2022 to March 12, 2023 – Extended by popular demand!
Seating: Assigned seating and general admission – call them if you want to sit with other people you know who purchased tickets separately
Parking: Free plentiful street parking
Like/Comment/Share my Social Media Posts About this Performance:
Instagram | TikTok | Facebook | Twitter | YouTube
Buy a Ticket or Learn More:
Other Video +/- Pictures: See pictures under video by Filling the Frame Photography.
Cast and Production Team : See below pictures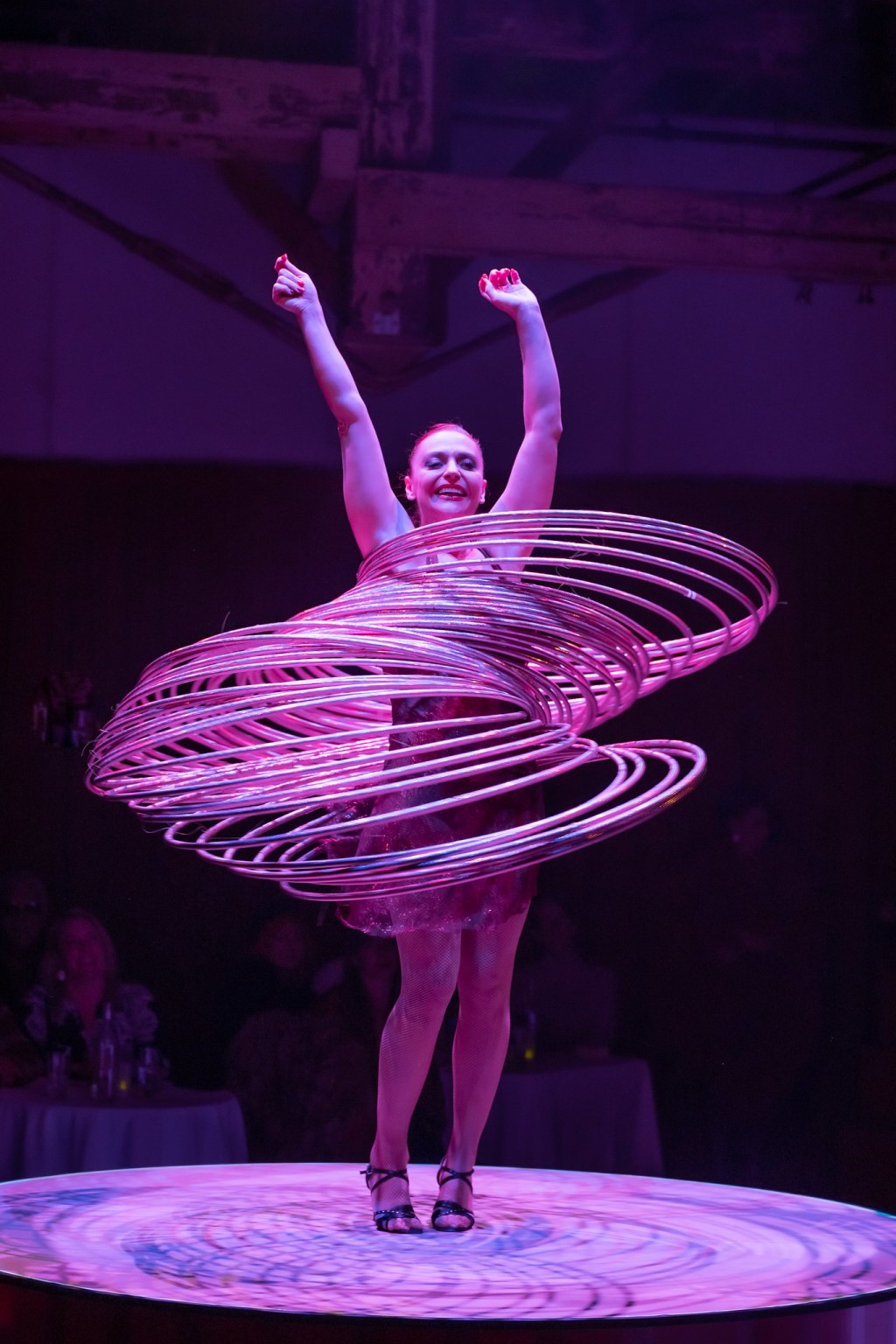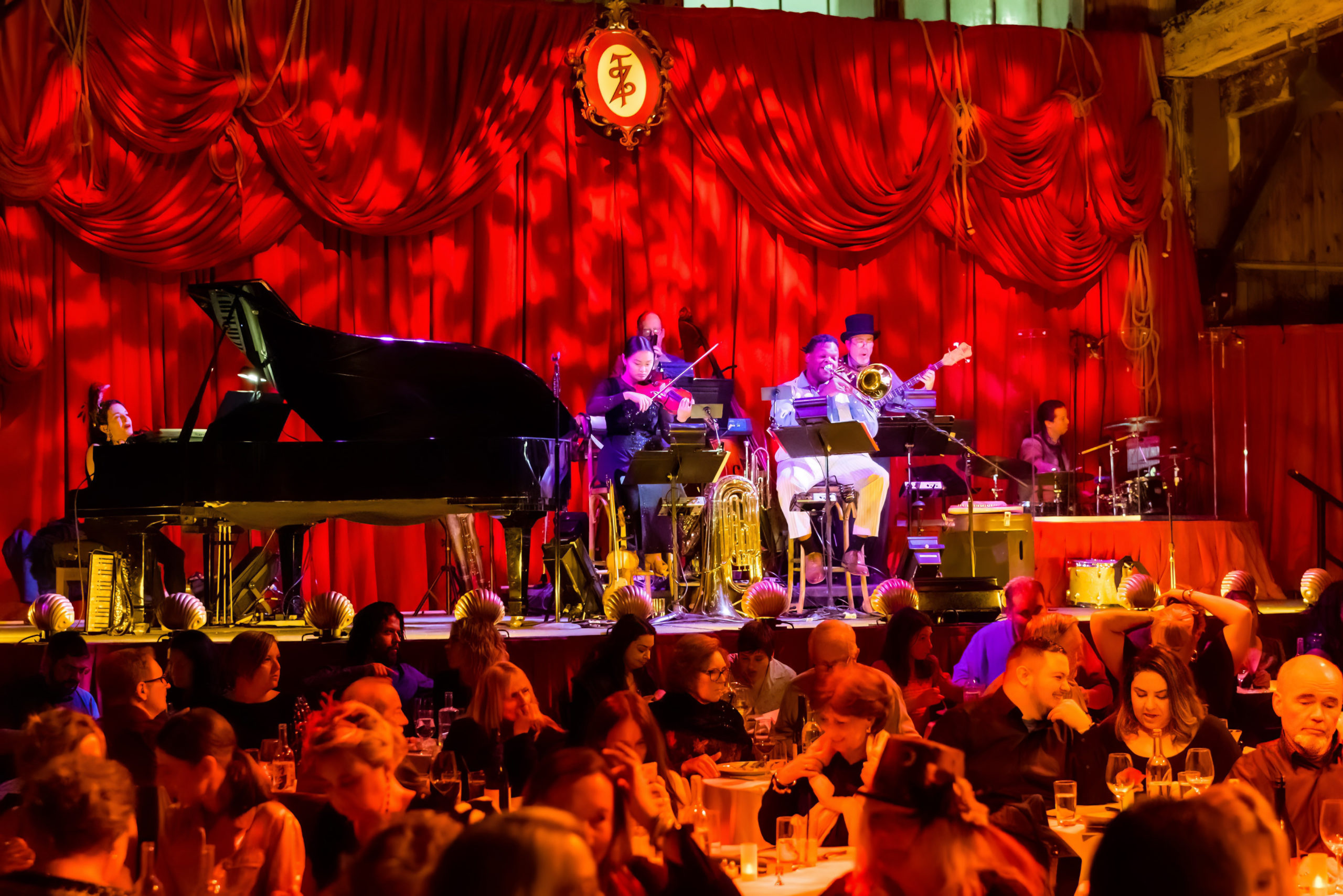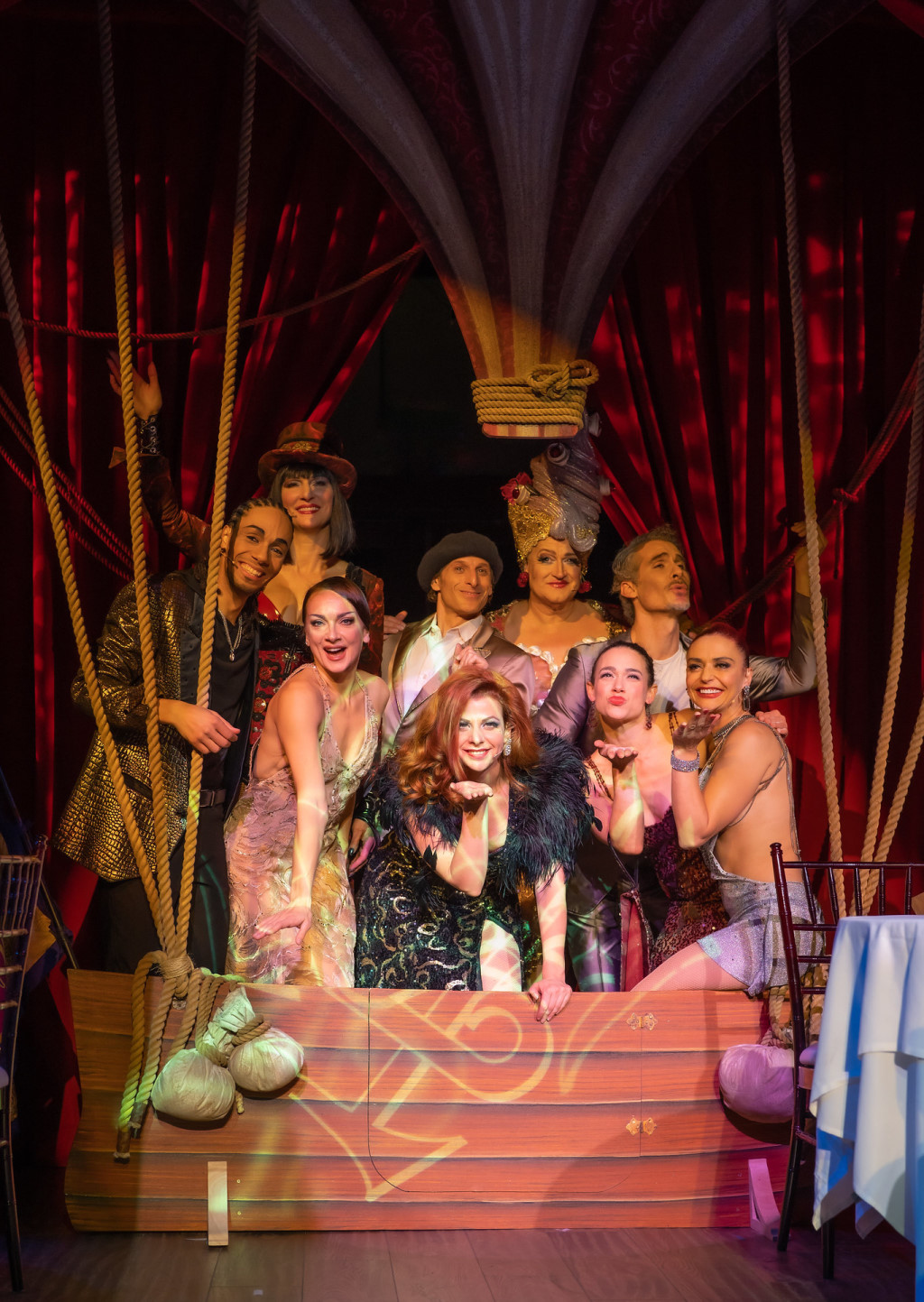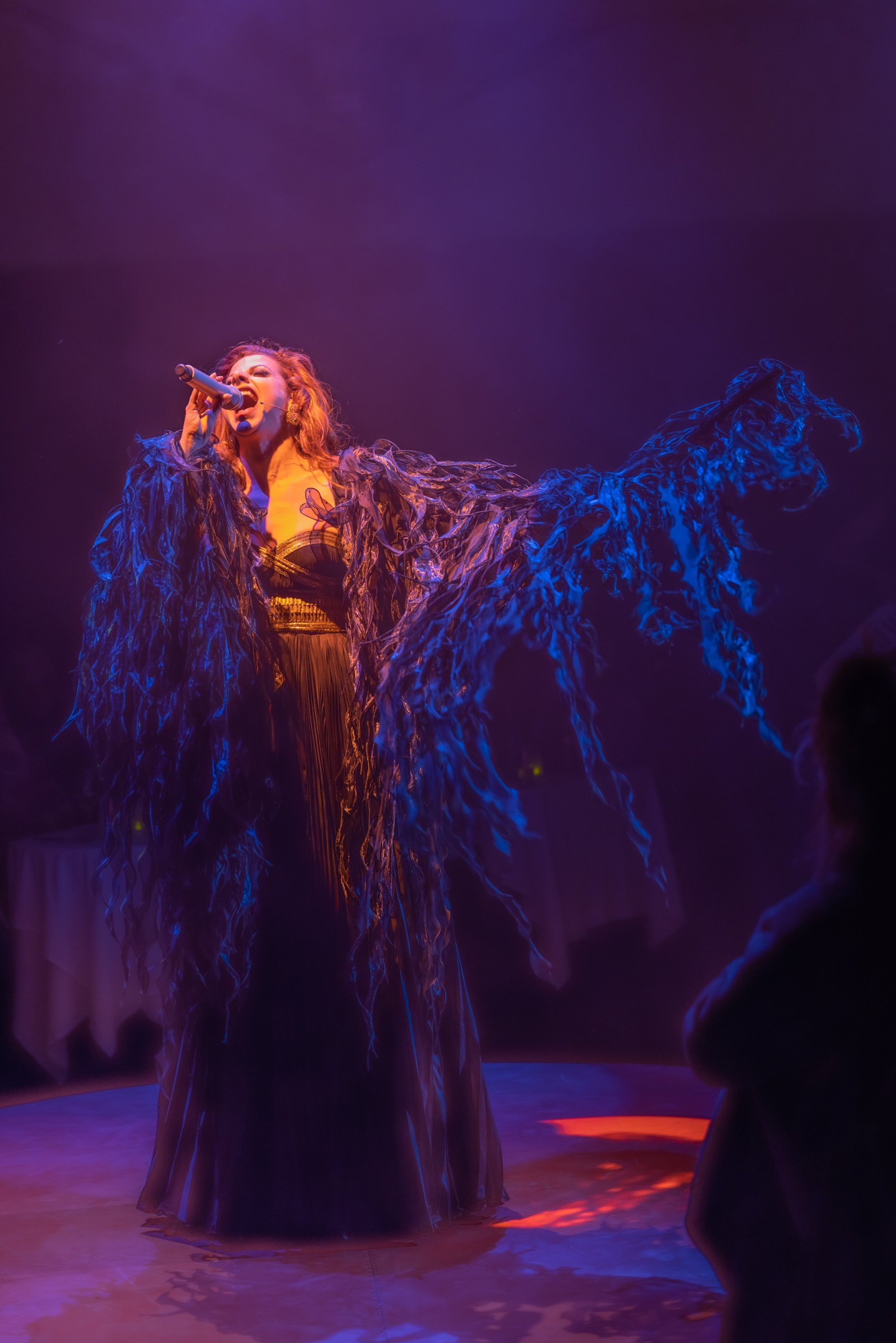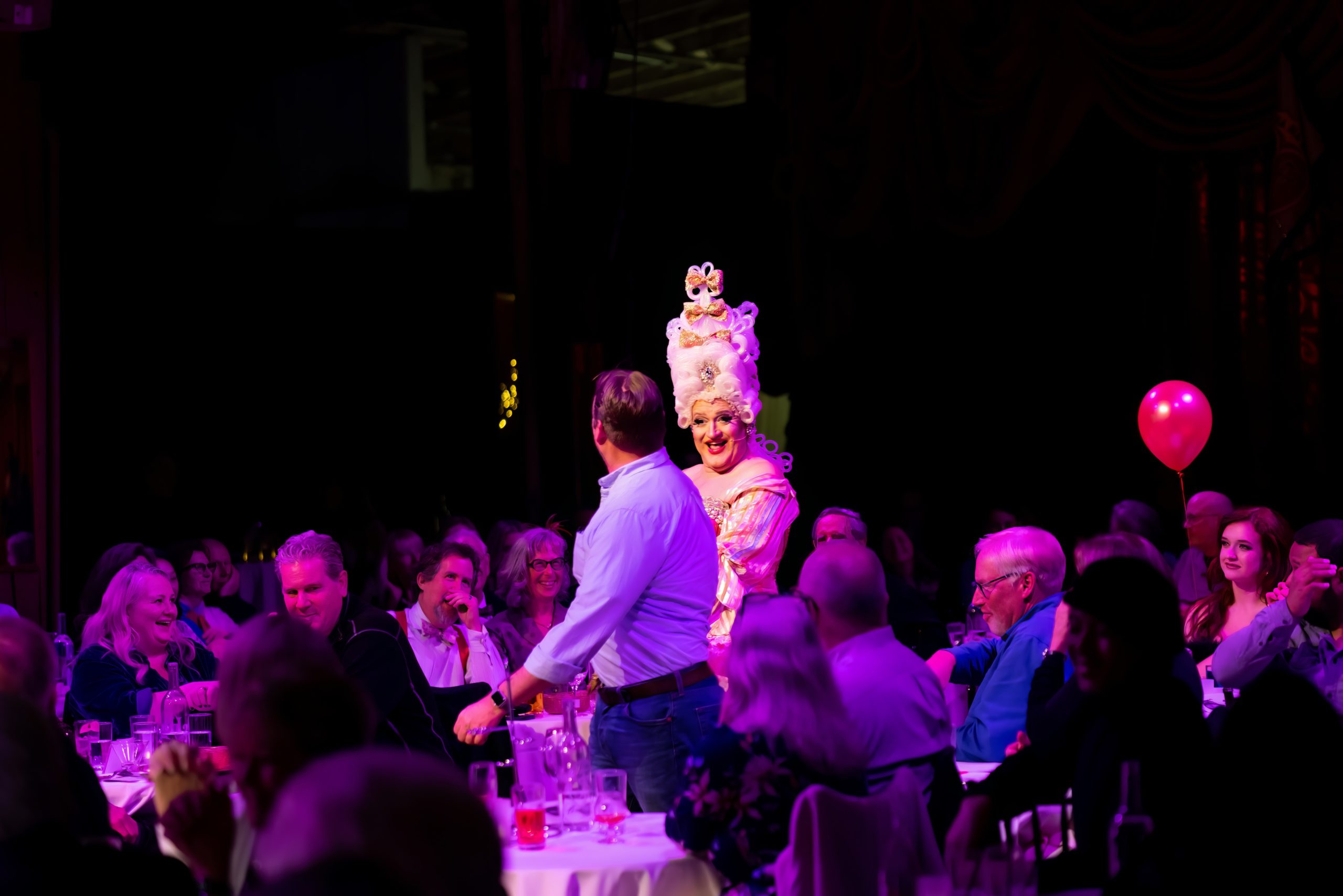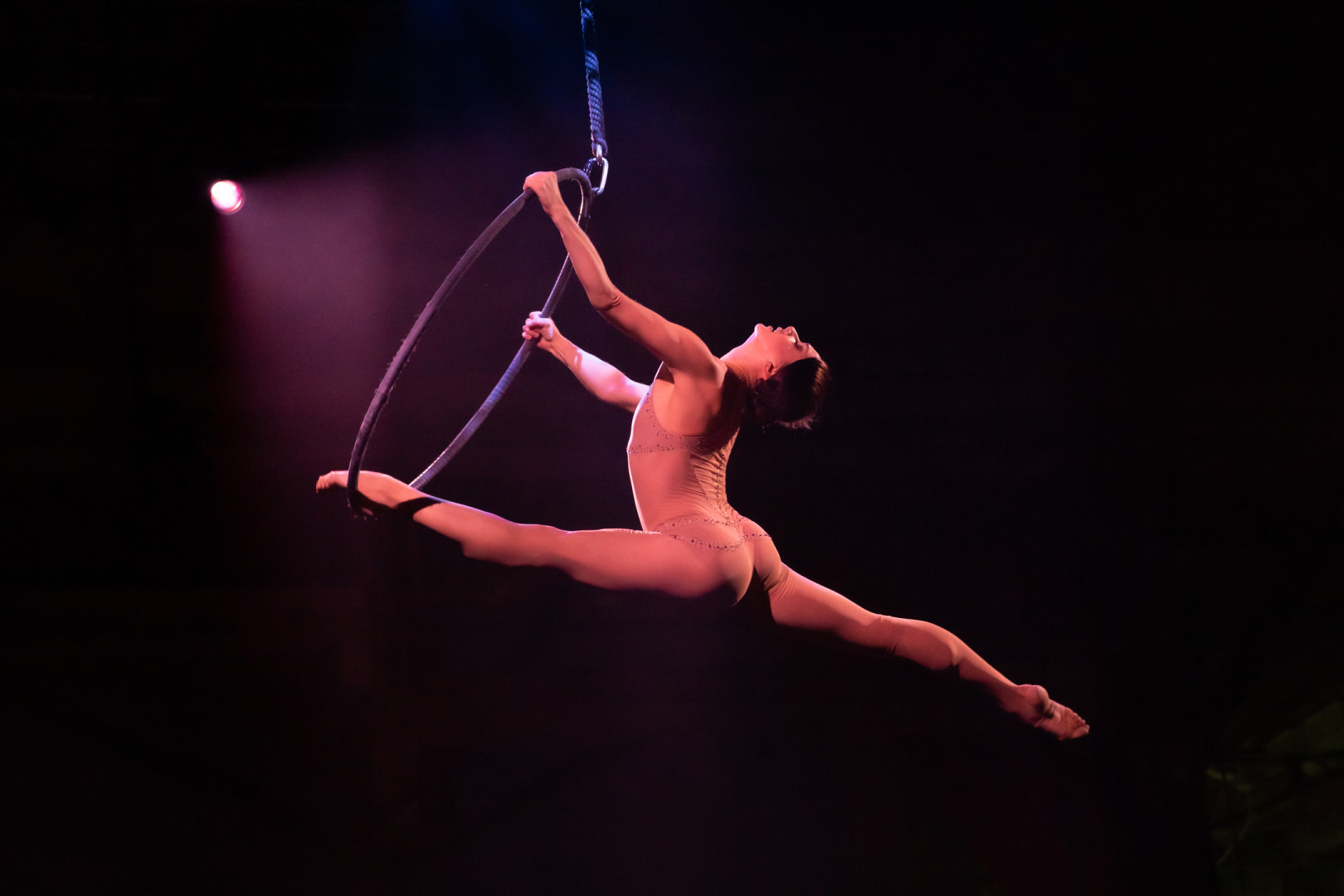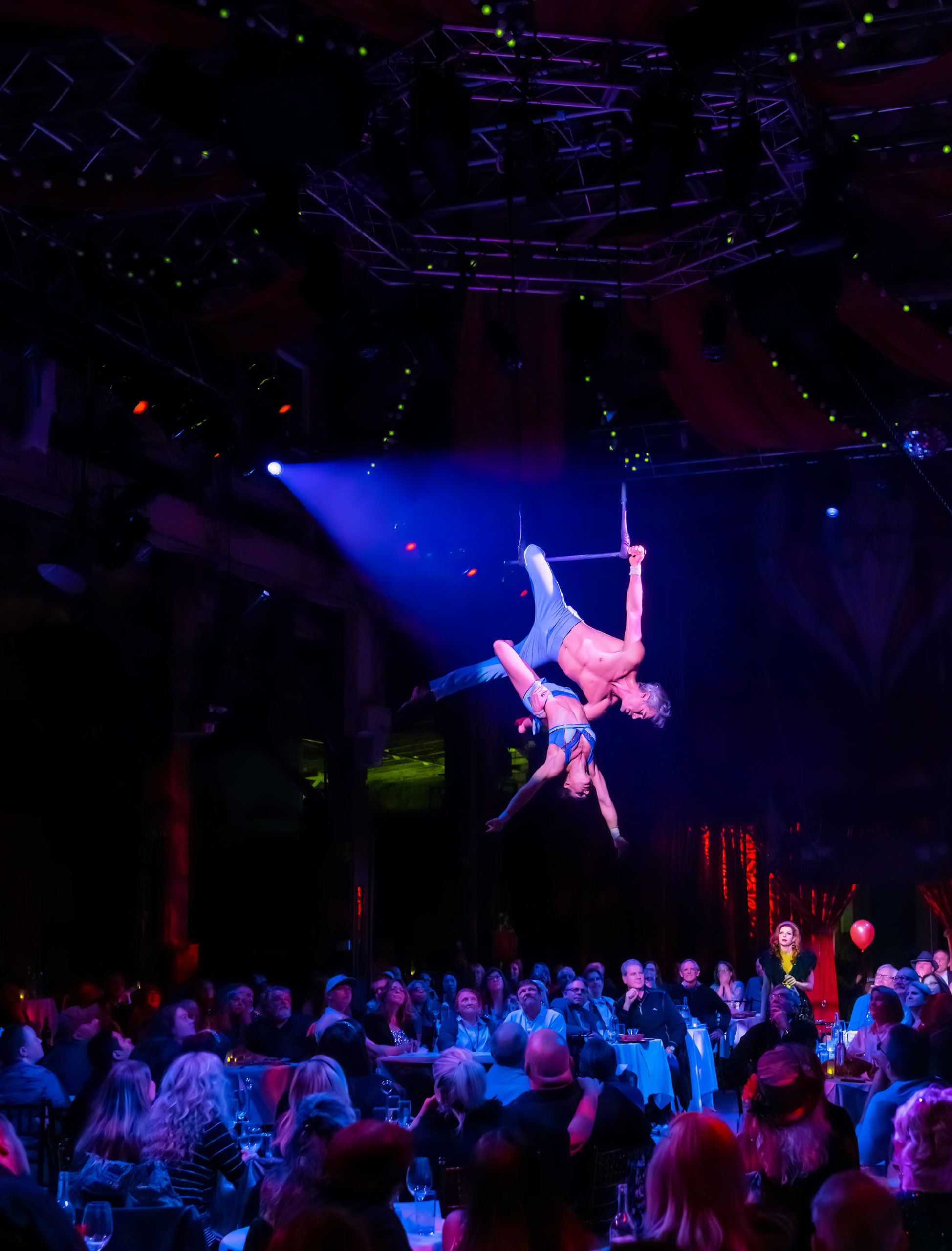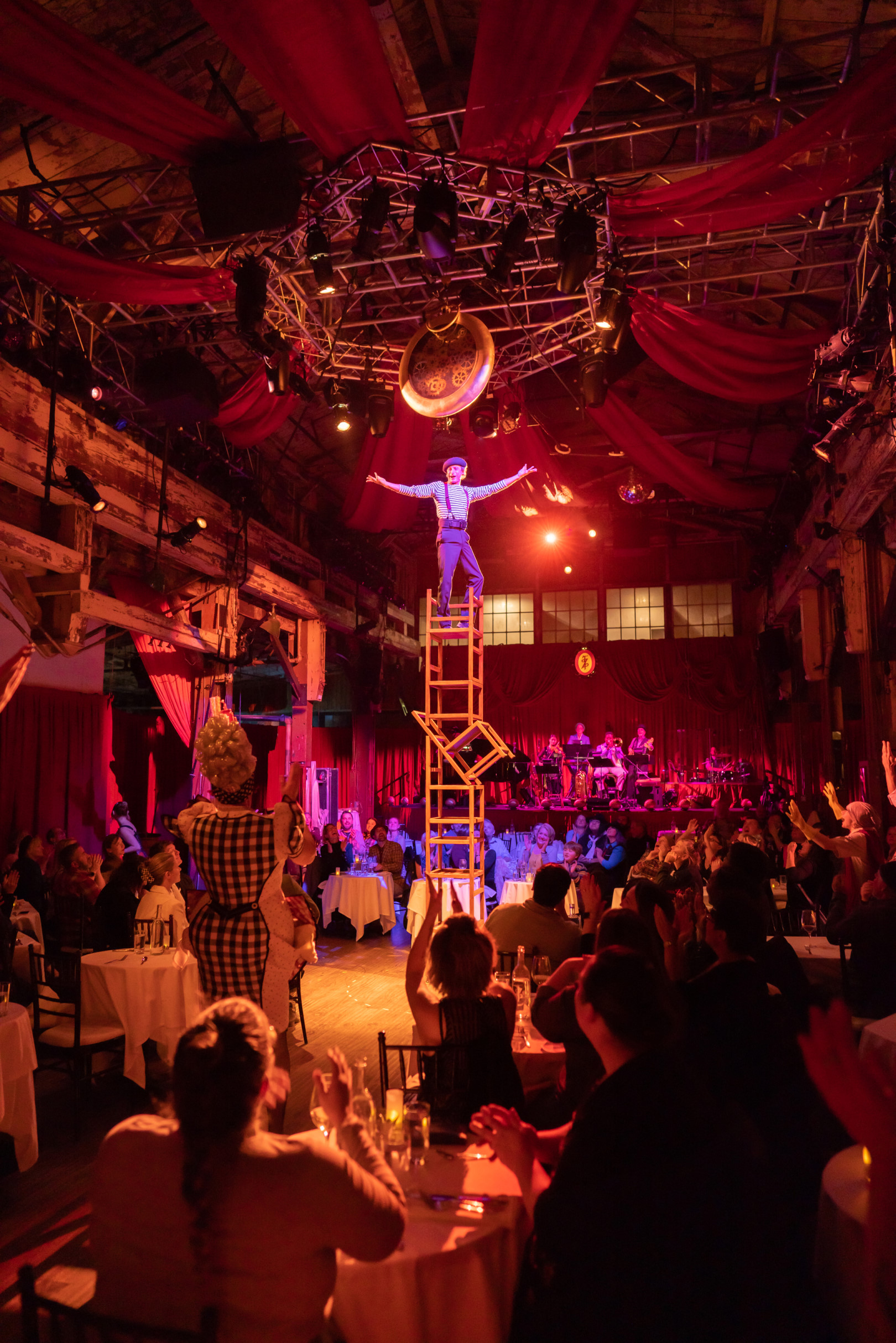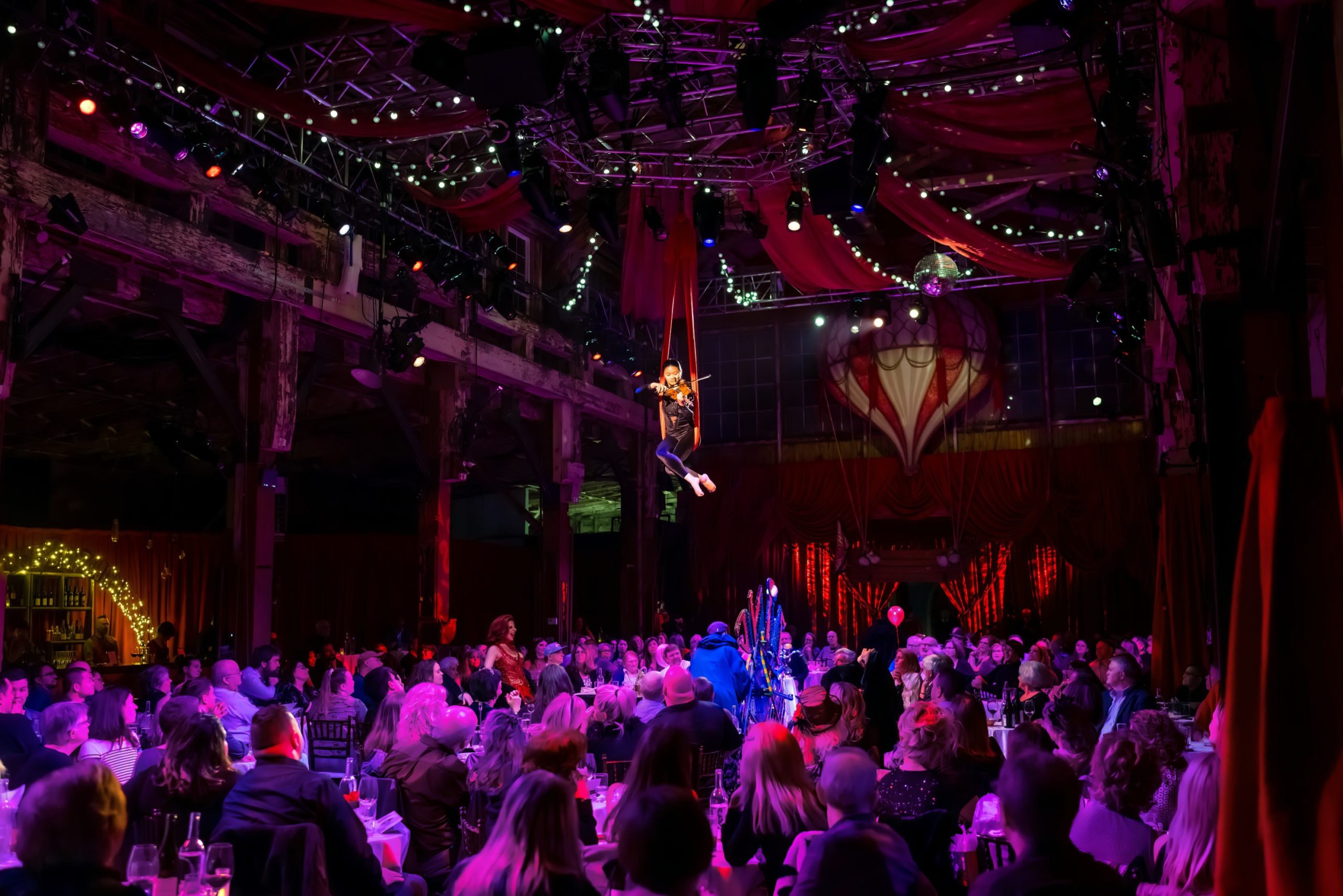 | | |
| --- | --- |
| Name | Role |
| Kevin Kent | Performer, writer |
| Elena Gatilova | Aerialist, writer |
| Vita Radionova | Performer |
| Rizo | Singer |
| Domitil Aillot | Chinese Pole |
| Manuela Horn | Yodeling Dominatrix |
| Duo Madrona (Ben Wendel and Rachel Nehmer) | Trapeze |
| Vlada Romanova | Acrobat |
| Mickael Bajazet | Acrobat |
| Michael van Beek (Michael Evolution) | Performer |
| — | — |
| Hans Teuber | Music Director, Composer |
| Marina Albero | Piano |
| Jerome Smith | Trombone, Tuba |
| Anna Nordmoe | Violin |
| Jacques Willis | Drums |
| Keith Lowe | Bass |
| — | — |
| Norm Langill | Artistic Director |
| Tobias Larsson | Director |
| Peter Bracilano | Lighting Designer |
| Brendan West | Sound Designer |
| Shauna Frazier | Prop and Set Designer |
| Debra M. Bauer | Costume Designer |
| Christine Joly de Lotbiniere | Costume Designer |