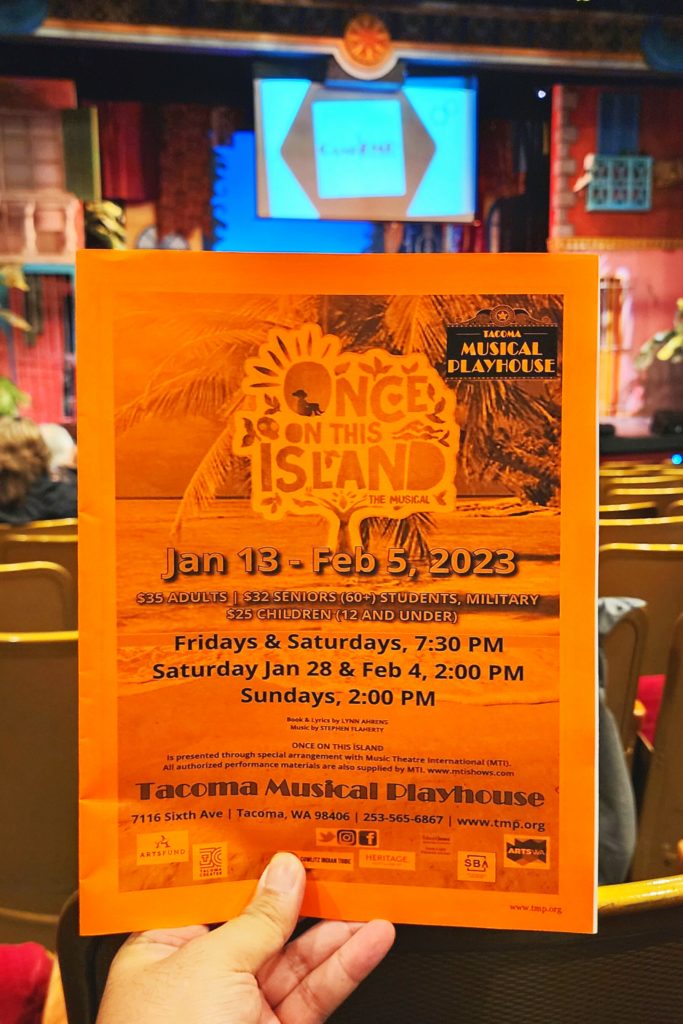 Elevator Thoughts (aka Tweet): Once On This Island musical at Tacoma Musical Playhouse w/ the 1st live band since the 2019! Novel tribal-like choreography. Excellent Mother. Refreshing diverse tropical vibes desperately needed in the cloudy PNW winter.
Synopsis from the Theatre: From the Tony Award-winning songwriting team of Lynn Ahrens and Stephen Flaherty (Seussical, Ragtime), comes the Olivier Award-winning Once on This Island. This highly original and theatrical Caribbean adaptation of the popular fairy tale, The Little Mermaid, garnered eight Tony nominations for its Broadway run, including Best Musical, Book and Score.
Reviewed Performance: 1/13/23 Opening Night
Type:Musical
World Premiere: No
Awards: Olivier Award
Live Band/Orchestra: Yes – This was the first live band at TMP since the beginning of the pandemic. It significantly improved the caliber of the production compared to the shows that utilized an accompaniment recording.
Recommendation: See it if you like tropical genres like Tarzan or The Jungle Book
Was This the First Time I Saw a Production of this Show: No, I previously saw this from Ludus Performing Arts
Would I See It Again 3 Years from Now: Yes, if it was an Equity production
Rating Compared to Other Shows with the Same Production Value:
4.5 Stars (Out of 5 Stars)
Equity Actors: Zero
Length: 2 hours
Intermission: Yes
Other Rave(s) Not Mentioned in Elevator Thoughts
Voices: LaNita Hudson Walters was my favorite performer from this production especially with her distinct voice. She portrayed Mama Euralie, a gristly old Caribbean peasant woman. Honorable mention to Chanel Finnie (Asaka godess of Earth) and Jadyn Muralt (Ti Moune the main character) as well.
Rant(s)
Death Explanation: The script doesn't adequately explain a how a significant death occurred. I won't say more to avoid spoiling the plot for readers who haven't seen the musical yet.
Other Thought(s)
Scenic Design: Great hotel facade especially with the closing front gates. It was a little weird though seeing the hotel behind the peasant scenes. The hotel facade should only appear during the townsfolk scenes. The peasants needed their own more primitive backdrop. But I regonize the constraints of community theatre budget.
Blind Love: Can I just say that love makes you do stupid things? As a pragmatic person who has never fallen in love, I'm appalled at the nonsensical decisions in this story for the sake of love.
Theatre Company: Tacoma Musical Playhouse
Venue: Tacoma Musical Playhouse
Venue Physical Address: 7116 6th Ave, Tacoma, WA 98406
Price: Cheap
Dates: January 13 to February 5, 2023
Seating: Assigned Seating
Parking: Free parking is available in the Park-and-Ride lot directly across Sixth Avenue from the theater.
Like/Comment/Share my Social Media Posts About this Performance:
Instagram | TikTok | Facebook | Twitter | YouTube
Buy a Ticket or Learn More:
Other Video +/- Pictures: See pictures in video and under video.