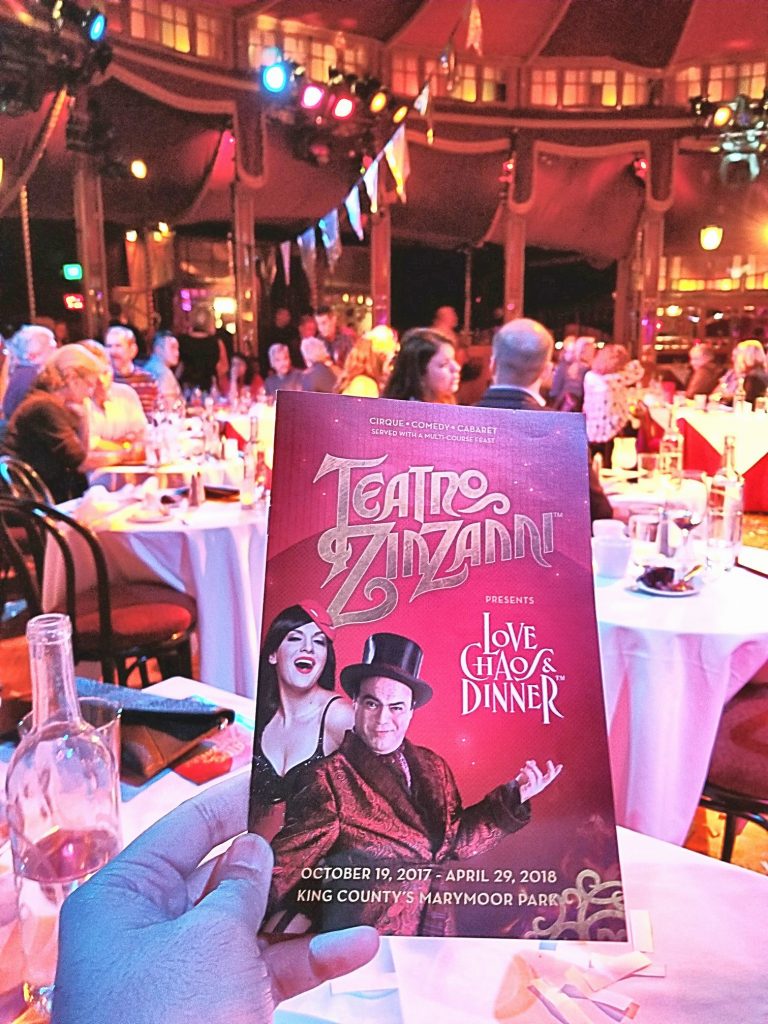 Type: Dinner Theatre Show
Recommendation: So entertaining. See it! Much better than Cirque de Soleil.
Rating (Out of 5 Stars): 4.75 stars
Negatives: They pick audience members to "haze." Among other things, some people in the audience got put in a cage and others were forced to dance. This may be a positive for you if that's the experience you're looking for. I usually just like to sit and watch without interaction (except sing-a-longs which I LOVE!).
Story, Script, and Lyrics:  Simple story about the campy shenanigans behind the scenes when a food critic visits a restaurant. The story, script, and lyrics were nothing to write home about but the talent performing them was top notch.
Cast and Theater Company: Impressive how the performers wittily improvise and don't break character even when mingling with the audience members during intermissions. Most actors had some sort of circus/carnival-type talent (like trapezee) that they showcased.
Venue and Set: Circular immersive theatre. The good thing about this is that there's no bad view. The bad thing about this is that there is no "great" view. Every seat will miss something unless your eyes see 360 degrees. This theatre company performed across from the Seattle Opera's McCaw Hall but they got kicked out and are now performing in a circus tent at Marymoor Park.
Music and Audio: Adequate sound engineering.
Food: Okay. Your typical pretentious, small-portioned American fare.
Price: $$-$$$ (Mid to high-priced at $99+). Keep in mind that this already includes dinner so you can technically classify as mid-priced. Check Goldstar for occasional discount or search Google for codes.
Dates: October 19, 2017 to April 29, 2018
Seating: Assigned at the facility. Be aware, you may be sitting with strangers.