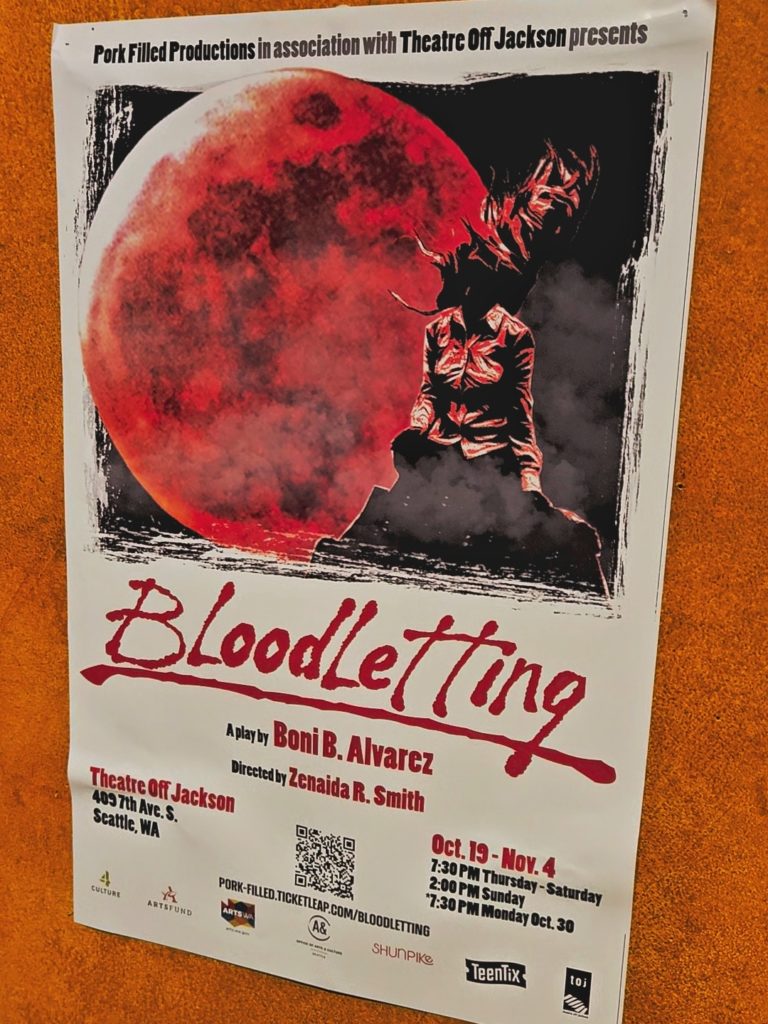 Elevator Thoughts (aka Tweet): Bloodletting play by Pork Filled Productions at Theatre Off Jackson directed by Zenaida R. Smith. Filipino story about Aswangs with a queer spin. I felt like I was back in the Philippines! #Aswang #showsiveseen #theatre #palawan
Recommendation
See it if you want to reminisce about the Philippines

Synopsis from the Theatre: Under the watchful moon, estranged siblings Farrah and Bosley reunite in the Philippines to spread their father's ashes in Palawan's treasured underground river. They take shelter from a storm in a local café, where they open old family wounds and encounter an aswang, a Filipino vampire, who awakens in Farrah an ancient, terrifying, and innate power. Will she embrace her new-found power? Or let it destroy herself and her brother?
Attended Performance Date: 10/20/23 (Opening Weekend) – See my previous preview posts here.
Type: Play
World Premiere: No
Several or Few Scenes: Few
Several or Few Settings/Locations: Few
Static (Stationary) Set: Yes
Prior Exposure/Knowledge Required: You should be familiar with Aswangs. The program contains a good explanation. People who don't know what Aswangs are (sadly me) and who didn't read the Aswangs article (me again) might struggle understanding what an Aswangs is when watching this play. The theatre's synopsis touts them as "vampires," but that word is too limiting. But I guess there isn't a western term that encompasses this Filipino concept.
Defined Plot/Storyline: Mostly yes, but there's only so much that can occur with few scenes/locations
Equity Actors: 0
Total Number of Actors: 4
Perceived Pace of the Show: Slow, especially with the large amount of dialogue. However, it did help to have fight scenes where the Aswang used their power.
Length (Including Any Intermission): 2 hours
Was there an intermission?: Yes
Was This the First Time I Attended a Production of this Show: Yes
Would I See It Again 3 Years from Now: No
Other Rave(s) Not Mentioned in Elevator Thoughts
Scenic Design: The stage accurately portrayed what a typical eatery might look like in the Philippines in the middle of nowhere. It had thatch-like bahay kubo flair.
LeeLee: I probably enjoyed Anna Mulia's portrayal of LeeLee the most. She portrayed mystery, youthful energy, and a good impression of a Pinay born in the Philippines.
Audio: The sound effects were well-timed and well-chosen.
Other Musing(s) and Observation(s)
Blood: For a play called "Bloodletting," I thought there would be more blood!
Theatre Company: Pork Filled Productions
Venue: Theatre Off Jackson
Venue Physical Address: 409 7th Ave S, Seattle, WA 98104
Price: Cheap
Regular Tickets: https://porkfilled.com/wp/pfp-presents-bloodletting/
Ticket Affordability Options: You can self-select "access pricing" on the ticketing website.
Dates: October 19 to November 4, 2023
Seating: General Admission
Parking: Paid street parking is usually available north of the theatre on the hill close to the park. You can also try free parking on Jackson Street closer to the I-5 bridge. As usual, there are paid parking lots nearby as well.
Like/Comment/Share my Social Media Posts About this Performance:
Instagram | TikTok | Twitter | Facebook | YouTube | Threads
Buy a Ticket or Learn More:
Other Video +/- Pictures: See pictures in video and under video by Roger Tang
Cast and Production Team: See after pictures and/or video below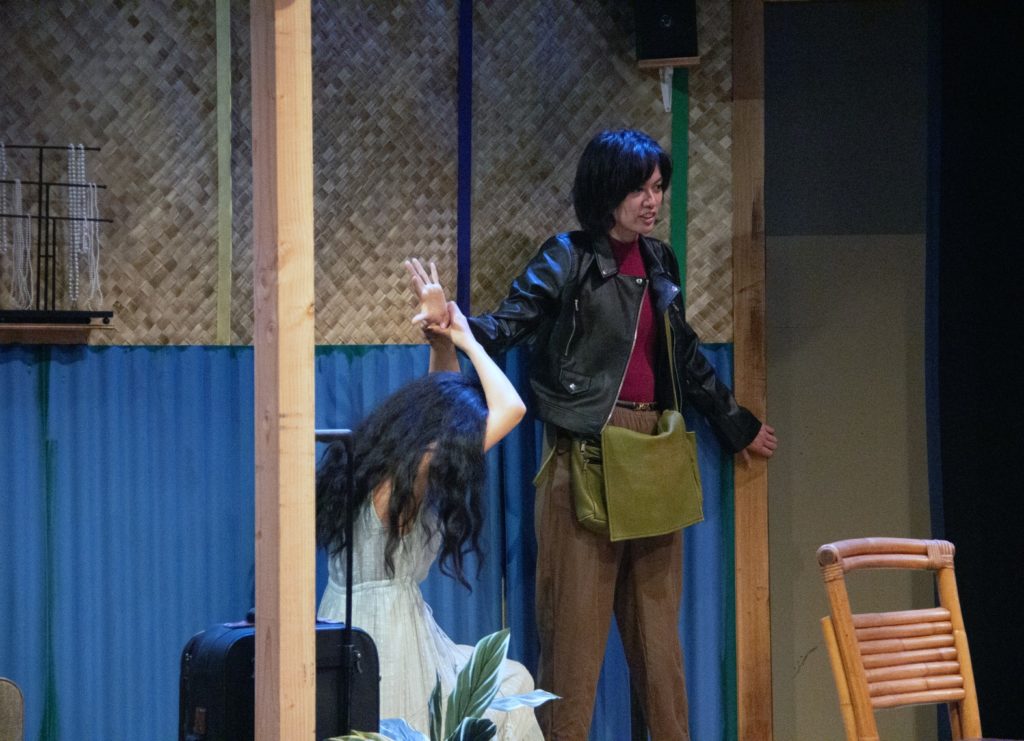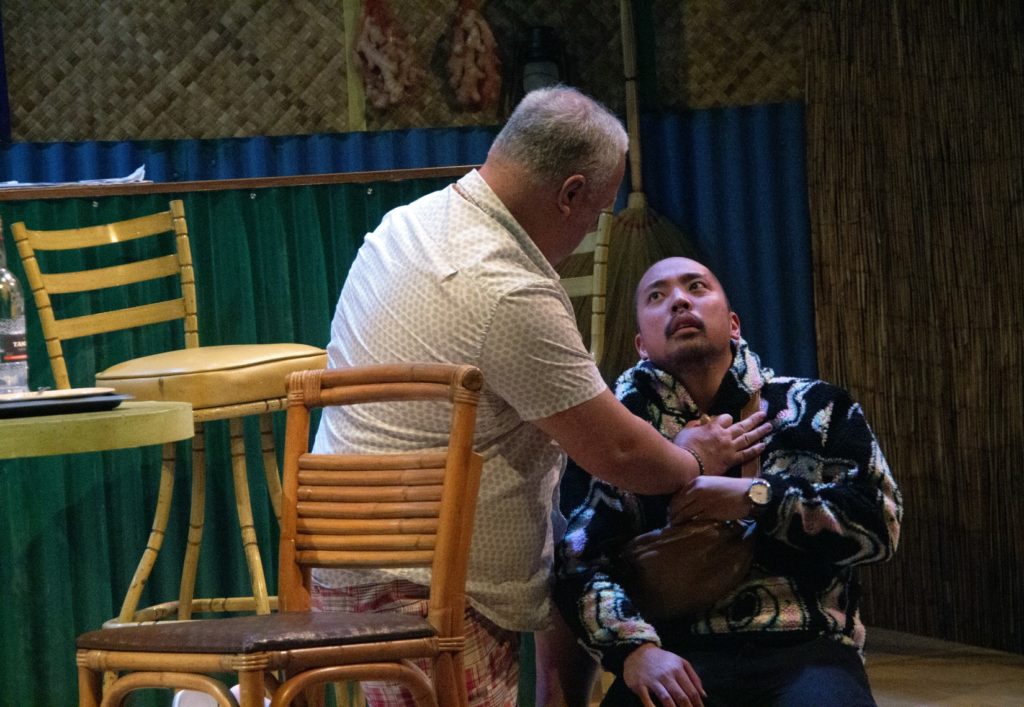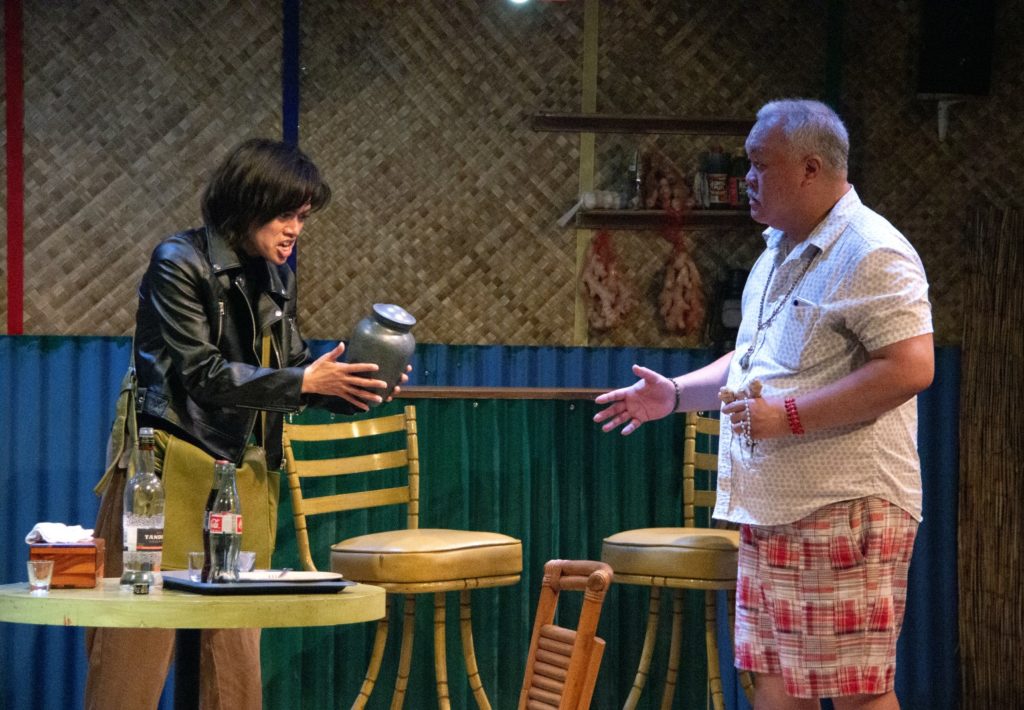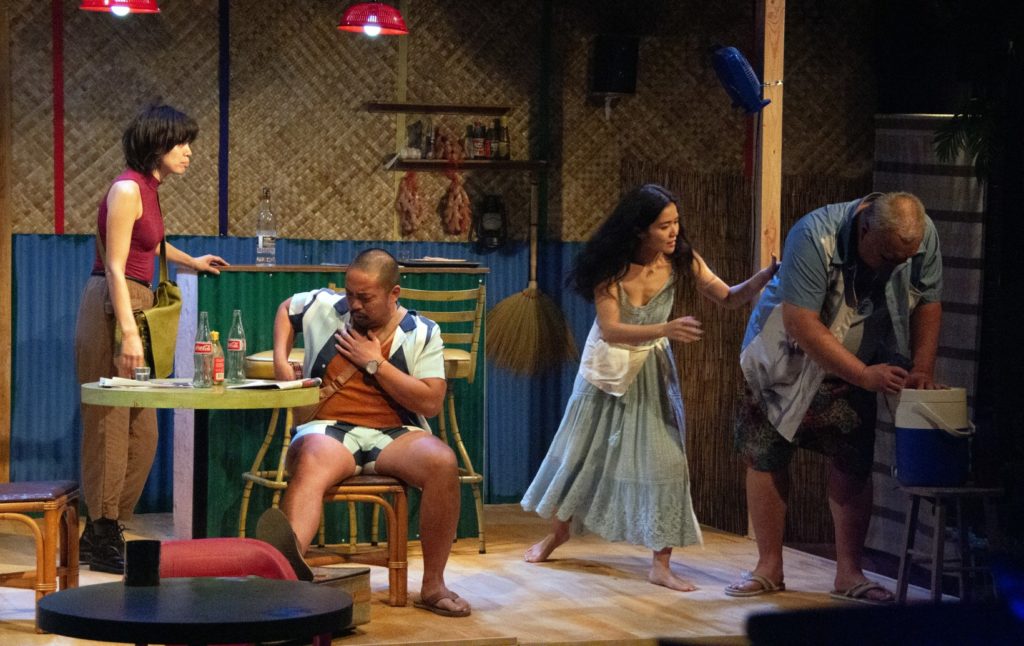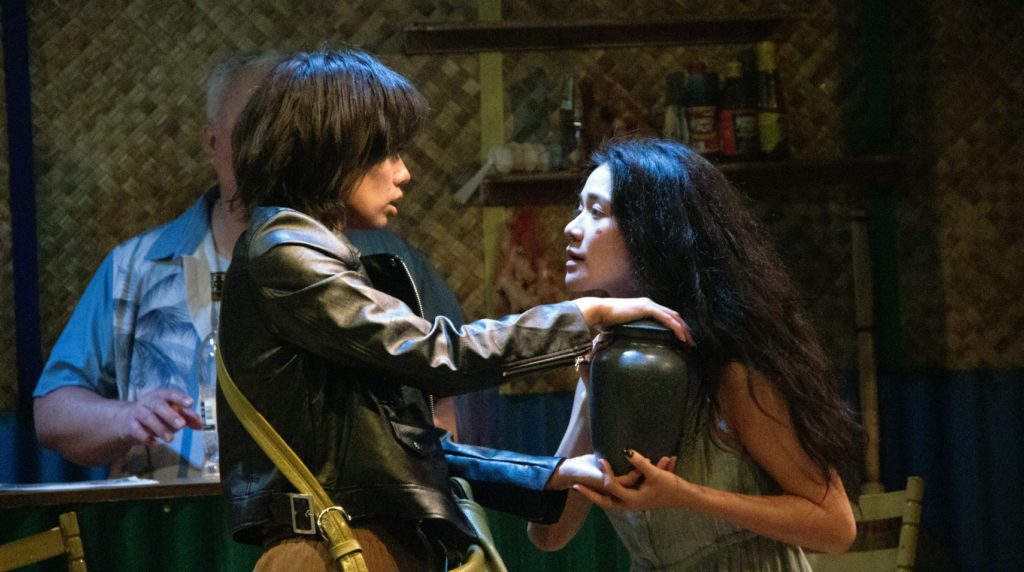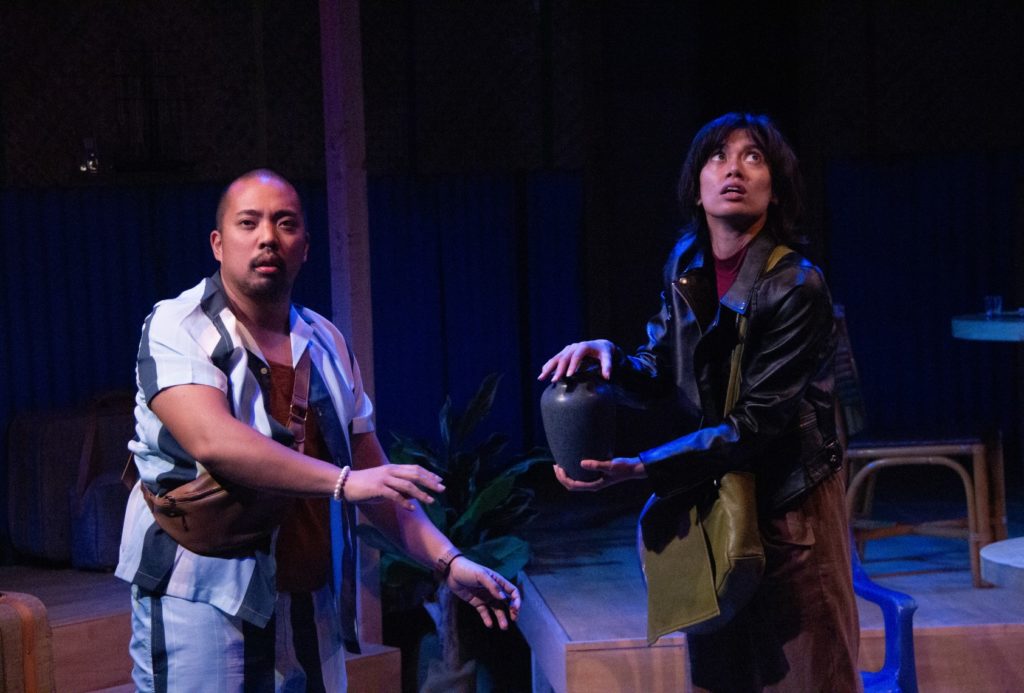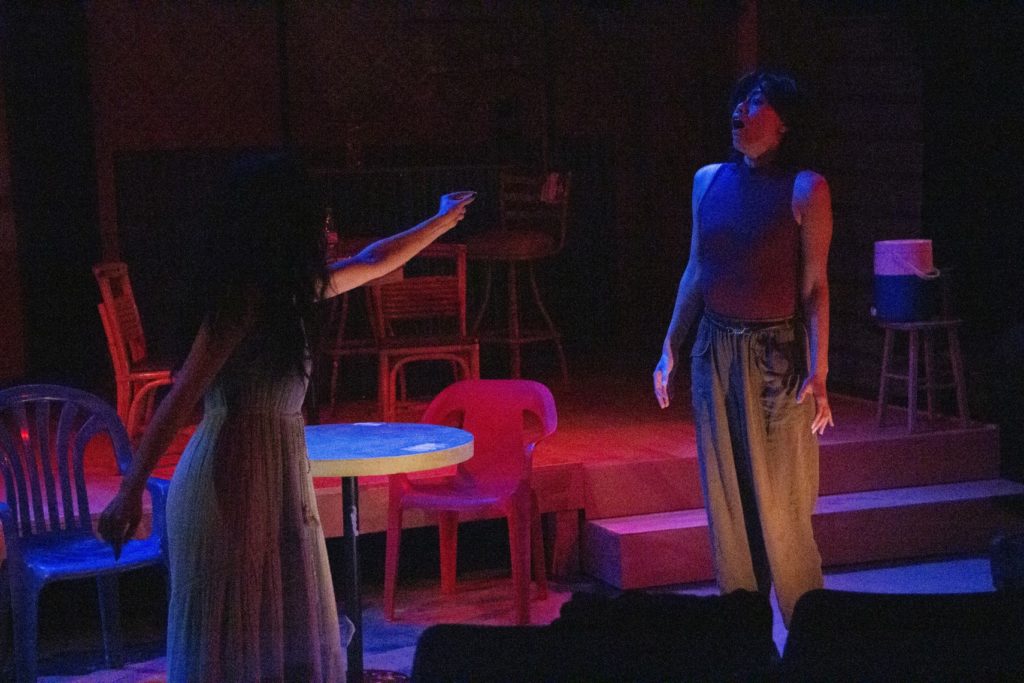 Role

Name

Leelee
Anna Mulia
Jenry
Sam Prudente
Farrah
Jen-Ai Clinton
Bosley
Matt Dela Cruz
Understudies
Anamaria Guerzon
Kendall Uyeji
—
—
Director
Zenaida R. Smith
Playwright
Boni B. Alvarez
Assistant Director
David Le
Stage Manager
Omar Faust
Assistant Stage Manager
Alister James Stern
Cultural Consultant and Dramaturg
Eloisa Cardona
Assistant Dramaturg
Anamaria Guerzon
Electrician
Robert Lucy
Outreach
Sam Qiambo
Props Designer
Jessamyn Bateman-Iino
Lighting Designer
Emily Leong
Intimacy & Fight Consultant
Jasmine Lomax
Set Designer and Builder
Robin Macartnery
Costume Designer
Corinne Park-Buffelen
Sound Designer
Josh Valdez
Social Media Coordinator
Linda Rigor
Production Manager
P. Alyda Sorm
Graphic Designer
Kwesi Phillips
Producers
Omar Faust
David Le
P. Alyda Sorm
Roger Tang
Kendall Uyeji
Josh Valdez