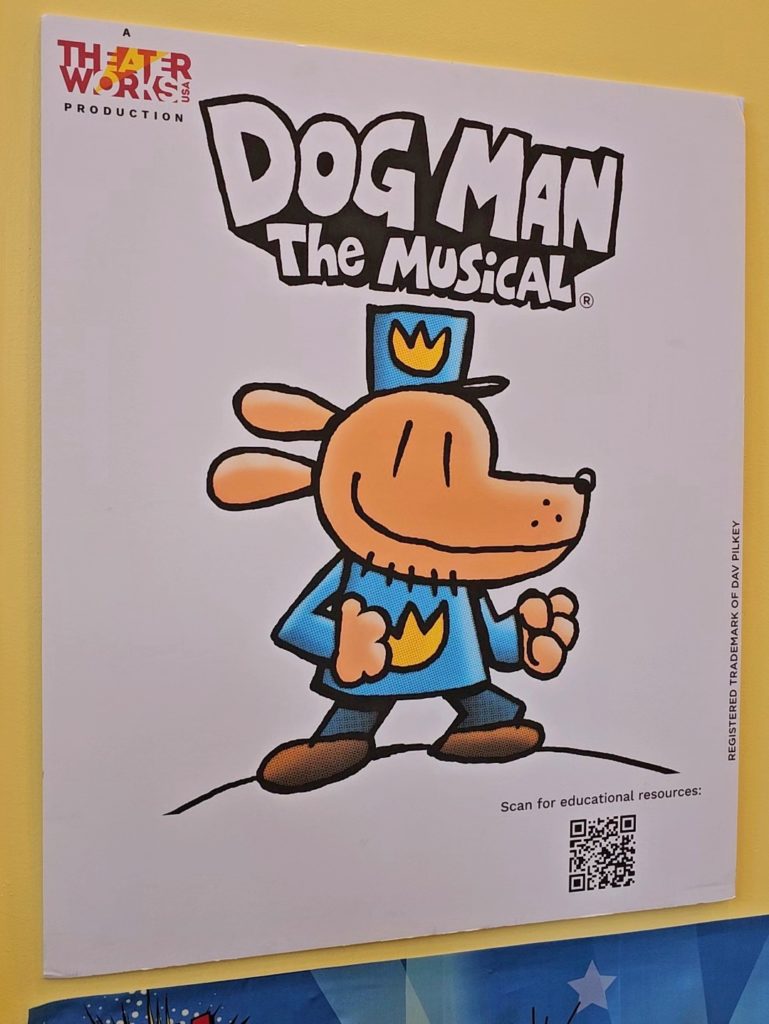 Elevator Thoughts (aka Tweet): Dog Man: The Musical at Seattle Children's Theatre by TheaterWorksUSA starring Brandon James Butorovich. Directed by Jen Wineman. Impressive pipes from Sadie Jayne Kennedy. Good way to introduce young kids to musicals. Corny humor like Disney Channel or ABC Family.
Synopsis from the Theatre: Dog Man: The Musical is based on the worldwide bestselling series from Dav Pilkey, the creator of Captain Underpants and Cat Kid Comic Club. Best buds George and Harold have been creating comics for years, but now that they're in 5th grade, they figure it's time to level up and write a musical based on their favorite character, Dog Man, the crime-biting sensation who is part dog, part man, and ALL HERO!! How hard could it be? With the head of a dog and the body of a policeman, Dog Man loves to fight crime and chew on the furniture. But while trying his best to be a good boy, can he save the city from Flippy the cyborg fish and his army of Beasty Buildings? Can he catch Petey, the world's most evil cat, who has cloned himself to exact revenge on the doggy do-gooder? And will George and Harold finish their show before lunchtime?? Find out in this epic musical adventure featuring the hilarity and heart of Dav Pilkey's beloved characters. The show is written by Kevin Del Aguila and Brad Alexander, who collaborated on the Emmy-winning series Peg + Cat on PBS, TheaterWorksUSA's Click, Clack, Moo, and Clifford The Big Red Dog on PBS and Amazon. Jen Wineman directs and choreographs.
Attended Performance Date: 9/23/23 (Opening Weekend)
Type: Musical
World Premiere: No
Several or Few Scenes: Several
Several or Few Settings/Locations: Several
Prior Exposure/Knowledge Required: No, but kids would probably enjoy this more if they're familiar with the graphic book series.
Defined Plot/Storyline: Yes
Live Band/Orchestra: No
Equity Actors: All
Total Number of Actors: 6
Perceived Pace of the Show: Medium to fast
Length (Including Any Intermission): 65 minutes
Was there an intermission?: No
Was This the First Time I Attended a Production of this Show: Yes
Would I See It Again 3 Years from Now: No
Recommendation: See it if you want to take kids to the theatre especially if they're familiar with the series
Rant(s)
"Why?" Scenes: As I've mentioned in a previous review, I loathe on-stage or on-screen scenes where a kid inscenantly asks "why?" to an adult. Young audience members probably like it though.
Other Musing(s) and Observation(s)
Vocals: It felt less like a musical when they sang in unison. The score should include more harmony to feel more like a musical.
Cultural References: There were many references from (pop) culture like Hamilton, A Tale of Two Cities, and Annie that only adults would understand. It's a shame these references fly over the young audience members' heads.
Theatre Company: TheaterWorksUSA
Venue: Seattle Children's Theatre
Venue Physical Address: 201 W Thomas St, Seattle, WA 98109
Price: Cheap to Medium
Ticket Affordability Options: Each performance has a value option available online. Also check out the theatre's discount page.
Dates: September 21 to October 22, 2023
Seating: Assigned Seating
Parking: Paid street parking or various paid parking lots/garages. Street parking is sparse when there's a major Seattle Center or Climate Pledge Arena event. I usually have good luck finding street parking around Lenny Wilkins Way next to the theatre on non-event days. I try to take the bus on event days since even the event street parking costs more than $12.
Like/Comment/Share my Social Media Posts About this Performance:
Instagram | TikTok | Twitter | Facebook | YouTube | Threads
Buy a Ticket or Learn More:
Other Video +/- Pictures: See pictures in video and under video by Jeremy Daniel.
Cast and Production Team: See after pictures and video below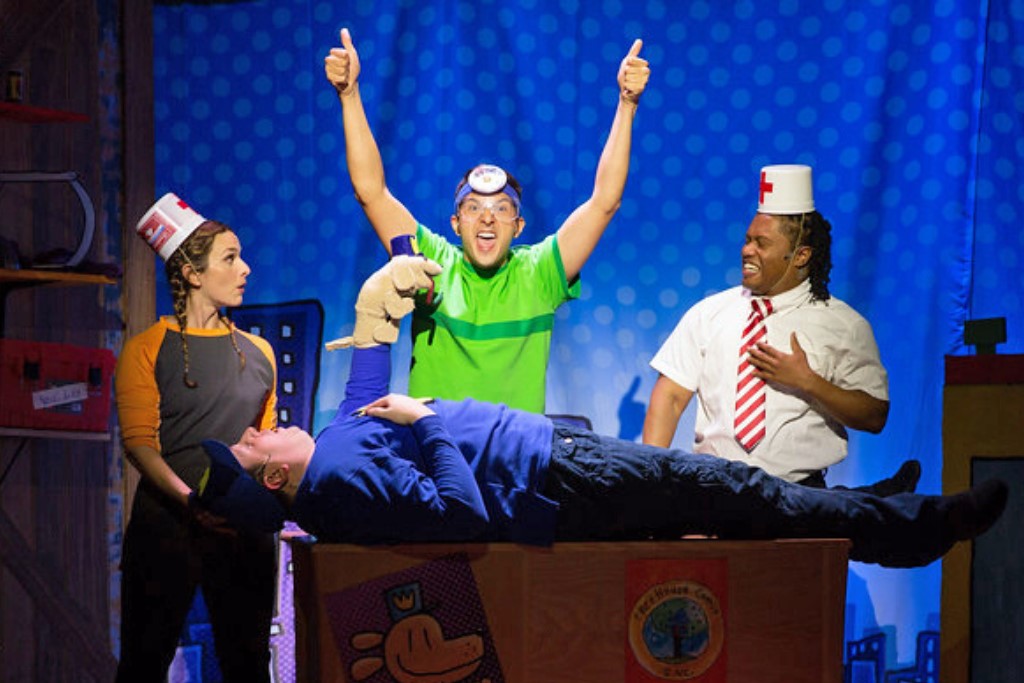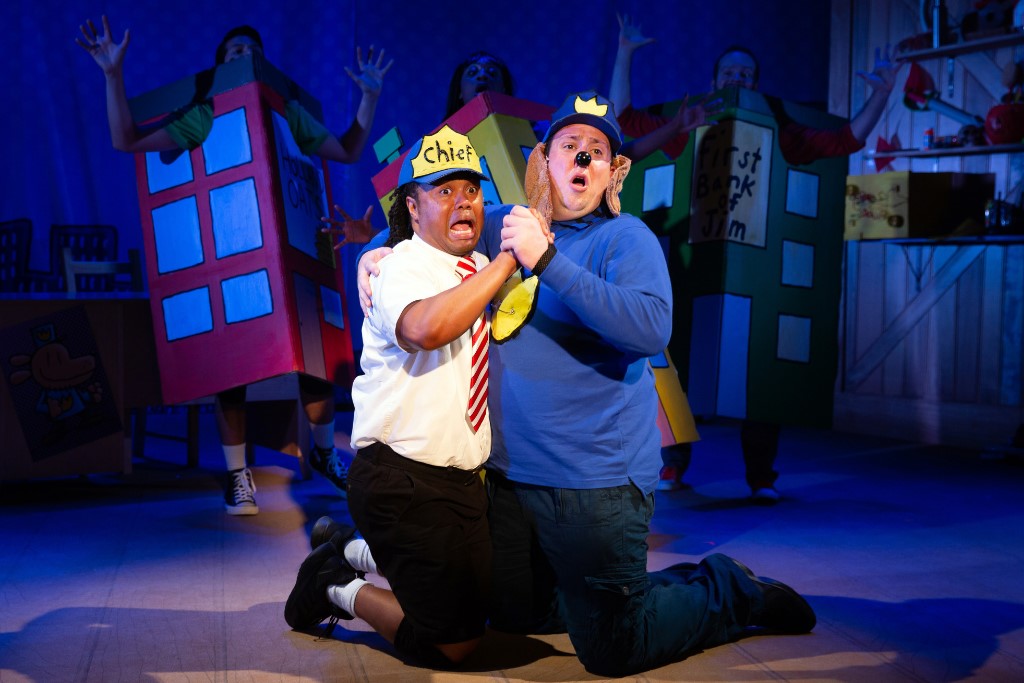 | | |
| --- | --- |
| Role | Name |
| Dog Man & Others | Brandon James Butorovich |
| Flippy & Others | Glory Yepassis-Zembrou |
| George & Others | Chase Pittman |
| Li'l Petey & Others | Sadie Jayne Kennedy |
| Harold & Others | Gage Thomas |
| Petey & Others | Jake Wernecke |
| — | — |
| Director & Choreographer | Jen Wineman |
| Composer | Brad Alexander |
| Playwright & Lyricist | Kevin Del Aguila |
| Author of the Book Series | Dav Pilkey |
| Tour Music Director | Matt Castle |
| Music | Brad Alexander |
| Set Designer | Timothy R. Mackabee |
| Costume Designer | Heidi Leigh Hanson |
| Orchestrations | Lloyd Kikoler |
| Sound Designer | Emma Wilk |
| Stage Manager | Roe Manzo |