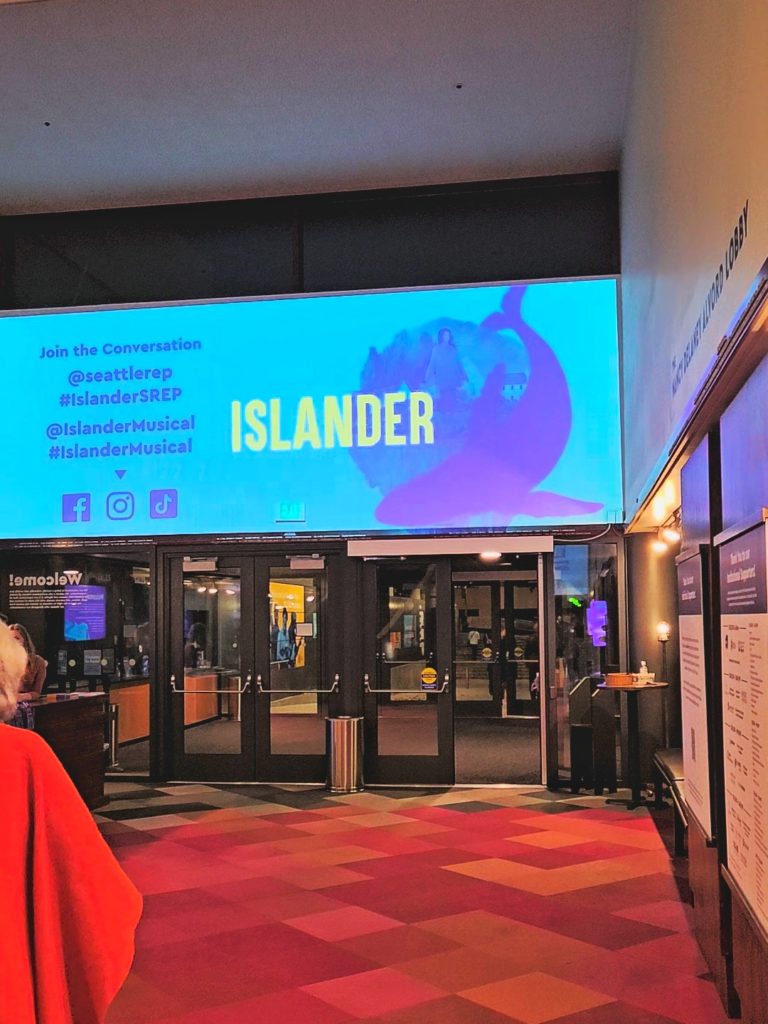 Elevator Thoughts (aka Tweet): Finn Anderson & Stewart Melton's Islander musical at Seattle Rep staring Sylvie Stenson, Stephanie MacGaraidh, Lois Craig, & Julia Murray. Novel audio concept that every played accompaniment & sound effect was dynamically recorded on-stage minutes/seconds earlier. High improv-like stakes!
Recommendation
See it if either 1) you like non-traditional musicals with a novel gimmick like
Freestyle Love Supreme
2) you appreciate modern British theatre 3) or you're okay with small-cast shows.

Synopsis from the Theatre: Myth and reality collide when the tide washes a mysterious stranger onto the shore of Eilidh's lonely island, changing her life forever. Join us for a musical showcase of epic storytelling, intimately staged with a contemporary Scottish folk-inspired score. Two actors embody a host of characters while weaving, building, and layering their voices using live looping technology. This internationally acclaimed hit will create an expansive, ethereal soundscape for the ears and imagination as Seattle Rep kicks off the North American Tour.
Attended Performance Date: 10/25/23 (Opening Night) – See my previous preview posts here.
Type: Musical
World Premiere: No
Several or Few Scenes: Several
Several or Few Settings/Locations: Several
Static (Stationary) Set: Yes, because it was austere
Prior Exposure/Knowledge Required: You need to understand fast British accents.
Defined Plot/Storyline: Yes
Live Band/Orchestra: The performers and the mixing boards were the "band" in that they recorded sounds on-stage and dynamically generated an accompaniment when they weren't singing acapella. There were no instruments or pre-recorded tracks … although we can't prove the absence of pre-recorded tracks!
Equity Actors: Zero but I assume it was because this tour was from the UK
Total Number of Actors: 2
Perceived Pace of the Show: Medium speed
Length (Including Any Intermission): 1.5 hours
Was there an intermission? No
Was This the First Time I Attended a Production of this Show? Yes
Would I See It Again 3 Years from Now? No
Other Rave(s) Not Mentioned in Elevator Thoughts
Unique Audio Source: All the sound effects and accompaniment were recorded and mixed on-stage in front of the audience. Seconds or minutes later, the audience would hear the sounds interleaved in an audio track with different autotuned pitches and rhythms. Every time I heard a new sound, I tried to determine what portion of the show it was recorded from. Sometimes the actors would later harmonize with a recording of their own voice. This was very similar to how Taylor Swift performed her 1989 world tour "Blank Space" song in this clip (see 3:45 – 5:15). In musicals, performers are expected to dance, act, and sing. Add "operate a mixing board" to that list of duties in this musical!
Storm Scene Lighting: The strobe-like flashing lights were a cool (albeit easy) way to depict a lightning and rain storm.
Favorite Line: "Can I ask you something?" "You just did."
Rant(s)
Story Comprehension: It was difficult to differentiate between characters since there was extensive cast doubling with only two performers. Plus, there were no costume changes between characters. The strong British accents also made it difficult to follow the dialogue. This is coming from someone who doesn't attend much Shakespeare because the old English is hard to understand.
Other Musing(s) and Observation(s)
Pedal: Will anybody enlighten me what happened when someone pressed the foot pedal? Leave a comment on my social media links below!
Theatre Company: National Tour
Venue: Seattle Repertory Theatre
Venue Physical Address: 155 Mercer St, Seattle, WA 98109
Price: Medium to Expensive
Tickets: https://www.seattlerep.org/plays/202324-season/islander/
Ticket Affordability Options:
Dates: October 20 to November 19, 2023
Seating: Assigned Seating
Parking: There are paid lots and paid street parking. I usually park on Mercer to the West of 1st Ave. There's usually also plentiful street parking around Safeway. If there's an event in Seattle Center or Climate Pledge Arena, street parking is usually limited and much more expensive.
Like/Comment/Share my Social Media Posts About this Performance:
Instagram | TikTok | Twitter | Facebook | YouTube | Threads
Buy a Ticket or Learn More:
Other Video +/- Pictures: See pictures in video and under video
Cast and Production Team: See after pictures and/or video below