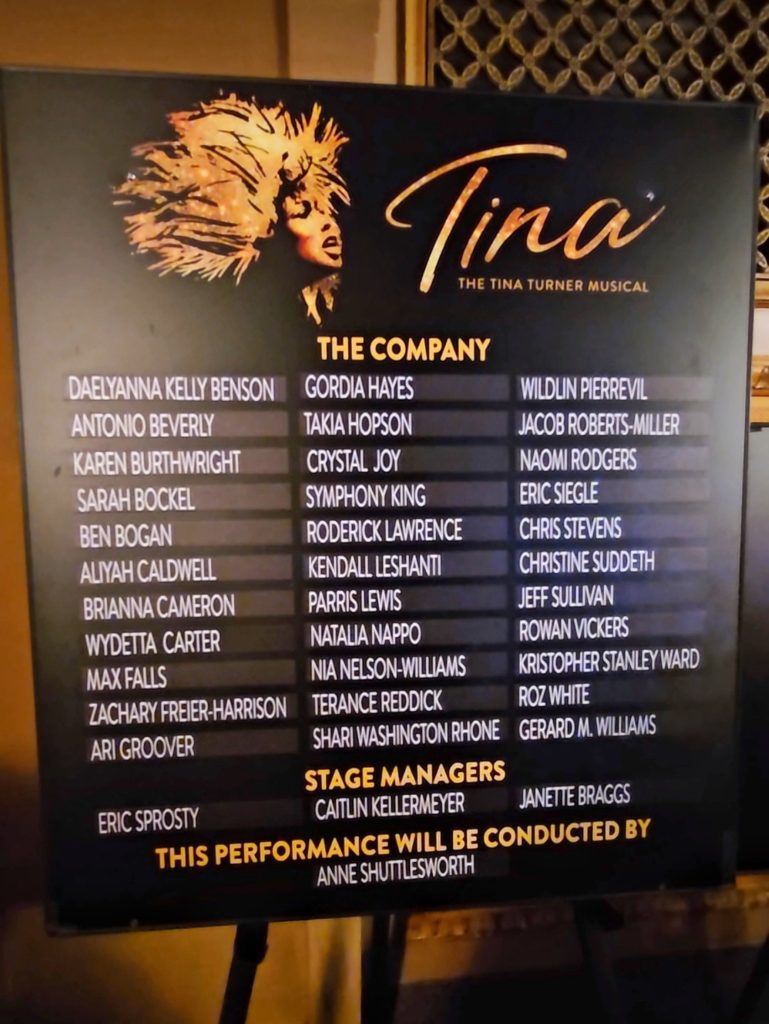 Elevator Thoughts (aka Tweet): Tina – The Tina Turner Musical with Broadway Seattle and Seattle Theatre Group at the Paramount Theatre starring Ari Groover. Dazzling lights and projections. Roz White was a delightful mom. Surprising amount of domestic violence in the 1st act!
Synopsis from the Theatre: THERE IS ONLY ONE. HER VOICE IS UNDENIABLE. HER FIRE IS UNSTOPPABLE. HER TRIUMPH IS UNLIKE ANY OTHER. An uplifting comeback story like no other, Tina – The Tina Turner Musical is the inspiring journey of a woman who broke barriers and became the Queen of Rock n' Roll. One of the world's best-selling artists of all time, Tina Turner has won 12 Grammy Awards and her live shows have been seen by millions, with more concert tickets sold than any other solo performer in music history. Featuring her much loved songs, Tina – The Tina Turner Musical is written by Pulitzer Prize-winning playwright Katori Hall and directed by the internationally acclaimed Phyllida Lloyd.
Attended Performance Date: 9/12/23 (Opening Night)
Type: Jukebox Musical
World Premiere: No
Several or Few Scenes: Several
Several or Few Settings/Locations: Several
Prior Exposure/Knowledge Required: Obviously, you'd probably enjoy this more if you're familiar with Tina Turner's hits. I'm surprised I was only familiar with two songs "Proud Mary" and "What's Love Got to Do with It?"
Defined Plot/Storyline: Yes
Live Band/Orchestra: Yes
Equity Actors: All
Total Number of Actors: Too many to count
Perceived Pace of the Show: Medium but a little slow in the beginning of the first act
Length (Including Any Intermission): 3 hours
Intermission Included: Yes
Was This the First Time I Attended a Production of this Show: Yes
Would I See It Again 3 Years from Now: No
Recommendation: See it if either 1) you're a Tina Turner fan 2) or you watch Lifetime TV dramas with domestic violence.
Other Rave(s) Not Mentioned in Elevator Thoughts
Mother: Roz White (as Tina Turner's mom Zelma) was so delightful despite her character's lack of maternal warmth. I actually thought she was a stepmom.
Projections: The projections seemed inspired by the psychedelic 1970s. They were especially mesmerizing immediately after the "Proud Mary" number.
Light Design: The lights were dazzling … even painful with the sudden spotlights in the Brazil concert scene!
Wigs: Ari Groover showcased a plethora of Tina Turner hairstyles throughout the show. My favorite was probably "the Farrah Fawcett" worn at the beginning of the second act.
Favorite Song: Other than the obvious recognizable hits "Proud Mary" and "What's Love Got To Do With It," I liked "Shake a Tailfeather" because the choreography reminded me of Hairspray.
Favorite Line: Regarding Tina's signature hairstyle, her mom said something like "Looks like a cat's been sucking on it."
Rant(s)
Heat and Humidity: Let's turn on the A/C or dehumidifier Paramount Theatre!
White Savior: Even though it might be historically accurate that Roger Davies (played by Zachary Freier-Harrison) was the catalyst for Tina's icon status, it reminded me of the "white savior" trope like in the movies The Help and Hidden Figures.
Other Musing(s) and Observation(s)
Domestic Abuse: The first act was filled with domestic violence/abuse like a Lifetime TV drama! Maybe that's why I enjoyed the second act more.
Chant: A mystic Buddhist mantra theme was woven throughout the musical. I honestly thought it was an indigenous tribal chant until I read about it the next day. The script should explain this mantra more.
Theatre Company: National Tour from Broadway Across America and Seattle Theatre Group
Venue: Paramount Theatre
Venue Physical Address: 911 Pine St, Seattle, WA 98101
Price: Medium to Expensive
Ticket Affordability Options: Seattle Theatre Group might partner with an organization you're affiliated with for discount tickets. For example, I believe UW employees and students are eligible for an organization discount.
Dates: September 12 to 17, 2023
Seating: Assigned Seating
Parking: Paid street parking and paid garage parking. The best parking garage is under the convention center w/ the entrance on Pike around the Pike and Terry intersection. Last I checked, this is one of the cheapest, least busy, and closest garages. Alternatively, you can probably find street parking as you move closer to the West Precinct (810 Virginia St, Seattle, WA 98101). Do NOT park where the Paramount subscribers park. Last I checked, they usually park in the garage attached to the Cheesecake Factory. It'll take you at least 30 minutes to exit that garage after the show.
Like/Comment/Share my Social Media Posts About this Performance:
Instagram | TikTok | Twitter | Facebook | YouTube | Threads
Buy a Ticket or Learn More:
Other Video +/- Pictures: See pictures in video and under video by MurphyMade.