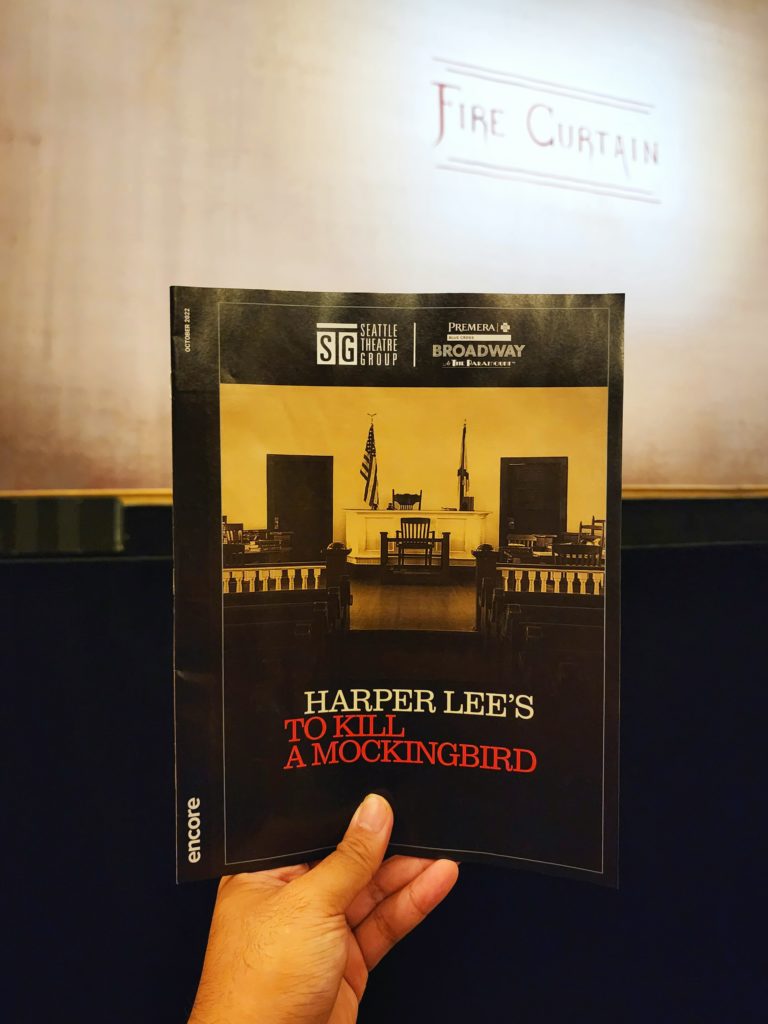 Elevator Thoughts (aka Tweet): To Kill a Mockingbird on Broadway play at Paramount Theatre & Seattle Theatre Group. Delightful accents. Loved the 3 precocious young narrators esp Dill. Powerful commentary on racism especially when naive Atticus broke the 4th wall. Reminds me that there are far worse areas than woke PNW.
Type: Play
Recommendation: See it!
Would I See It Again 3 Years from Now?: Yes if it was done professionally again.
Rating (Out of 5 Stars): 4.5 stars
Other Thought(s) – Full disclosure, I didn't read the book. Gasp!
Who was the killer? Did the author leave it open-ended on purpose or did I just miss that detail?
Who was the crazy guy? They needed to give him or or his background more airtime for those who didn't read the book.
Theatre Company : Seattle Theatre Group and Broadway at the Parmount
Venue: Paramount Theatre – 911 Pine St, Seattle, WA 98101
Price: $$$$ (Expensive)
Dates: October 11 – 16, 2022
Seating: Assigned Seating
Parking: Street or Garage. I like the old convention center garage w/ the entrance on Pike and 9th.
Social Media Posts: Instagram | TikTok | Facebook | Twitter | YouTube
Link(s):
Other Media: Clips of performance in the video are provided by the touring company and Seattle Theatre Group.