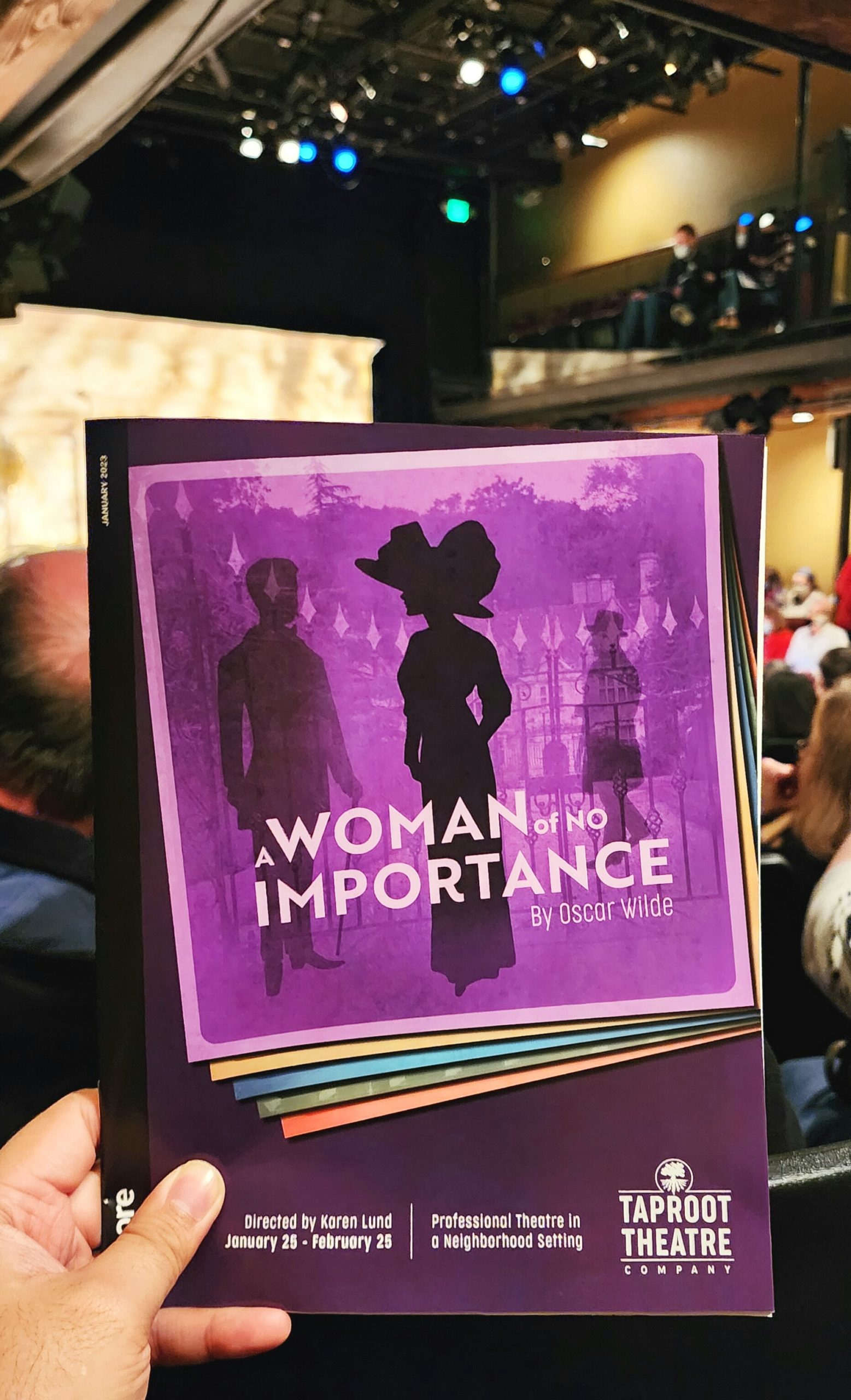 Elevator Thoughts (aka Tweet): A Woman of No Importance Oscar Wilde play at Taproot Theatre followed by a charming English tea reception from Lá Liath Bakery. Felt like Downton Abbey and Jane Austen. Bretteney Beverly delightfully reminded me of Dowager Countess Crawley. Pinkies up! #theatre #British
Synopsis from the Theatre: Gerald's prospects are bright as he celebrates his new position with the notorious Lord Illingworth. But amidst the glittering banter at Lady Hunstanton's party, a long buried scandal is revealed. Will the unveiling of Gerald's lineage change the trajectory of his future? And what of the lovely American who's captured his heart? This comedic classic from Oscar Wilde will charm you with its cleverness and wit.
Reviewed Performance: 1/27/23 Opening Performance – Sorry for the late review. I've been busy with my dad in town.
Type: Play
World Premiere: No
Awards: Zero? For such a classic play, I'm surprised. Let me know in my social media posts if this play garnered any awards.
Film: Several film adaptations of the play, which is a good sign in my book
Defined Plot/Storyline: There was not an extensive storyline but there was a climax. The entire play was only 4 scenes.
Recommendation: See it if you like Downton Abbey or Jane Austen. Bonus points if you can easily understand what they're saying in Shakespeare plays.
Was This the First Time I Saw a Production of this Show: Yes
Rating Compared to Other Shows with the Same Production Value:
4.5 Stars (Out of 5 Stars)
Equity Actors: Two but most of them were very good
Number of Actors: 11
Length (Including Any Intermission): 2.5 hours
Intermission: Yes
Other Rave(s) Not Mentioned in Elevator Thoughts
Digs on Americans: The English characters frequently poked fun at American culture. It reminded me of how New York City plays and musicals frequently tells jokes about New Jersey.
Acting: The actors' expressions, reactions, and responses were well-timed. It's probably due to both good writing and good acting.
Act Endings: Act one closed with a great dramatic climactic sequence/reveal that compelled the audience to stay for the second act. Act two (the last act) ended with a nice closing line that wrapped up the play in a tidy bow.
Set Change: Usually productions try to hide busy set changes in the dark. This production showcased the stage magic in the middle of act two when they transformed the walls. The audience even clapped for that!
Favorite Line: "Men marry because they are tired; women, because they are curious; both are disappointed." I feel like there were more witty adages but this is the only one I could remember.
English Tea Reception: Lá Liath Bakery provided classic British finger foods for opening night reception including cucumber cream cheese sandwiches, shortbread, scones, dodgers, and "biscuits."
Rant(s)
Too Many Characters: Oscar Wilde introduced too many characters at the beginning of the play. If was difficult keeping track of everyone on-stage and who they were gossiping about. At the end of the day, half of the characters weren't essential to the story.
Other Musing(s)
Mental Energy: Maybe I didn't eat my Wheaties that day but this play was difficult to follow, especially in the beginning. To be fair, I already struggle following British English, whether it be modern, old (like Jane Austen), or really old (like Shakespere). I could clearly understand the American character though! It doesn't help that English humor can be very sly. But the audience didn't seem to experience my problem. They seemed to gather much more than I did since they laughed at many jokes I missed. Maybe this play is for smarter, more highbrow patrons! After I sorted out all the characters by the middle of act one, I began to enjoy the play more especially since that's when the conflict started, and the storyline became simpler for commonfolk like myself! 😛
Theatre Company: Taproot Theatre
Venue: Taproot Theatre
Venue Physical Address: 204 N 85th St, Seattle, WA 98103
Price: Medium
Ticket Affordability Options: Pay what you can days and GoldStar
Dates: January 25 – February 25, 2023
Seating: Assigned Seating
Parking: Paid lot or usually-free street parking. I almost always find free street parking on Greenwood Ave just South of the theatre.
Like/Comment/Share my Social Media Posts About this Performance:
Instagram | TikTok | Facebook | Twitter | YouTube
Buy a Ticket or Learn More:
Other Video +/- Pictures: See below pictures under video and in video by Robert Wade
Cast and Production Team: See below video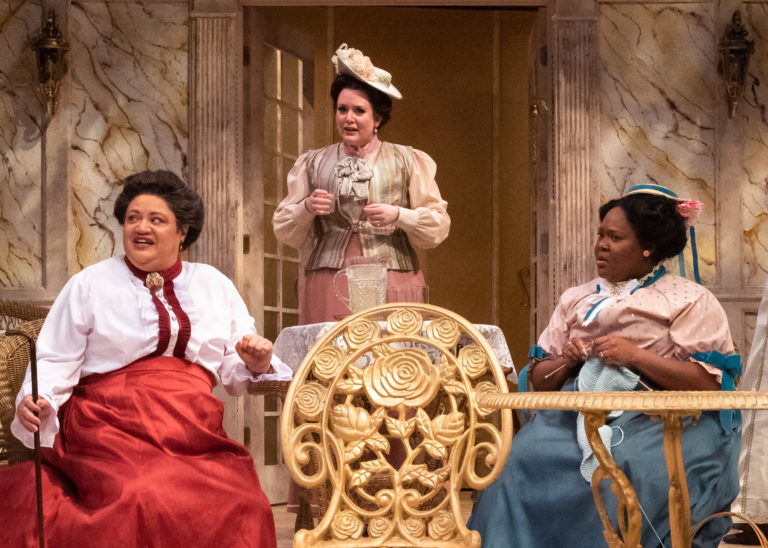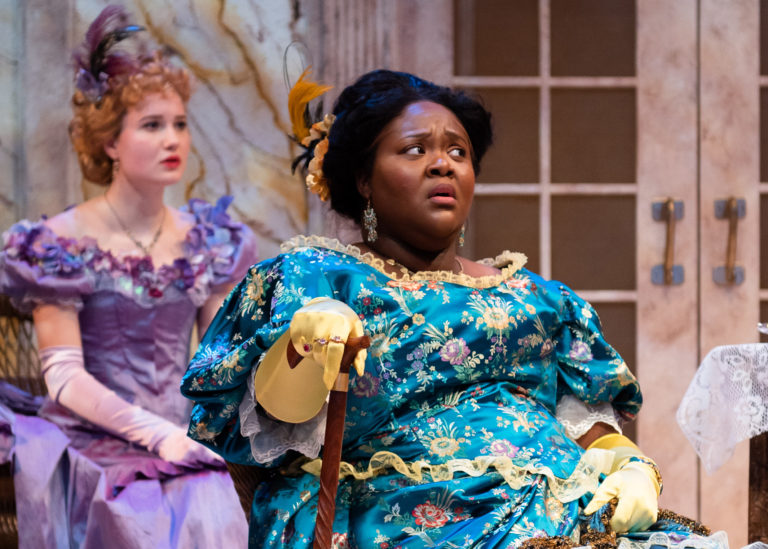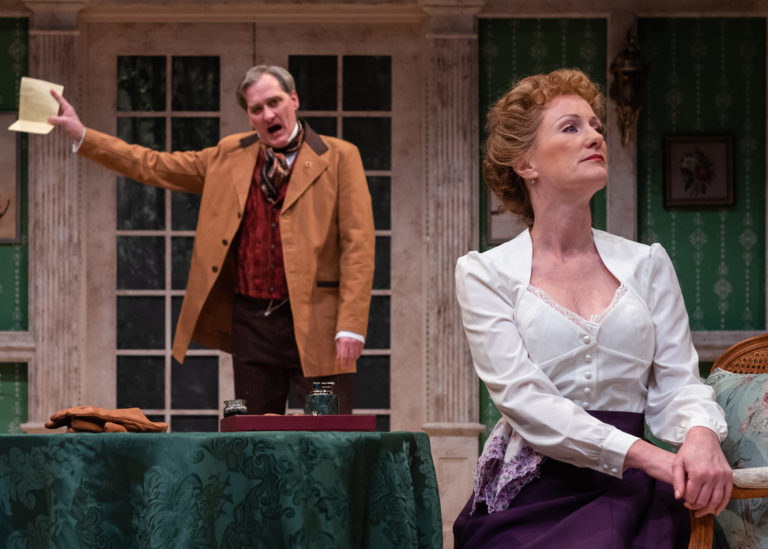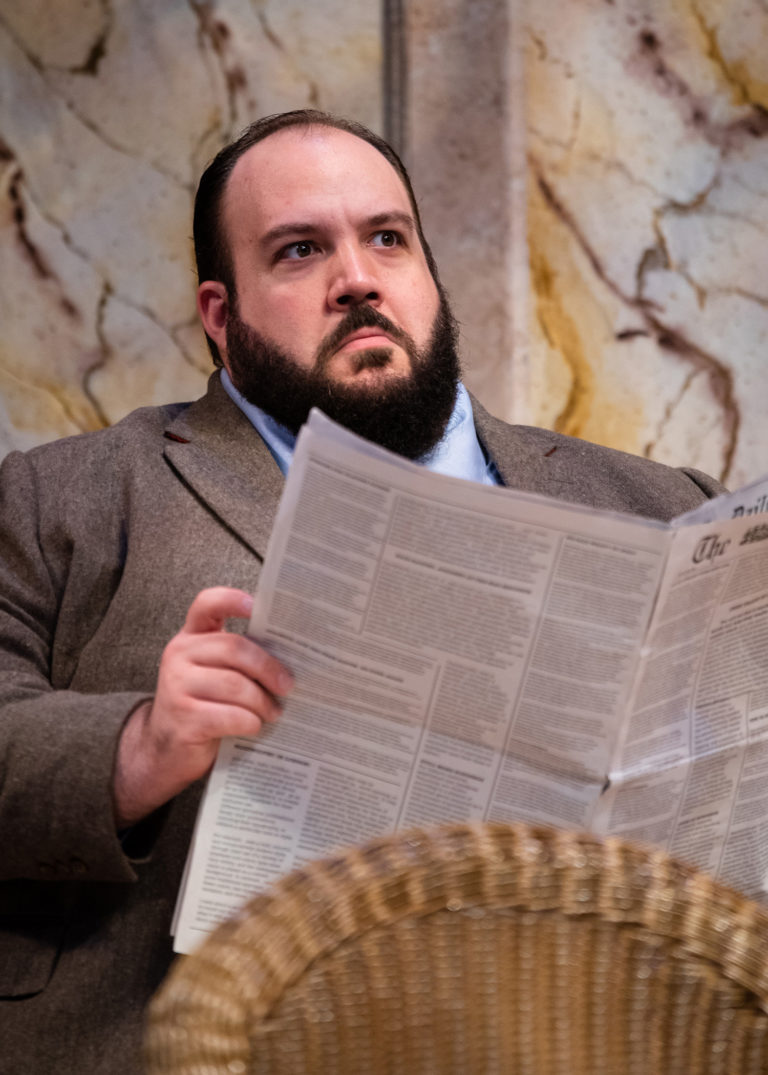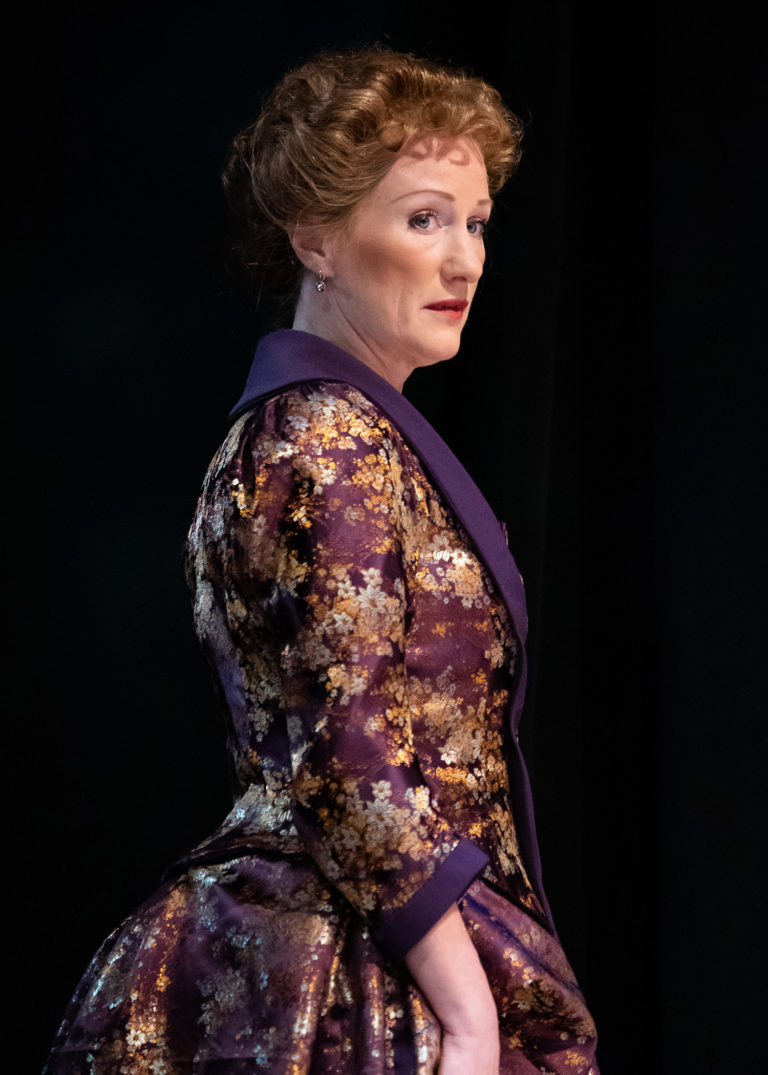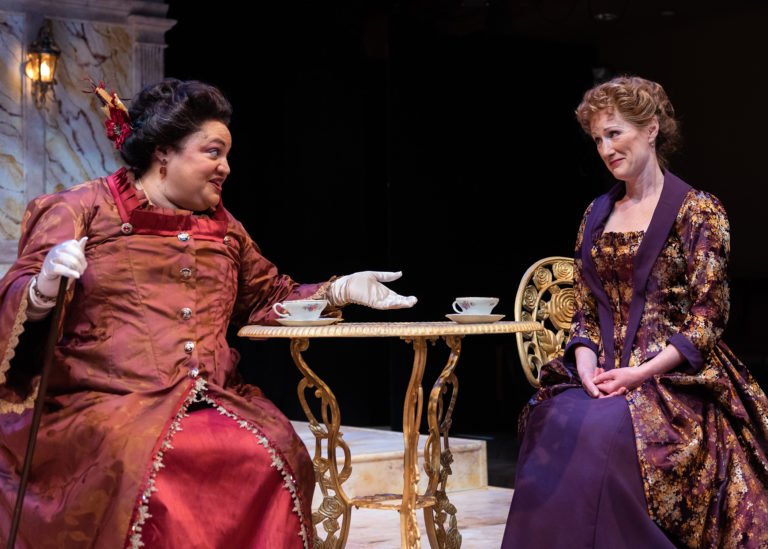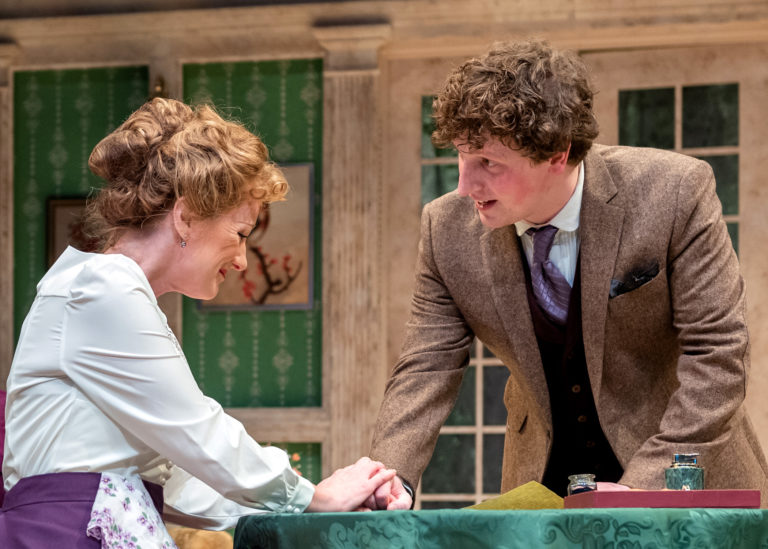 Role

Name

Lady Caroline Pontefract
Bretteney Beverly *
Hester Worsley
Juliette Jones
Sir John Pontefract
Tyler Campbell
Lady Hunstanton
Rebecca M. Devis
Gerald Arbuthnot
Will Eames
Mrs. Allonby
Nikki Visel
Lady Stutfield/Alice
Melanie Hampton
Mr.Kelvil
Bill Johns
Lord Illingworth
Aaron Lamb *
Mrs. Rachel Arbuthnot
Candace Vance
Archdeacon Daubney
Nolan Palmer
—
—
Lady Caroline/Lady Hunstanton (Understudy)
Cailtin Frances
Hester Worsley/Lady Stutfield/Alice (Understudy)
Audrey Herold
Sir Pontefract/Mr. Kelvil/Archdeacon Daubney (Understudy)
Jeff Church
Gerald Arbuthnot (Understudy)
Koo Park
Mrs. Arbuthnot/Mrs. Allonby (Understudy)
Charissa J. Adams
Lord Illingworth (Understudy)
Brian Pucheu
—
—
Playwright
Oscar Wilde
Director
Karen Lund **
Assistant Director
Brad Lo Walker
Scenic & Sound Design
Mark Lund
Costume Design
Jocelyne Fowler
Lighting Design
Michael Wellborn
Fight Choreographer
Christopher Kidder-Mostrom **
Stage Manager
Claire Stark *
Dramaturg
Sonja Lowe
Dialect Coach
Alyssa Keene
—
—
Property Master
Andrea Spraycar
Assistant Stage Manager
Grace Heller *
Casting Consultant
Jessica Spencer
Casting Associate
Pilar O'Connell
Dresser
Luna McMeen
Draper
Martha Mitchell
Stitchers
Veronica Dimoff, Scìan Hayes
Wig Designer
Joyce Degenfelder
Wig Specialist
Juliette Lewis
Master Electrician
Aiyana Stephens
Scenic Carpenter
Tim Samland *
Light Board Operator
Clint Bull
Sound Board Operator
Marty Sisk
Electricians
Kathryn Louise, Jacob Viramontes
Scenic Strike/Load-In
Jasmine Cote ****
Chandler Eichele ****
Tamir Lehrer ****
* Actors Equity Association
** Stage Directors and Choreographers Society
*** United Scenic Artists Local 829
**** IATSE Local No 15