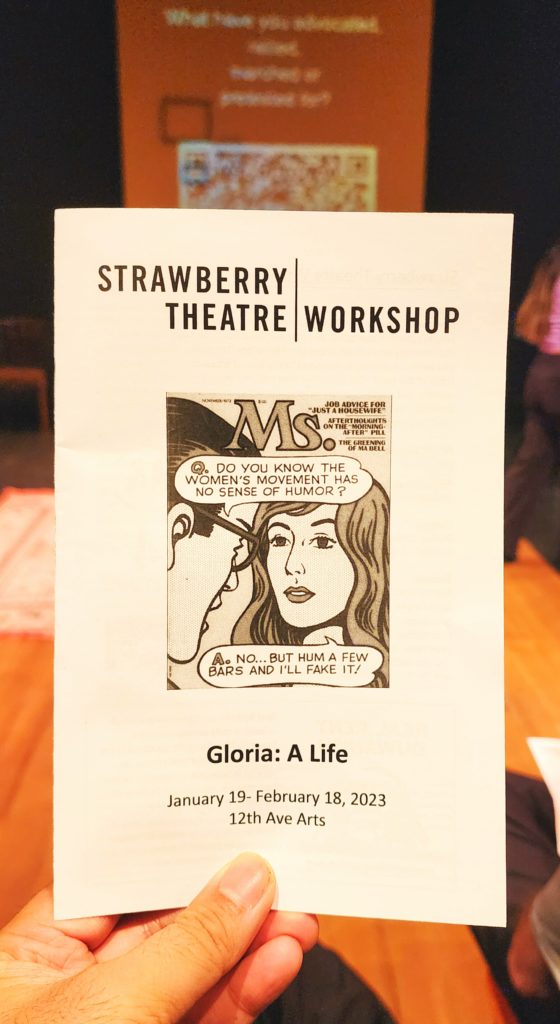 Elevator Thoughts (aka Tweet): Gloria: A Life #play w/ Strawberry Theatre Workshop reminded me of the Mrs. America TV miniseries & In the Time of the Butterflies Book-It Repertory Theatre play. Loved Ayo Tushinde's portrayal of Flo Kennedy w/ her distinct accent & iconic hat. I wish I owned bras to burn in solidarity. Shake the patriarchy! A woman w/o a man is like a fish w/o a bicycle! #feminist #feminism #feminists #GloriaSteinem @GloriaSteinem
Synopsis from the Theatre: Five decades after Gloria Steinem began raising her voice for equality and championing the voices of others, she remains a leader of the American women's movement. Emily Mann's play traces the progress of Steinem's extraordinary life, from her undercover Playboy Bunny exposé in the 1960s, through her founding of Ms. Magazine in the 1970s, to her speech at the 2017 Women's March. Staged for Strawberry Theatre Workshop by Makaela Milburn in a living room set, Gloria: A Life puts the words of the famed journalist into action through an ensemble of six actors, played by Alanah Pascual, Kathy Hsieh, Marion Jacobs, Ayo Tushinde, Sarah Harlett, and Sharon Barto Gouran. Steinem's journey to activism is traded between voices and distinct cultural origins, giving the movement less historical and more contemporary energy, and the early feminists' accomplishments drawn as less individual and more collaborative. For Strawshop, Gloria is one of the most pertinent expressions of its mission to activate community conversation. Gloria expands the conversation in the second half of the evening to a discussion of local activism, bounded by four guidelines directly inspired by organizing principles of Black Lives Matter: "Lead with Love, Low Ego, High Impact, and Move at the Speed of Trust."
Reviewed Performance: 1/26/23 Opening Performance – Original previous opening weekend delayed because of COVID-19. 🙁
Type: Play
World Premiere: No
Defined Plot/Storyline: Like other biographical plays, there isn't a strong plot. It's a series of chronological scenes … like real life!
Recommendation: See it especially if you're into women's rights!
Was This the First Time I Saw a Production of this Show: Yes
Would I See It Again 3 Years from Now: Yes, if it was an Equity production
Rating Compared to Other Shows with the Same Production Value:
5 Stars (Out of 5 Stars)
Equity Actors: One but all were very good
Number of Actors: 6
Length (Including Any Intermission): 90 min performance + 20 min talkback
Intermission: No
Other Rave(s) Not Mentioned in Elevator Thoughts
Favorite Line: Other than the classic "a woman without a man is like a fish without a bicycle," I've never heard of "if women could sleep their way to the top, there'd be a lot more women at the top." Apparently, this was a real quote from Gloria Steinem.
Rant(s)
Projections: Projections were a a little hard to see. However, I acknowledge it's a fine line to balance shining enough light on actors vs reducing the light so projections are brighter.
Other Musing(s)
Mild Audience Participation: Actors paused occasionally so the audience could shout out answers to wall-projected questions or enter the answers on a website via smartphone. There was also a segment where audience volunteers were asked on-stage. Additionally, there was a talkback immediately after the show when actors actively requested the audience to stay for 20 mins.
Other Iconic Feminists: This play wasn't just about Gloria Steinam. It also covered other major historical feminists during her time like Dorothy Pittman Hughes, Flo Kennedy, Wilma Mankiller (what an ironic name!), and Bella Abzug. However, I was surprised Betty Friedan wasn't featured.
Historical Tidbits: A couple interesting historical facts were mentioned throughout the show:

Gloria Steinem's (arguable) claim to fame was when she wrote an exposé as an undercover Playboy Bunny. Sex truly does sell!
Gloria ironically originally wanted to be a Rockette
The continental congress drew inspiration from the Iroquois Native Americans when designing the USA federal government
Theatre Company: Strawberry Theatre Workshop
Venue: 12th Avenue Arts
Venue Physical Address: 1620 12th Ave, Seattle, WA 98122
Price: Cheap to Medium
Dates: January 19 – February 18, 2023
Seating: General Admission
Parking: Paid lot or paid street parking. Street parking is extremely limited since it's Capitol Hill. Your best luck would be East of Cal Anderson Park on 11th or 12th Ave. Cheapest paid lots are on 11th Ave across from the park. Sigh, "cheapest" was $16 dollars for me. :-/ I highly suggest parking far away or taking the bus.
Like/Comment/Share my Social Media Posts About this Performance:
Instagram | TikTok | Facebook | Twitter | YouTube
Buy a Ticket or Learn More:
Other Video +/- Pictures: See below
Cast and Production Team: See below video
Role

Name

Gloria
(Reverse Alphabetical Order)
Sharon Barto Gouran
Sarah Harlett (AEA Member)
Marion Jacobs
Kathy Hsieh
Ayo Tushinde
Alanah Pascual
—
—
Projections
Adam Zopfi Hulse
Artistic Director
Greg Carter
Scenery
Bella Rivera
Sound
Kyle Thompson
Lighting
Maryalice Weed
Costumes
Lizz C Williams
Graphic Designer
Melanie Wang
Playwright
Emily Mann
Director
Makaela Milburn assisted by Jasmine Lomax
Stage Manager
Jasmine Lomax assisted by
Brandon Eller