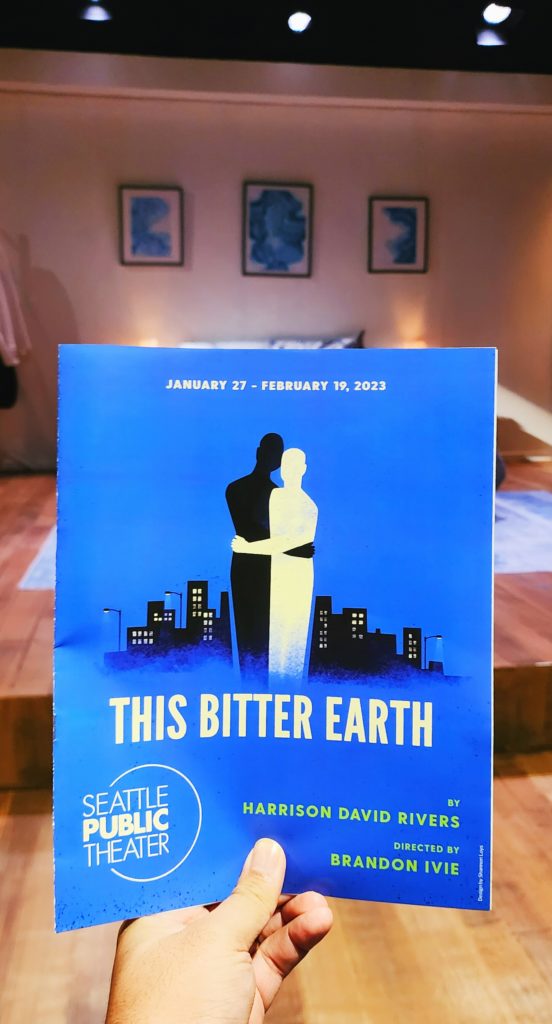 Elevator Thoughts (aka Tweet): This Bitter Earth play at Seattle Public Theatre. Commentary on race & interracial/interclass relationships today. Great projections. Ironic ending … life is so random/unfair! Take care of your blessings! #LGBT #gay
Synopsis from the Theatre: A deep love is challenged by divisive political realities. Jesse, an introspective black playwright, finds his choices called into question when his boyfriend, Neil, a white Black Lives Matter activist, calls him out for his political apathy. As passions and priorities collide, this couple is forced to reckon with issues of race, class and the bravery it takes to love out loud.
Reviewed Performance: 1/28/23 Opening Weekend – Sorry for the late review. I've been busy with my dad in town.
Type: Play
World Premiere: No
Defined Plot/Storyline: Not really. It was a mix of events alternating between past and present.
Recommendation: See it if you're 1) into commentaries on race 2) or okay with plays with only 2 actors
Was This the First Time I Saw a Production of this Show: Yes
Rating Compared to Other Shows with the Same Production Value:
4 Stars (Out of 5 Stars)
Equity Actors: None
Number of Actors: 2
Length (Including Any Intermission): 105 mins, which was a little long. An intermission-less show shouldn't be longer than 90 mins in my book.
Intermission: No
Other Rave(s) Not Mentioned in Elevator Thoughts
Projections: They depicted an NYC taxi ride in a way I've never seen before. For the video, I think they attached a recorder to the back of a car driving around downtown. The performers acted a taxi scene while the video projected in the background. The home window projections were pretty good too. However, they shouldn't project windows on a red brick wall. It doesn't look as realistic as a flat white surface.
Rant(s)
Timeline: I'm personally not a fan of shows (or even books) that alternate between past and present frequently. The occasional flashback is okay but when it is frequent, the timeline is usually muddled and disjointed.
Other Musing(s)
Moral of the Story: The script felt like it was trying to make a statement, but I couldn't grasp what it was. Maybe "take care of your blessings?" Also, what statements was it trying to convey about race and class? Leave a comment in my social media post links below about what you think is the message of the play.
Theatre Company: Seattle Public Theater
Venue: Seattle Public Theater
Venue Physical Address: 7312 West Green Lake Dr N, Seattle, WA 98103
Price: Cheap
Ticket Affordability Options: Every performance is pay-what-you-can. You can pay $5-50 per ticket online. It's all honor system. The standard price is $36.
Dates: January 27 – February 19, 2023
Seating: Assigned Seating
Parking: Free lot outside the theatre. It's one of the public lots for Green Lake Park.
Like/Comment/Share my Social Media Posts About this Performance:
Instagram | TikTok | Facebook | Twitter | YouTube
Buy a Ticket or Learn More:
Other Video +/- Pictures: See below pictures under video and in video by John Ulman
Cast and Production Team: See below video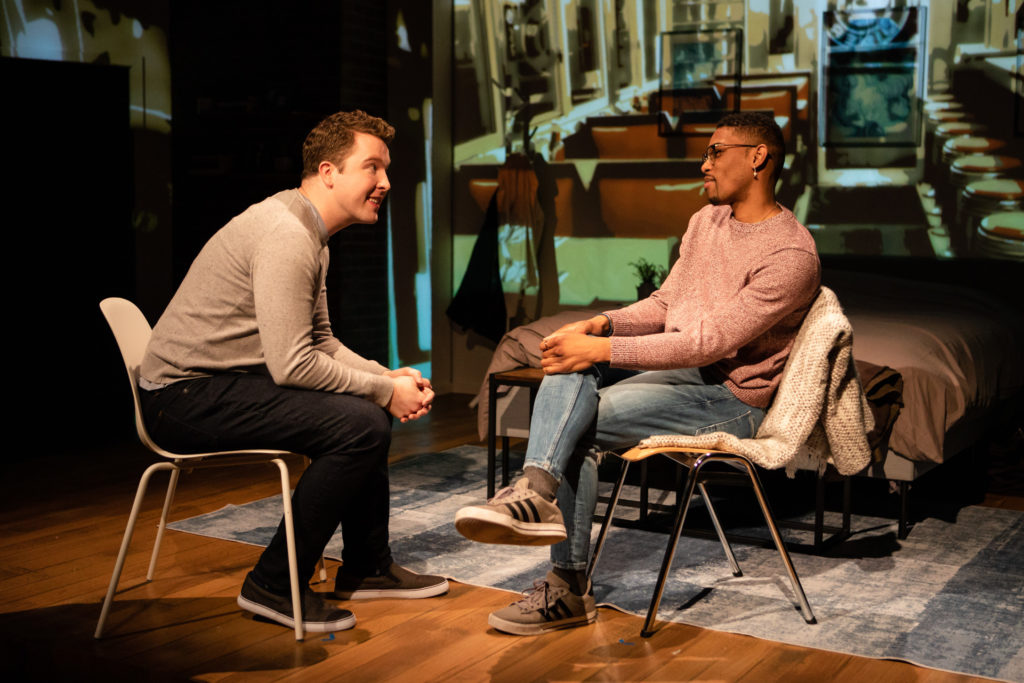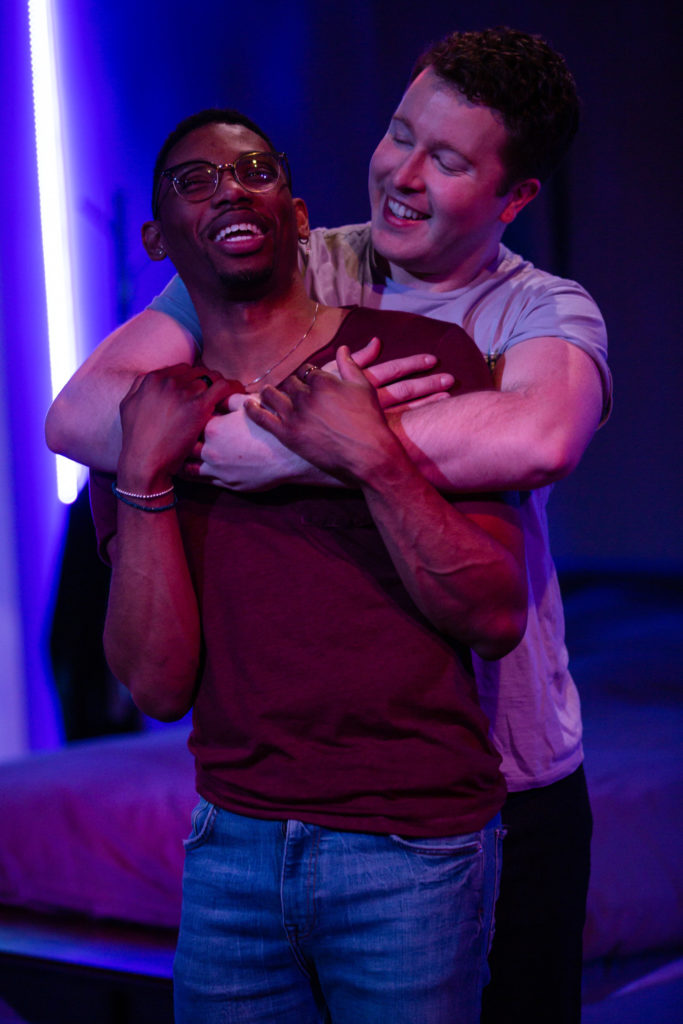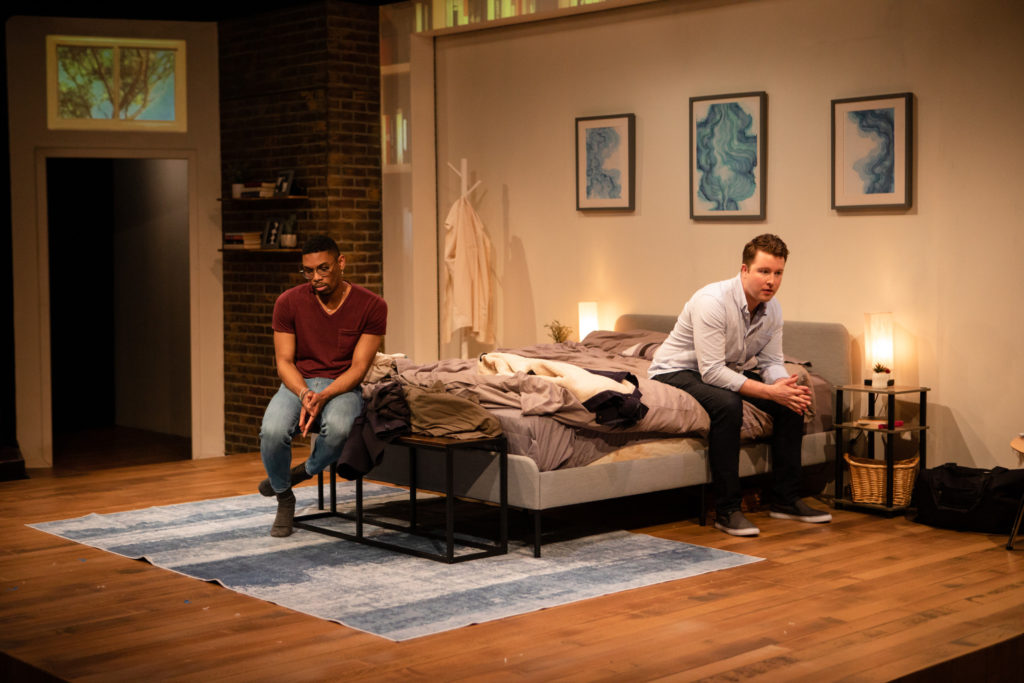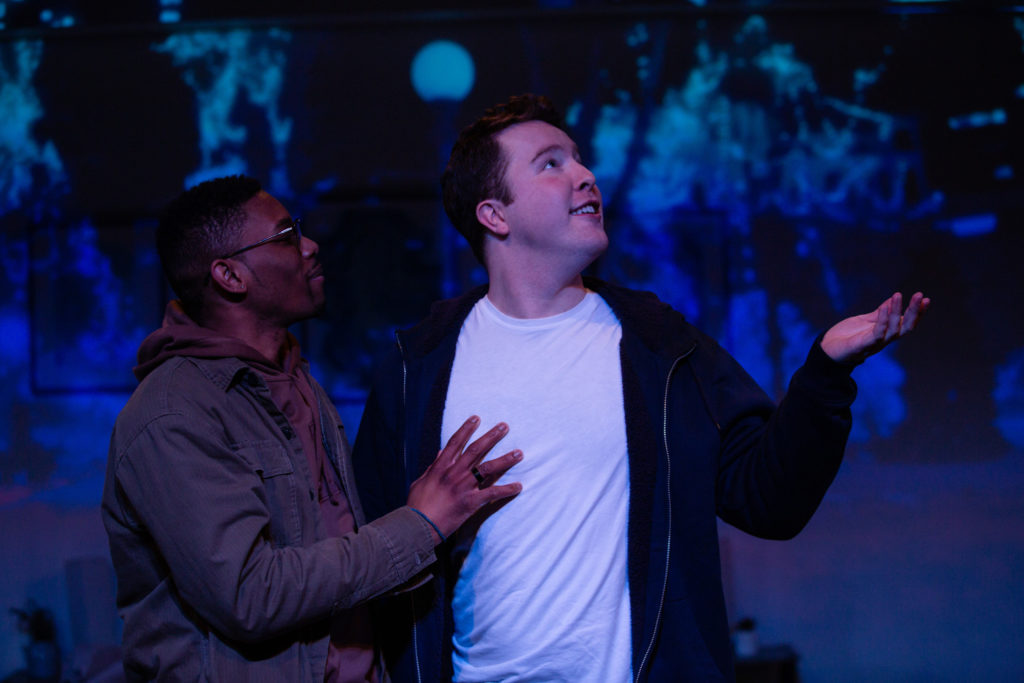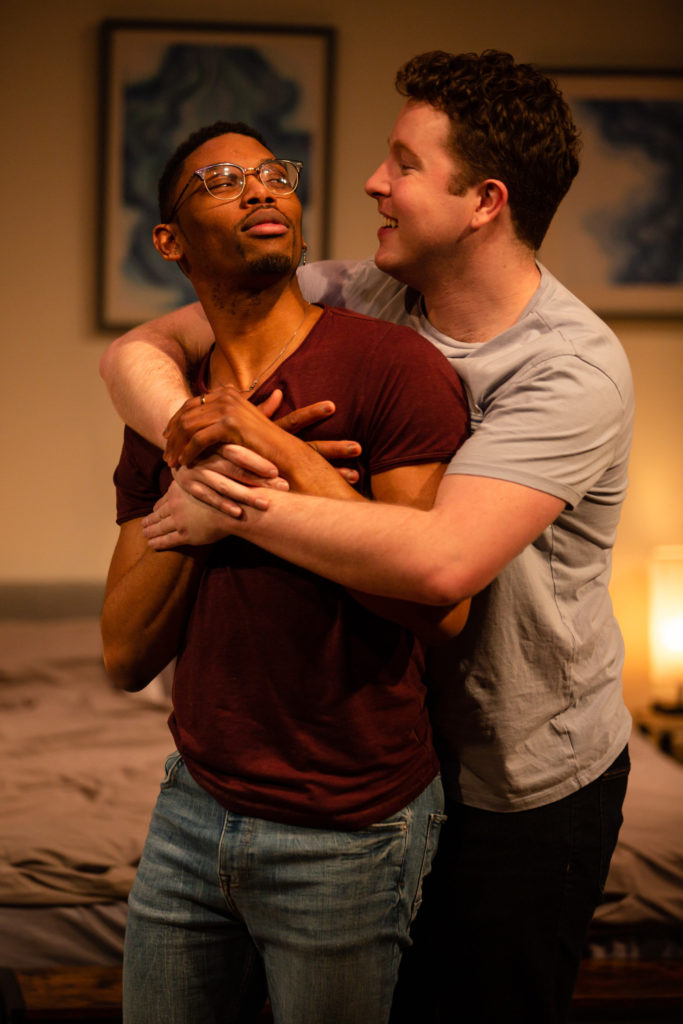 | | |
| --- | --- |
| Role | Name |
| Brodrick Santeze Ryan | Jesse |
| Tyler Rogers | Neil |
| — | — |
| Harrison David Rivers | Playwright |
| Brandon Ivie | Director |
| Nate Tenenbaum | Assistant Director |
| Lowell Deo | Artistic Liaison |
| Emily Marie Harvey | Stage Manager |
| Michael Latham | Assistant Stage Manager |
| Lex Marcos | Scenic Designer |
| Amber Parker | Lighting Designer |
| Meghan Roche | Sound Designer |
| Bella Rivera | Properties Designer |
| Ahren Buhmann | Projections Designer |
| Michael Notestine | Costume Designer |
| Jasmine Lomax | Intimacy Director + Fight Choreographer |
| Jennifer Ewing | Scenic Charge |
| Locke Landis | Lead Electrician |
| Annie Lareau | Artistic Director |