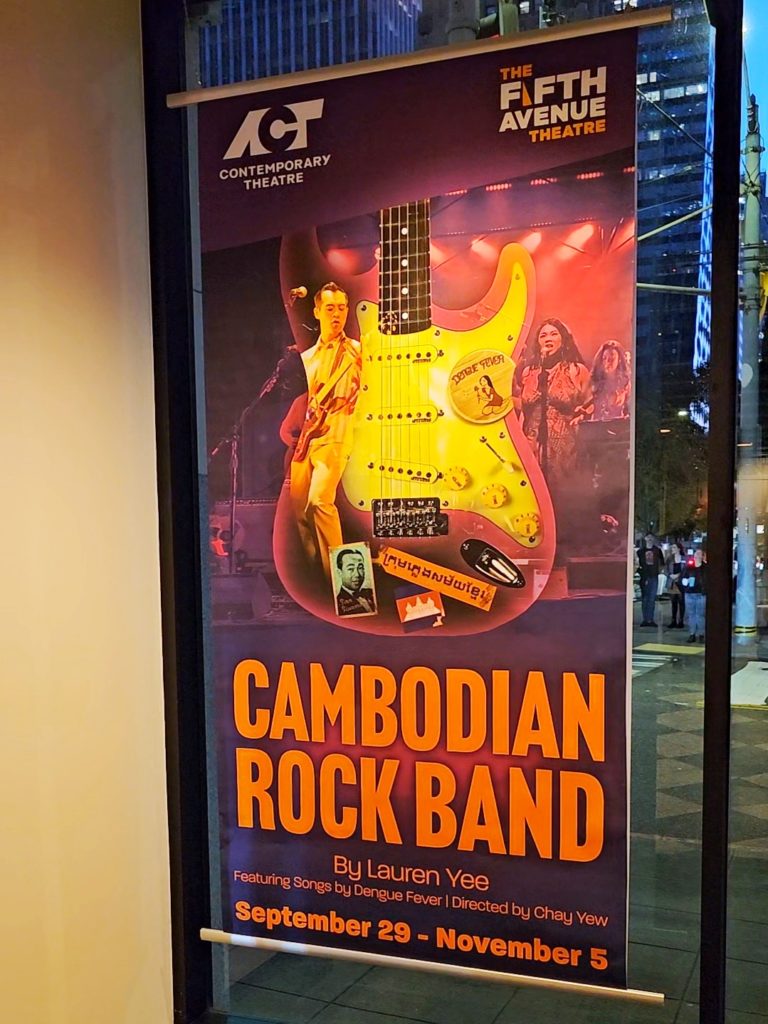 Elevator Thoughts (aka Tweet): Lauren Yee's Cambodian Rock Band musical at ACT Theatre w/ 5th Avenue Theatre featuring music from Dengue Fever, directed by Chay Yew, starring Brooke Ishibashi & the talented Joe Ngo. Good dialogue, difficult decisions, & poetic/artistic story. Music was so Seattle. #showsiveseen #theatre #Cambodia #KhmerRouge #DengueFever #Cambodian #karma
Recommendation
See it, especially if you like rock music reminiscent of Seattle

Synopsis from the Theatre: Guitars tuned. Mic checked. Get ready to rock! This darkly funny, electric new play with music tells the story of a Khmer Rouge survivor returning to Cambodia for the first time in thirty years, as his daughter prepares to prosecute one of Cambodia's most infamous war criminals. Backed by a live band playing contemporary Dengue Fever hits and classic Cambodian oldies, this thrilling story toggles back and forth in time as father and daughter face the music of the past. Lauren Yee brings us an intimate rock epic about family secrets set against a dark chapter of Cambodian history.
Attended Performance Date: 10/5/23 (Opening Night) – See my previous preview posts here.
Type: Musical
World Premiere: No
Several or Few Scenes: Several
Several or Few Settings/Locations: Several
Static (Stationary) Set: No
Prior Exposure/Knowledge Required: No, but you'd probably enjoy this more if you're familiar with Cambodian history or Dengue Fever songs.
Defined Plot/Storyline: Yes
Live Band/Orchestra: Yes, the actors were the band
Equity Actors: 6
Total Number of Actors: 6
Perceived Pace of the Show: Slow, especially with the heavy dialogue
Length (Including Any Intermission): 2.75 hours
Was there an intermission?: Yes
Was This the First Time I Attended a Production of this Show?: Yes
Would I See It Again 3 Years from Now?: Probably not, but it was good
Other Rave(s) Not Mentioned in Elevator Thoughts
Versatile Talent: Almost all the actors were also part of the band. Special shout out to Joe Ngo (who played Chum) with his many character personas.
Well-written Dialogue: I especially enjoyed the argument at the twist reveal, which BTW I'm proud to have predicted!
Asian Representation: I'm always thrilled to see shows that feature Asian actors or Asian stories since we're so underrepresented in entertainment. This musical realistically depicted the interactions between first- and second-generation Asian family members, especially with the parental disapproval!
Rant(s)
Subtitles: The songs were in desperate need of subtitles since some lyrics were in Cambodian and the music genre was that muffled grungy Seattle-esque rock. The audience needs to understand the lyrics in a musical, so the songs add significance to storyline. Imagine how much the audience would miss if they didn't understand the lyrics to "Part of Your World" in The Little Mermaid.
Hook: The musical began like a rock concert with two songs. In my eyes, this was akin to two musical overtures where you start losing the audience at the second song especially if they don't even know the song. I suggest cutting or moving the second song.
Other Musing(s) and Observation(s)
Dancers: Who were the random people that danced on-stage at the end of the show?
Preventable Problems: It's a bit unsatisfying when a major calamity the main character experienced was easily preventable. But I guess a story often needs a calamity to be interesting!
Loose Ends: I feel like the Comrade Duch's story was left unresolved.
Theatre Company: National Tour Brought by ACT Theatre and 5th Avenue Theatre
Venue: The Falls Theatre at ACT Theatre
Venue Physical Address: 700 Union St, Seattle, WA 98101
Price: Medium to Expensive
Regular Tickets: https://acttheatre.org/2023-24-season/cambodian-rock-band/
Ticket Affordability Options: You can self-select lower ticket prices on the ticketing website. Also, check out the the theatre's official discounts page.
Dates: September 29 to November 5, 2023
Seating: Assigned Seating
Parking: Paid lot or paid street parking. If I don't walk to this theatre, I park in the Convention Center garage with the entrance between Seneca and Pike. There is indoor access from the garage to the ACT Theatre walking through the old convention center.
Like/Comment/Share my Social Media Posts About this Performance:
Instagram | TikTok | Twitter | Facebook | YouTube | Threads
Buy a Ticket or Learn More:
Other Video +/- Pictures: See pictures in video and under video by Margot Schulman
Cast and Production Team: See after pictures and/or video below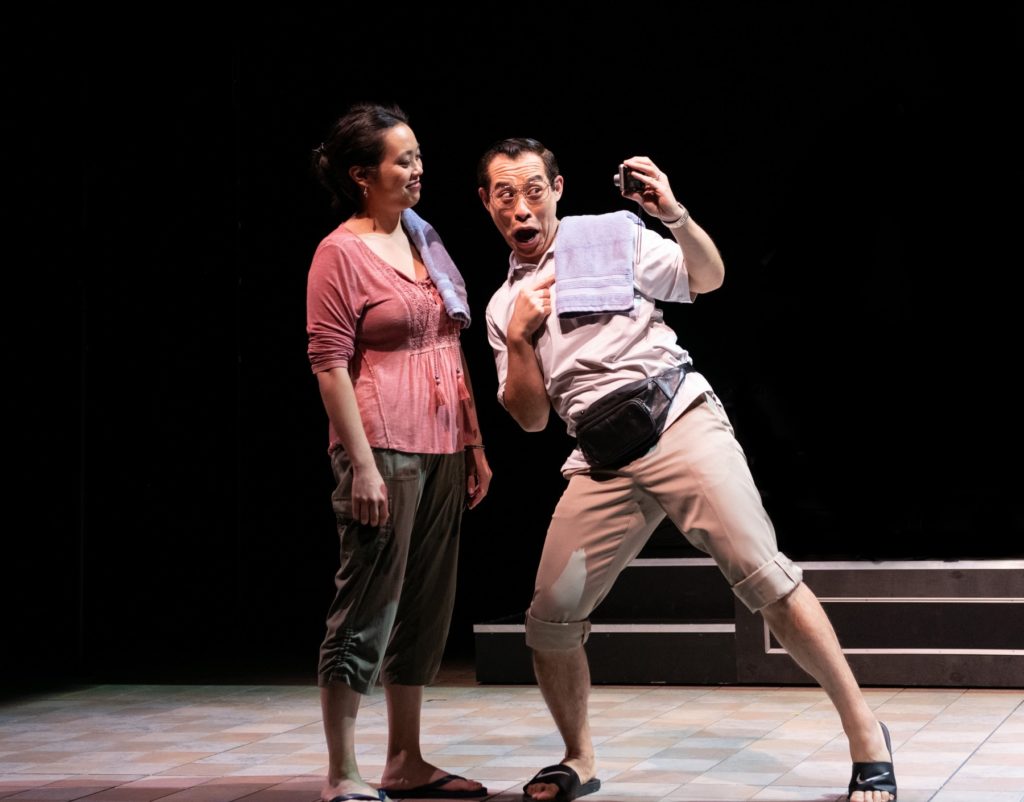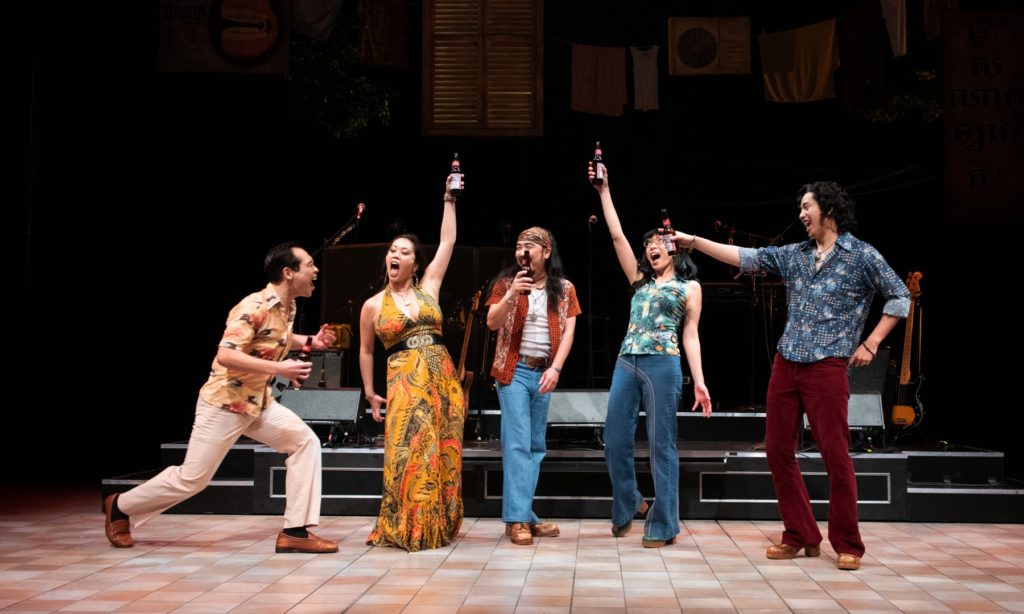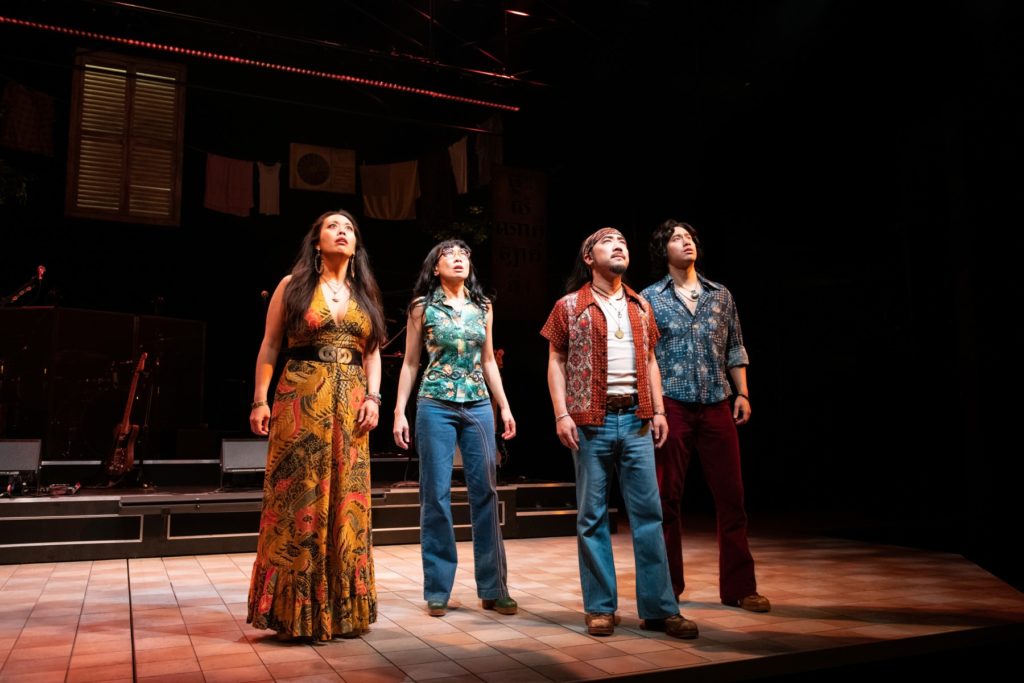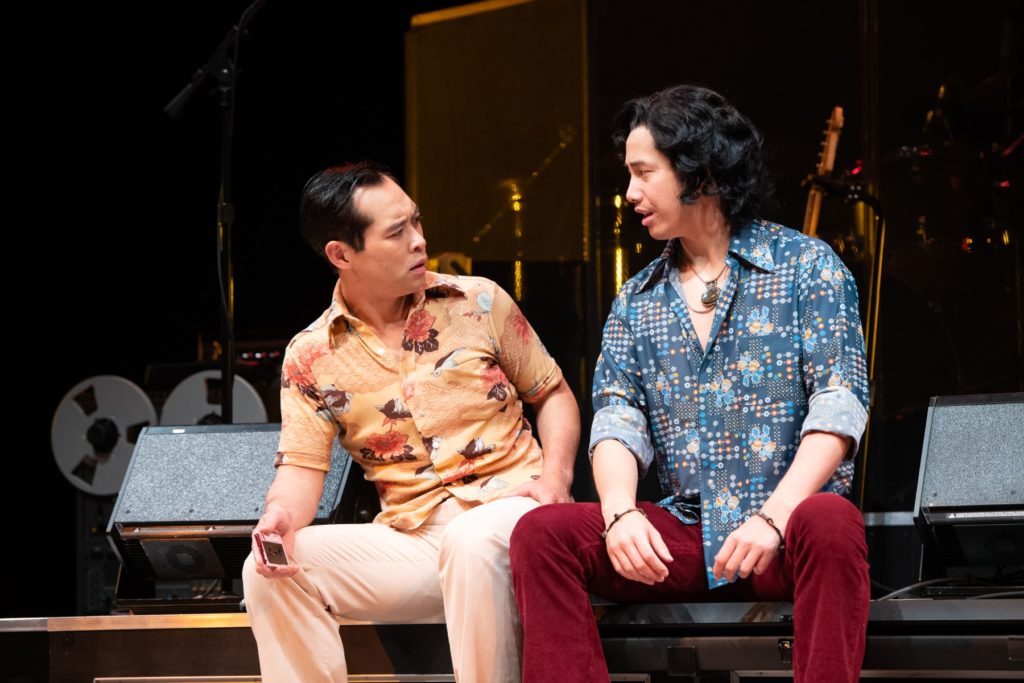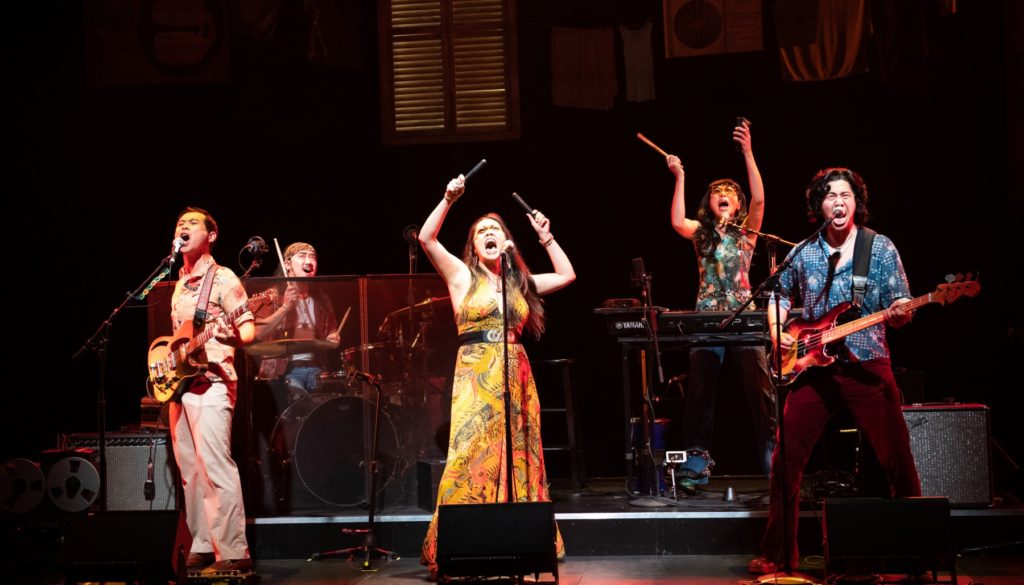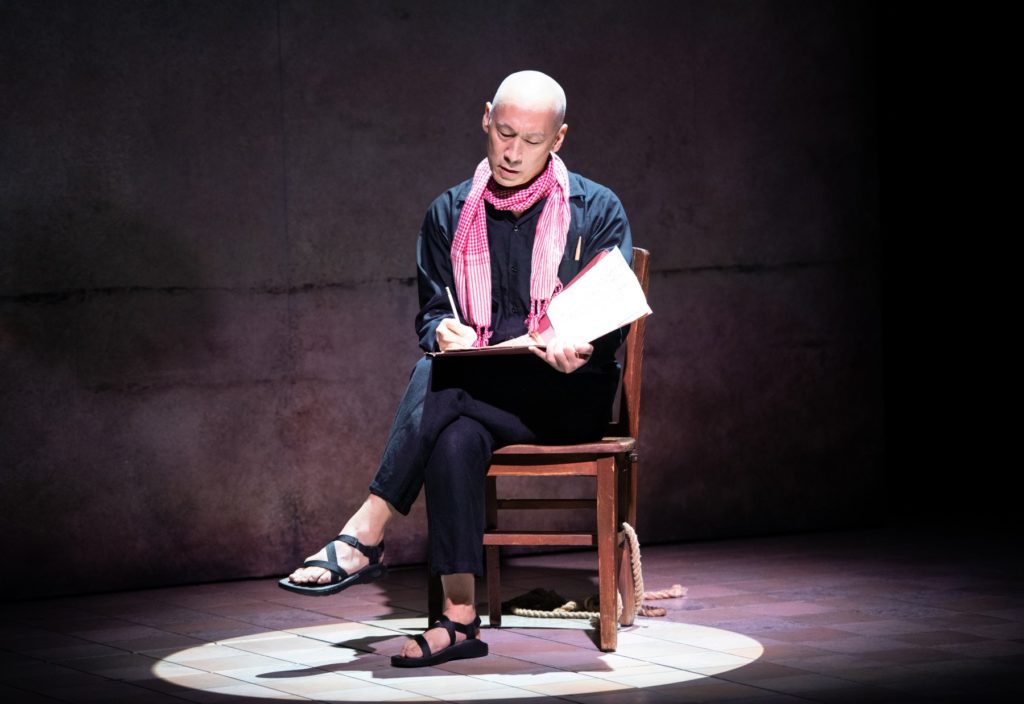 | | |
| --- | --- |
| Role | Name |
| Neary/Sothea | Brooke Ishibashi |
| Rom/Journalist | Abraham Kim |
| Ted/Cadre/Leng | Tim Liu |
| Pou/S-21 Guard | Jane Lui |
| Chum | Joe Ngo |
| Duch | Phil Wong |
| — | — |
| Neary/Sothea/Pou/S-21 Guard (u/s) | Kelsey Angel Baehrens |
| Ted/Cadre/Leng/Rom/Journalist (u/s) | Alex Lydon |
| Duch/Chum (u/s) | Vi Tran |
| — | — |
| Director | Chay Yew |
| Playwright | Lauren Yee |
| Music Supervisor & Co-Music Director | Jane Lui and Matt Macnelly |
| Khmer Vocal Coach | Sokunthary Svay |
| Scenic Designer | Takeshi Kata |
| Co-sound Designers | Mikhail Fiksel & Megumi Katayama |
| Fight Director | Aldo Uribe |
| Costume Designer | Linda Cho |
| Associate Director | Graham Schmidt |
| Stage Manager | Merrick A B Williams |
| Lighting Designer | David Weiner |
| Projection Designer | Luke Norby w/ Five Ohm Productions |
| Associate Lighting Designer | David Shocket |
| Associate Sound Designer | Ben Truppin-Brown |
| Assistant Stage Manager | Quy Ton |
| Production Assistant | Max Zamorano |
| Wig Designer | Tom Watson |
| Associate Scenic Designer | Robin Vest |
| Production Consultant | Charles M. Turner Ill |
| Carpenters | Meghan Boyle, Robin Logerstadt |
| Assistant Lighting Designer | Casey Price |
| Electricians | Kaitlyn Lawrenz, Dave Misner |
| Sound Engineer | Robert "Max" Langley |
| Dressers | Imelda Daranciang, K.D. Schill |
| A1 | Valerie Turos |
| Stagehands | Robin Logerstadt, Martin Sisk |
| Associate Costume Designer | Herin Kaputkin |