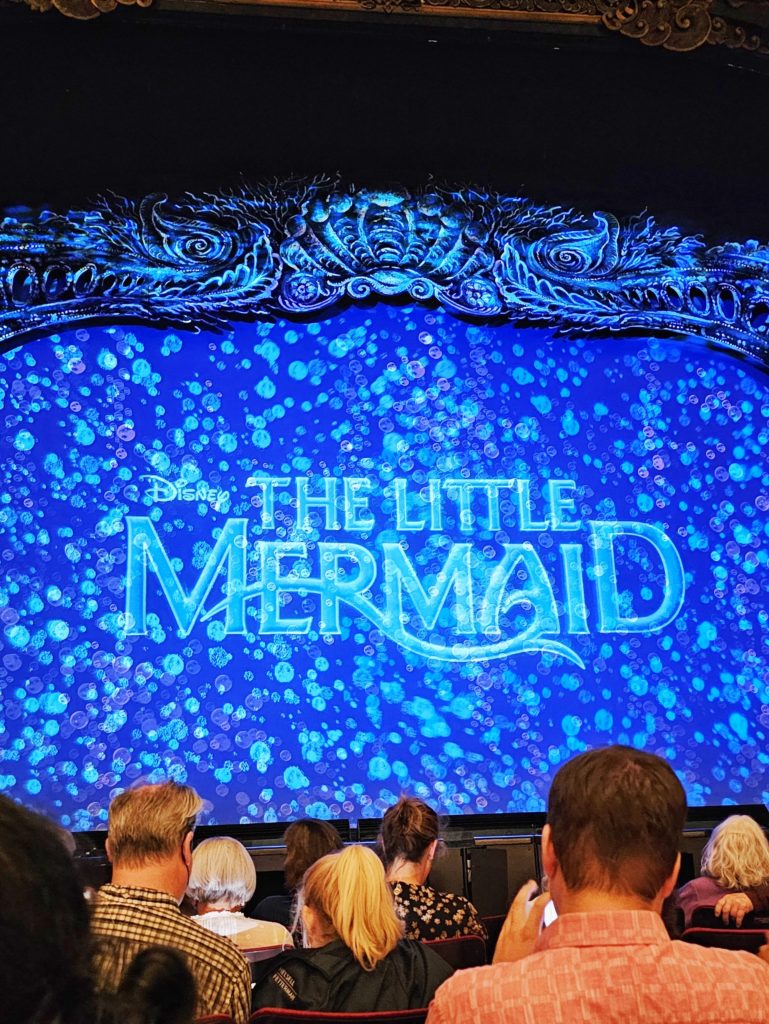 Elevator Thoughts (aka Tweet): Disney's The Little Mermaid musical at The 5th Avenue Theatre starring Diana Huey & Colman Cummings. Directed by Glenn Casale and music directed by RJ Tancioco. Vibrant set/costumes. Quality rivaled the national tour (which I've seen twice). It's times like these that I wish I had kids to bring to the theatre. #Ariel
Synopsis from the Theatre: One of the most successful Disney musicals of all time returns to The 5th Avenue Theatre in celebration of the 35th Anniversary of the original film. Ariel, King Triton, Flounder, Scuttle, Ursula, and Prince Eric tell the story of dreams, love, family, and friendship that has delighted generations. Dive under the sea with Ariel and her friends as they sing some of the best-known songs of the last century.
Attended Performance Date: 9/15/23 (Opening Night)
Type: Musical
World Premiere: No
Several or Few Scenes: Several
Several or Few Settings/Locations: Several
Prior Exposure/Knowledge Required: No, but you'd probably enjoy this more if you're familiar with the original Disney movie.
Defined Plot/Storyline: Yes
Live Band/Orchestra: Yes, there was a glorious orchestra
Equity Actors: All
Total Number of Actors: Too many to count
Perceived Pace of the Show: Medium speed
Length (Including Any Intermission): 2.5 hours
Intermission Included: Yes
Was This the First Time I Attended a Production of this Show: No, I've attended the national tour production twice
Would I See It Again 3 Years from Now: Of course!
Recommendation: See it, especially if you've watched the original Disney movie or if you want to show your kids the magic of live theatre (but it's not just for kids!)
Other Rave(s) Not Mentioned in Elevator Thoughts
Aerial Flying Effects: This production included many aerial flying effects to realistically simulate swimming. It must have required some serious core strength and pilates. I don't remember this much aerial flying in the national tour. I wonder if there's ever any risk of tangling the cables like in puppetry. Side note, during the show, I wondered how Ariel and Prince Eric unharnessed so quickly between their flying scenes. After reading in the program that Joel Domenico and Megan Felise were Ariel/Eric doubles, it made more sense. Stage magic!
"Under the Sea" Song: The bubbles and lights in the audience was a nice touch during "Under the Sea." However, I was surprised how little costumes of traditional fish appeared in this number.
Ursula: Shaunyce Omar was a wonderful choice for Ursula with her inherently rich voice with an attitude.
Electric Eels: Cassi Q Kohl and Ethan Carpenter worked well in-sync as Ursula's minions Flotsam and Jetsam.
Costumes: Obviously, as a 5th Avenue Theatre production, the costumes were gorgeous with the vibrant colors and billowing dresses. Ariel's flowy mermaid dress was designed to also occasionally double as a water splash.
Trident Effect: When King Triton wielded his magical trident, the projections shook giving the illusion of the stage shaking.
Tap Dance: I don't remember the "Positoovity" number from the national tour but it was a good artistic decision to include tap dancing in this song since Ariel was just getting used to her legs. I'm always a huge fan of tap dancing in musicals!
Scuttle: John David Scott was a delight to watch as Scuttle. I would have liked his character featured more.
Favorite Line: "You can't blame all humans for a few wicked ones."
Rant(s)
White Noise: There was weird audio feedback during one of the ship scenes and one of Ursula's scenes.
Other Musing(s) and Observation(s)
Differences from the National Tour: While watching this production, I couldn't help but compare it to the national touring production I saw twice in Houston, TX.

Different Songs: There were some songs missing in this production from the tour and vice versa. For example, this local production didn't include "I Want the Good Times Back."
Illusion of Water: The mermaid actors in the national tour bobbed their body/arms up and down more to portray the illusion of floating underwater. But I feel like this tour relied more on aerial flying effects, which is more realistic than bobbing. Additionally, the national tour mermaid actors skated more on-stage. However, in this local production, I think only the eels skated and Flounder (played by Keoni Dilay) rode a hoverboard.
Flounder's Age: The national tour flounder was a kid actor, but the 5th Avenue production character was Keoni Dilay who was around the same age as the Ariel actor. I prefer an adult actor for Flounder since it feels weird when a pre-pubescent kid is in love with Ariel. But young audience members probably prefer flounder to be a kid actor. Since the original role was a kid actor, there were unfortunate times in the "She's in Love" song when Keoni sang an octave lower.

Differences from the Movie:

Vanessa: Ursula didn't transform into a human (Vanessa) that sang with Ariel's voice.
Savior: The character who saved the day wasn't the same person in the movie. I appreciate the modernized messaging to young girls watching the show, but it deviates from the classic Disney story … not that the classic Disney story has been true to the original Hans Christian Andersen tale. I guess we don't want kids seeing Ariel giving away her tongue and trying to stab the prince!
Theatre Company: The 5th Avenue Theatre
Venue: The 5th Avenue Theatre
Venue Physical Address: 1308 5th Ave, Seattle, WA 98101
Price: Medium to Expensive
Ticket Affordability Options: $30 day-of-show tickets are available for the general public to purchase in person, starting at noon the day of the show you wish you attend! Valid only in Zones 3 (blue), 4 (orange), and 5 (pink). Goldstar or TodayTix usually offer good options too.
Dates: September 8 to October 8, 2023
Seating: Assigned Seating
Parking: When I don't walk to the theatre or park on the street, I park in the paid garage at the Motif hotel NW of the theatre. The entrance is on 5th Ave. Do NOT park in the Hilton garage (entrance on 6th ave). That's where most of the audience parks, so it's a nightmare to leave. However, the Hilton garage is the closest garage to the theatre and you can access the theatre underground if you want to avoid the elements. But this benefit is not worth the time wasted leaving in my opinion.
Like/Comment/Share my Social Media Posts About this Performance:
Instagram | TikTok | Twitter | Facebook | YouTube | Threads
Buy a Ticket or Learn More:
Other Video +/- Pictures: See pictures in video and under video by Tracy Martin and Mark Kitaoka.
Cast and Production Team: See after pictures and video below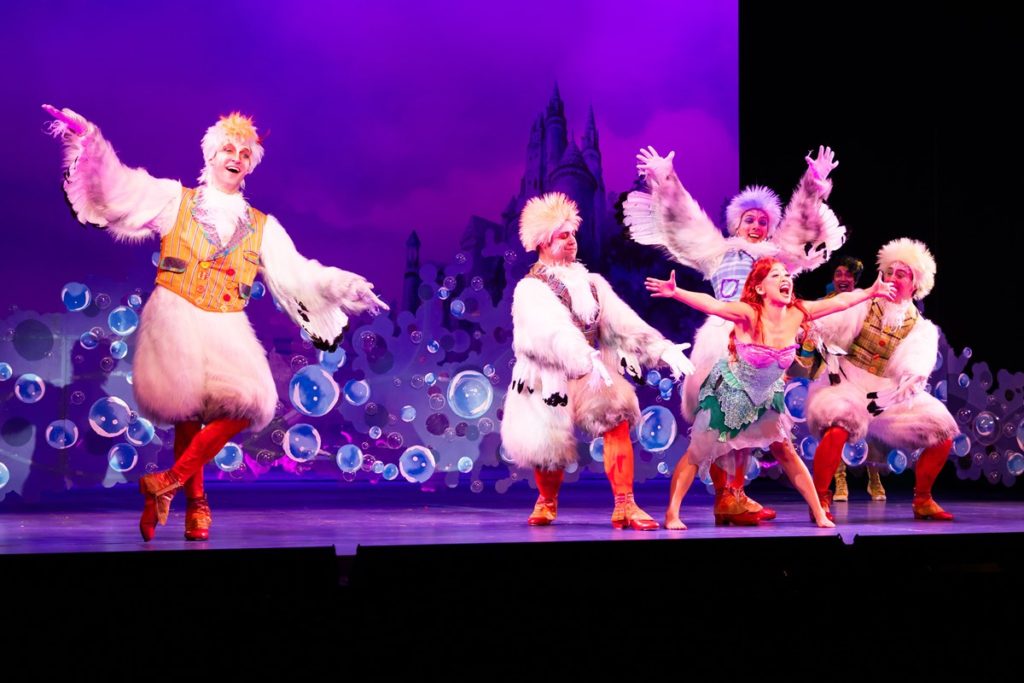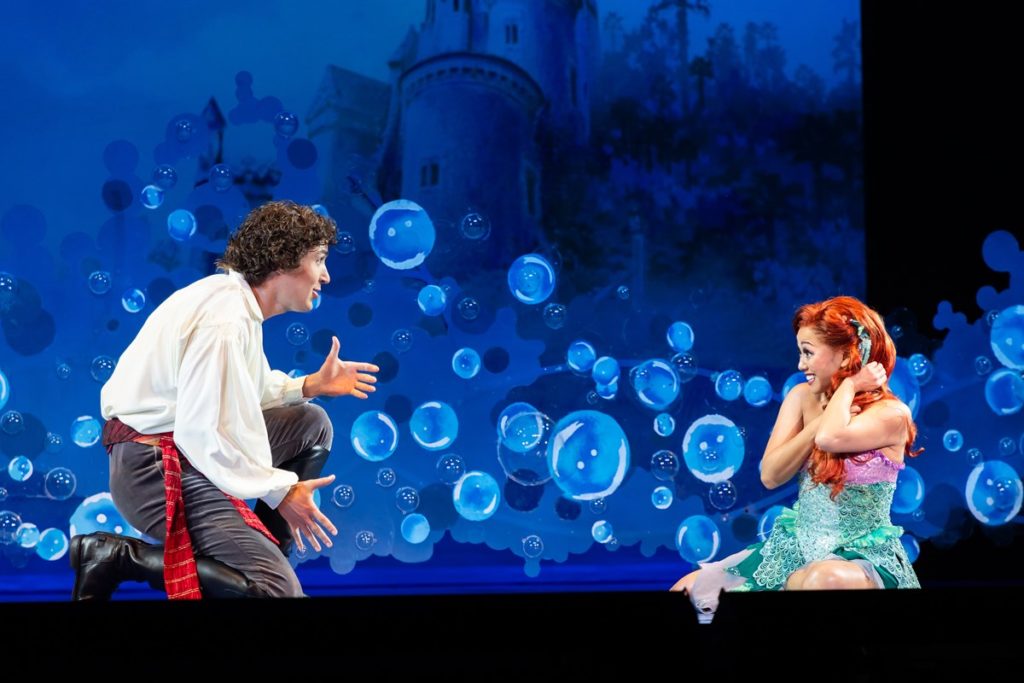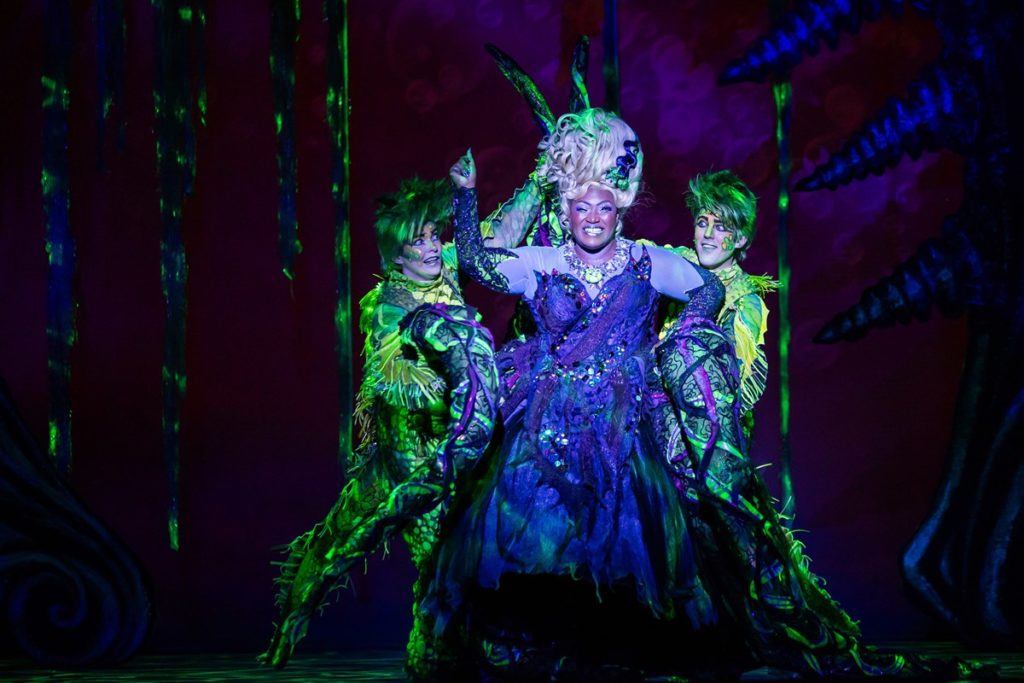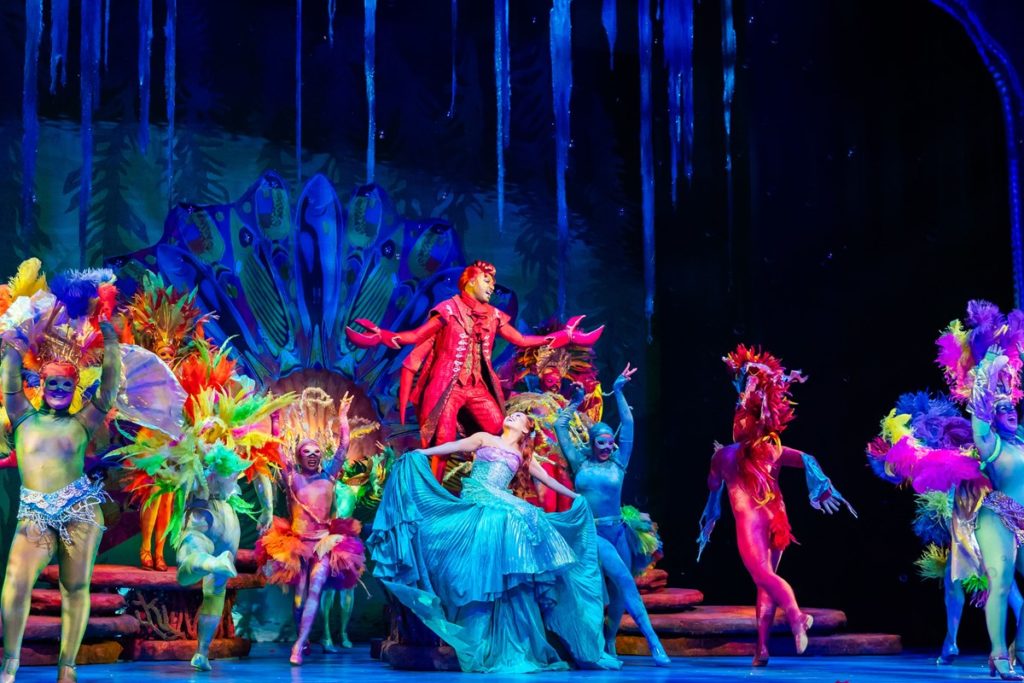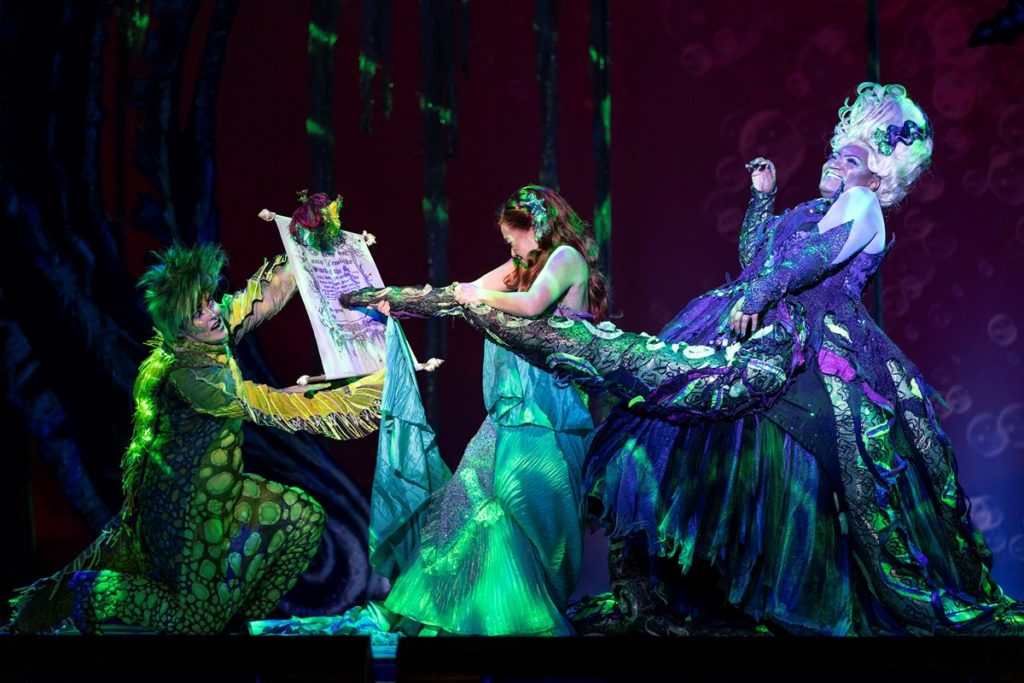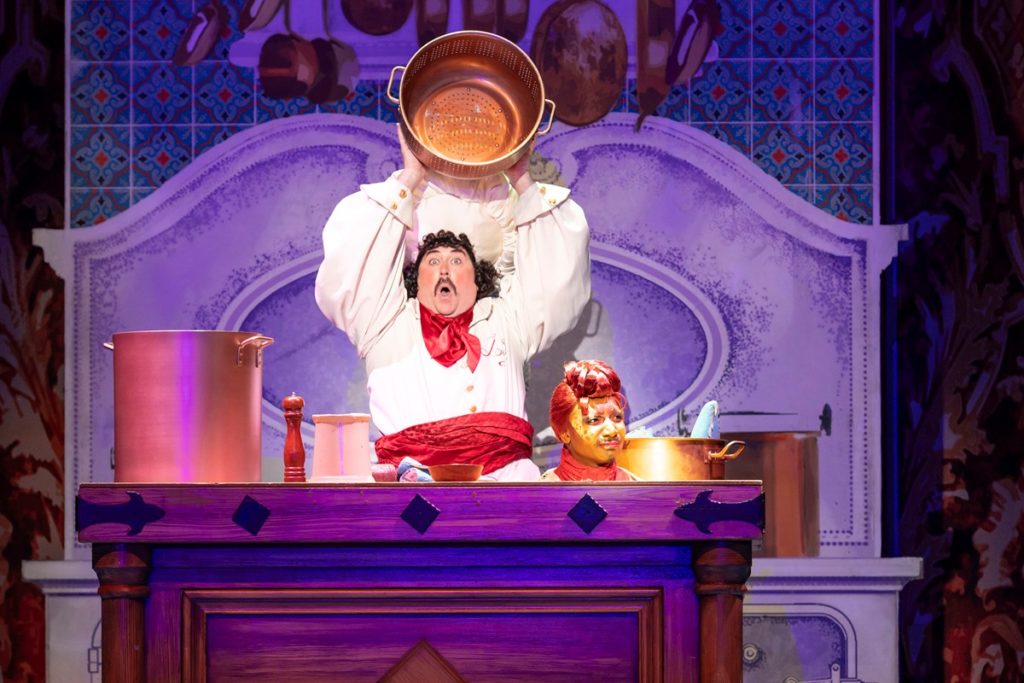 Role

Name

Ariel
Diana Huey
Pilot
Jason Weitkamp
Sailors
Gabriel Corey
Joel Domenico
Sheldon Henry
Nehemiah Hooks
Kayden Oliver
Prince Eric
Coleman Cummings
Grimsby
Rob Burgess
Flounder
Keoni Dilay
Scuttle
John David Scott
King Triton
Terence Kelley
Sebastian
Kevin Smith Kirkwood
Aquata (Mersister)
Nalica Hennings
Andrina (Mersister)
Kristin Burch
Arista (Mersister)
Carly Corey
Atina (Mersister)
Bethanie Willis
Adella (Mersister)
Mackenzie Neusiok
Allana (Mersister)
Shelby Willis
Ursula
Shaunyce Omar
Gulls
Gabriel Corey
Jordan King
Kayden Oliver
Maids
Kristin Burch
Carly Corey
Megan Felise
Nalica Hennings
Mackenzie Neusiok
Bethanie Willis
Chefs
Gabriel Corey
Joel Domenico
Sheldon Henry
Nehemiah Hooks
Jordan King
Kayden Oliver
Princesses
Kristin Burch
Carly Corey
Nalica Hennings
Mackenzie Neusiok
Bethanie Willis
Shelby Willis
Ensemble
Kristin Burch
Carly Corey
Gabriel Corey
Joel Domenico
Megan Felise
Nalica Hennings
Sheldon Henry
Nehemiah Hooks
Jordan King
Mackenzie Neusiok
Kayden Oliver
Jason Weitkamp
Bethanie Willis
Shelby Willis
Swings
Cy Paolantonio
Christopher Sweet
Madison Willis,
Josh Zacher

Flotsam
Cassi Q Kohl
Jetsam
Ethan Carpenter
Chef Louis
Jason Weitkamp
Prince Eric Double
Joel Domenico
Ariel Double
Megan Felise
—
—
Scuttle (Understudy)
Gabrlel Corey
Ursula (Understudy)
Ann Cornelius
Flotsam/Jetsam (Understudy)
Joel Domenico
Sebastian (Understudy)
Nehemiah Hooks
King Triton/Grimsby (Understudy)
Sheldon Henry
Prince Eric (Understudy)
Kawika Huston
Chef Louis (Understudy)
Jordan King
Flounder (Understudy)
Kayden Oliver
Ariel (Understudy)
Caitlin Sarwono, Carly Corey
—
—
Swings
Cy Paolantonio
Christopher Sweet
Madison Willis
Josh Zacher
Dance Captain
Josh Zacher
Flight Captain
Cy Paolantonio
—
—
Director
Glenn Casale
Music Director/Conductor
RJ Tancioco
Choreographer
John Macinnis
Composer
Alan Menken
Lyricists
Howard Ashman & Glenn Slater
Playwright
Doug Wright
Orchestrations
Danny Troob
Incidental Music & Vocal Arrangements
Michael Kosarin
Dance Arrangements
David Chase
Scenic Designer
Kenneth Foy
Associate Director
Michael Heitzman
Charlie Johnson
Costume Designers
Amy Clark
Mark Koss
Costume Coordinator
Taya Payne
Director of Production
Joan Toggenburger
Costume Associate
Heidi Zamora
Lighting Designer
Charlie Morrison
Associate Choreographer
Josh Zacher
Associate Lighting Designer
Thorn Michaels
Associate Sound Designer
Lawrence Schober
Sound Designer
Ed Chapman
Production Manager
Ryan Gastelum
Casting Director
Dedra D. Woods
Associate Music Director
Michael Nutting
Hair/Wig and Makeup Designer
Kelley Jordan
Costume, Wardrobe, and Hair Director
Shannin Strom
Assistant Hair/Wig & Makeup Designer
Juliette Lewis
Production Stage Manager
Jeffrey K. Hanson
Assistant Stage Managers
Rachael Dorman
Laurel Nichols
Swing Stage Manager
Erin B. Zatloka
Flying Sequences Choreographer
Paul Rubin
—
—
Associate Music Director/Keyboard 1
Michael Nutting
Keyboard 2
Benjamin Bentler
Keyboard 3
Rebecca Smith
Bass
Chris Jones
Horn
Jill Jaques
Trumpet
Brian Shaw
Drums
Alec Wilmart
Percussion
Brian Kirk
Reed 1
Dane Andersen
Reed 2
Koryn Orcutt
Reed 3
Derek Smith
Violin 1
Kimberly Rosenberg
Violin 2
Rachel Nesvig
Cello
Emily Hu
Keyboard Coordinator
Brendan Hogan
Music Assistant
Andrew Pang
Rehearsal Pianists
Benjamin Bentler, Michael Matlock