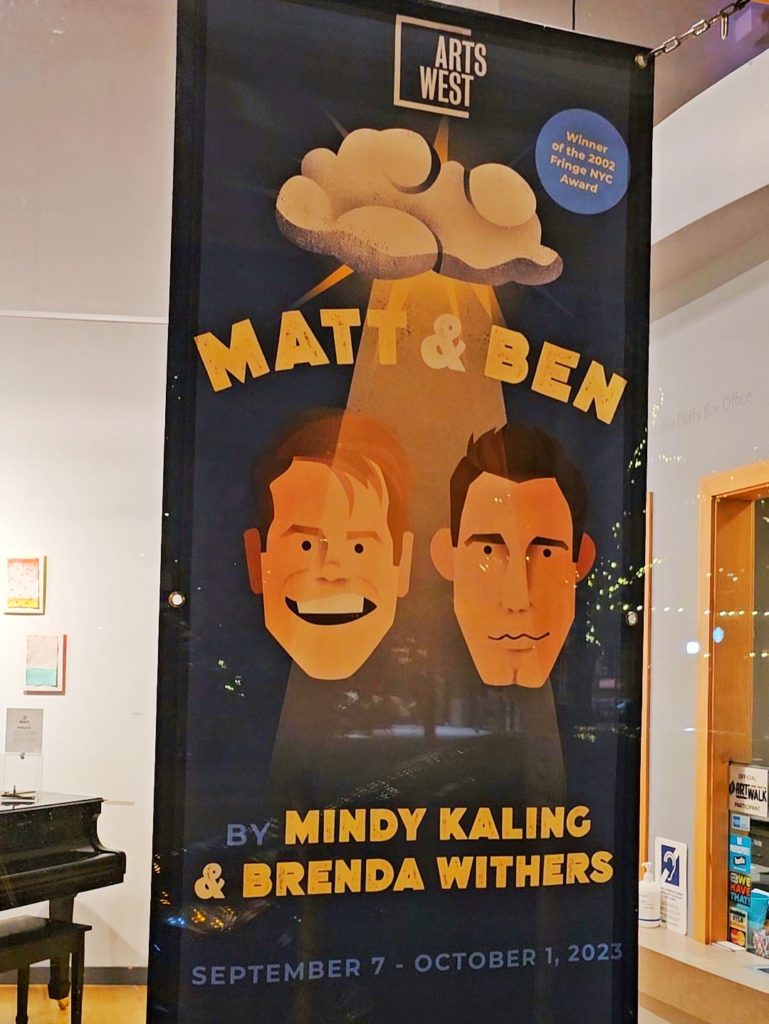 Elevator Thoughts (aka Tweet): Matt & Ben play at ArtsWest by Mindy Kaling and Brenda Withers directed by Zenaida Rose Smith. Nabilah Ahmed and Jacquelyn Miedema portray Matt Damon and Ben Affleck in a play reminiscent of Wayne's World or SNL.
Synopsis from the Theatre: From the mind of multi-award winning writer and actress Mindy Kaling, Matt & Ben depicts its Hollywood golden boys – before J-Lo, before Gwyneth, before Project Greenlight, before Oscar… before anyone actually gave a damn. When the screenplay for Good Will Hunting drops mysteriously from the heavens, the boys realize they're being tested by a Higher Power. Originally performed by Mindy Kaling and Brenda Withers in the title roles, Matt & Ben is a hilarious satire on the real and imagined difficulties of pursuing a dream.
Attended Performance Date: 9/7/23 (Opening Night)
Type: Play
World Premiere: No
Several or Few Scenes: Few
Several or Few Settings/Locations: Just a living room
Prior Exposure/Knowledge Required: You should be familiar with the Hollywood pop culture surrounding Ben Affleck and Matt Damon like Good Will Hunting.
Defined Plot/Storyline: No, it was mostly dialogue
Equity Actors: 0
Total Number of Actors: 2
Perceived Pace of the Show: Slow
Length (Including Any Intermission): 1.5 hours
Intermission Included: No
Was This the First Time I Attended a Production of this Show: Yes
Would I See It Again 3 Years from Now: No
Recommendation: See it if
You're a fan of Matt Damon or Ben Affleck
You're okay with 2-person plays
You're okay with plays that are mostly dialogue in a single room
You like slapstick or silly humor
Other Rave(s) Not Mentioned in Elevator Thoughts
Impersonations: Jacquelyn Miedema impersonated Ben Affleck's douchey meathead frat jock bro vibe well. Her Gwenyth Paltrow expressions were pretty good too.
Other Musing(s) and Observation(s)
Moral of the Story: What message was this play trying to convey? Was it purely just for entertainment value? Was it a commentary on cis white male privilege similar to ArtsWest's previous Zak production?
Switched Roles: I'm curious how different this play would be received if the actors switched roles.
Theatre Company: ArtsWest
Venue: ArtsWest
Venue Physical Address: 4711 California Ave SW, Seattle, WA 98116
Price: Cheap to Medium
Ticket Affordability Options: You can self-identify as needing the inclusion rate when purchasing a ticket online.
Dates: September 7 to October 1, 2023
Seating: Assigned Seating
Parking: There are paid lots and free street parking. I usually park on 44th or 45th Ave behind the theatre.
Like/Comment/Share my Social Media Posts About this Performance:
Instagram | TikTok | Twitter | Facebook | YouTube | Threads
Buy a Ticket or Learn More:
Other Video +/- Pictures: See pictures in video and under video by Jennifer Crooks.
Cast and Production Team: See after pictures and video below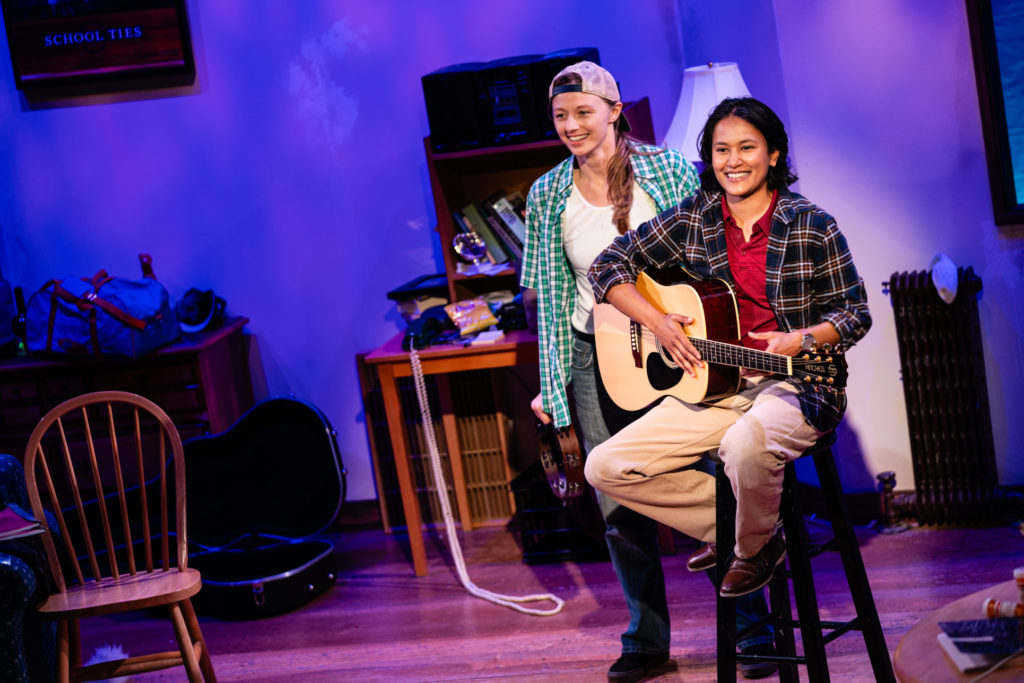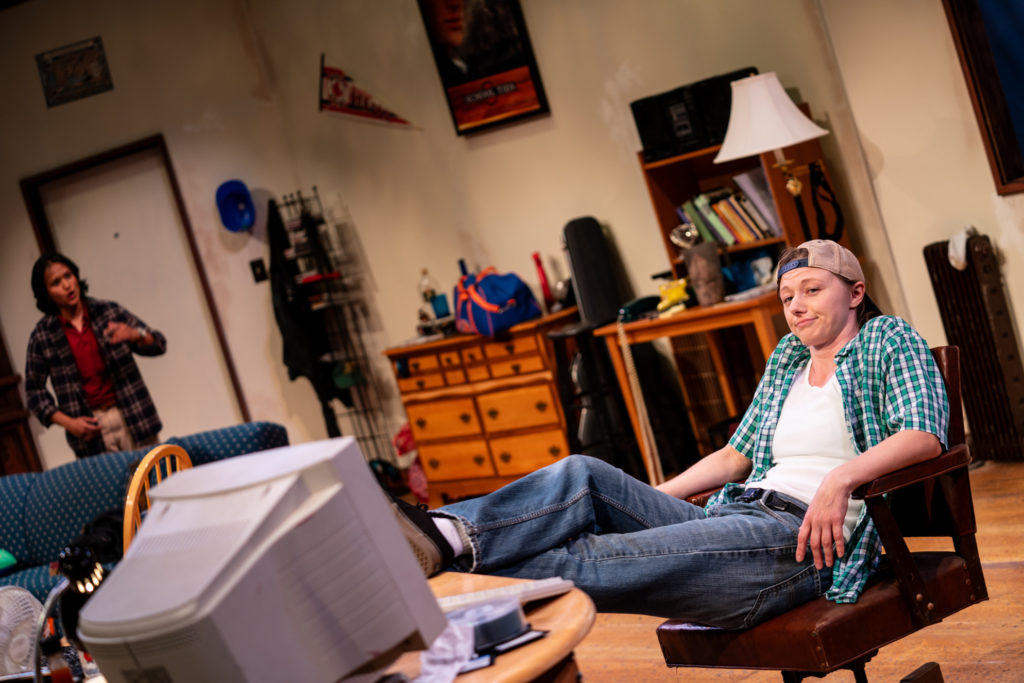 | | |
| --- | --- |
| Role | Name |
| Matt | Nabilah Ahmed |
| Ben | Jacquelyn Miedema |
| — | — |
| Director | Zenaida Rose Smith |
| Playwrights | Mindy Kaling & Brenda Withers |
| Scenic Designer | Adair Margaret |
| Lighting Designer | Chih-hung Shao |
| Costume Designer | Maggie Carrido Adams |
| Props Master | Cory Southwell |
| Sound Designer | Erik Siegling |
| Stage Manager | Kimberly Le* |
| Production Technical Director | Andrew Long |
* Member Of Actor's Equity Association, The Union of Professional Actors and Stage Managers