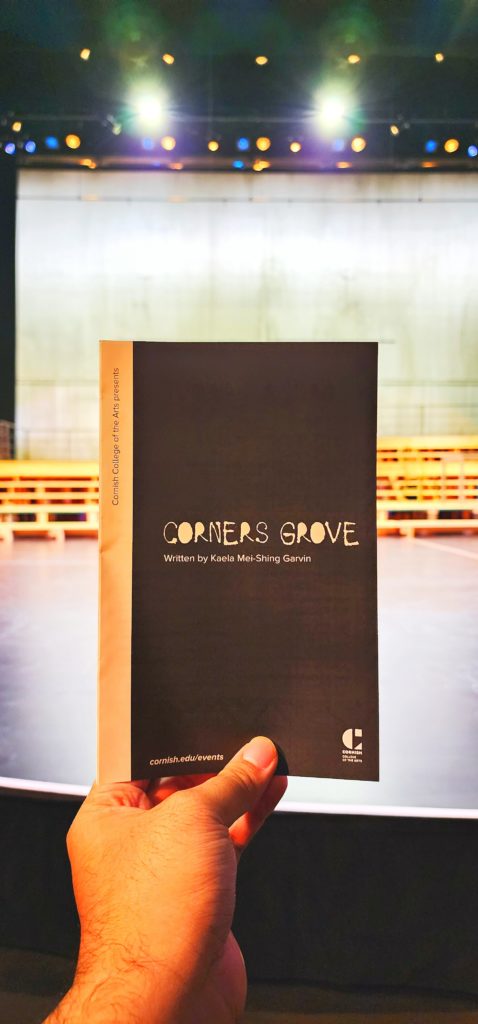 Elevator Thoughts (aka Tweet): Corners Grove play by Cornish College of the Arts at Cornish Playhouse At Seattle Center. Modern take on Thornton Wilder's Our Town. Reminded me of TV shows about privileged California teens & young adults.
Synopsis from New Play Exchange: A reverent nod to Our Town by Thornton Wilder, this play follows a group of young people in the town of Corner's Grove from high school into adulthood as they deal with leaving home, falling in love, gender identity, and the death of Whitney Houston. It's a story about growing up and hometowns, friendship and drinking in parking lots.
Reviewed Performance Date: 11/6/22 Afternoon
Type: Play
World Premiere: No
Recommendation: See it if you like the original Our Town play.
Would I See It Again 3 Years from Now?: Yes, if it was produced by an Equity Theatre.
Rating (Out of 5 Stars): 4 stars
Equity Actors: Zero but they were good.
Rant(s)
I'm not sure if it's a problem with the original Our Town (since I've never seen it) or this newer script but the play didn't seem relatable through my POC eyes. It sort of reminded me of Dawson's Creek or 90210 without the sex. Think of the MadTV parody "Pretty White Kids With Problems."
I feel like audience members who previously saw the original Our Town would enjoy this more.
Other Rave(s)
The narrator had a great effortless feminine style.
Theatre Company : Cornish College of the Arts
Venue: Cornish Playhouse
Venue Physical Address: 201 Mercer St, Seattle, WA 98109
Price: Cheap
Dates: November 3 to 6, 2022
Seating: General Admission
Parking: Paid lot, paid street, or free street parking. The free parking is a couple blocks north as you go deeper (and higher) into Queen Anne.
Social Media Posts: Instagram | TikTok | Facebook | Twitter | YouTube
Link(s):
Cast and Production Team: Under the video
Other Video +/- Pictures:
Role

Name

Sam Craig (u/s Halle, Luke)
Adna Palic (They/Them)
Julia Webb (u/s Rebecca)
Anika Thorson (She/Her)
Stacy McAllister (u/s Emily)
Bryanna Finley (She/They)
Jo Crowell (u/s Julia)
Catherine Tarlov (She/Her)
Simon Stimson (u/s George)
Daniel Haskey (He/Him)
Melissa Cartwright (u/s Stage Manager, Wally)
Emma Majewski (They/Them)
Halle Newsome (u/s Stacy)
Emma Chang (She/Her)
Rebecca Gibbs
Hattie Mae Rich (They/Them)
Luke Lorberbaum (u/s Simon)
Jasper Law (He/Him)
Stage Manager (Character)
Jo Branchflower (She/Her)
Lou Soames (u/s Vi, Sam)
Kendal Butin (She/They)
Belligerent Audience Member,
Madeleine Beckner (She/They)
Maddy Pulaski (They/She)
Vi Crowell (u/s Joe)
Vanessa (u/s Melissa, Lou)
Wally Webb
Mario Espinoza (He/They)
George Gibbs
Peter Schafer(He/They/She)
Emily Webb
Sena Hanson-Walker (They/Them)
—
—
Playwright and Director
Kaela Mei-Shing Garvin (They/She)
Technical Director
Matthew McCarren (He/Him)
Assistant Director
Will Boyer-Montgomery (He/They)
Carpenter
Kevyn Jordon-McKind (She/Her)
Intimacy Director
Sarah Harlett (She/Her)
Stage Manager
Larcyn Burnett (They/Them)
Scenic Designer
Paige Arseneau (She/They)
Assistant Stage Manager
Alex Walker (They/He)
Costume Designer
Caden Green (He/They)
Assistant Scenic Designer & Lead Carpenter
Emma Boyd (She/Her)
Lighting Designer
Cami Taliaferro-Barber (She/Her)
Assistant Lighting Designer
Locke Landis (He/Him)
Sound Designer
Emily Doorenbos (They/She)
Charge Scenic Painter
Jessica Christensen (She/Her)
Dresser/Stage Hand
Ben Barton (He/Him)
Hero Stroverud-Myers (She/her)
Run Crew
Em Weihofen (They/She)
Spot Op
Nolan Spencer (He/Him)
Light Board Op
Dominique Salas
—
—
Performance Production Area Head
Melanie Burgess (She/Her)
Visual & Performing Arts Production Manager
Gavin Yehle (He/Him)
Theatre Department Faculty Chair
Sheila Daniels (She/Her)
Scenic/Props Design Advisor
Matthew Smucker (He/Him)
Scene Shop Supervisor
Matthew McCarren (He/Him)
Production Lab Instructor
Amy LaZerte (She/Her)
Lighting Design Advisor
Peter Maradudin (He/Him)
Props & Paint Supervisor
Jessica Christensen (She/Her)
Director of CSES
Pinky Estell (He/Him)
CSES Technical Supervisor
Marc Mixon (He/Him)
Sound Design Advisor
Tom Fallat (He/Him)
Costume Shop Supervisor & Practicum Advisor
Carl Bronsdon (He/Him)
Patron Service Manager
Tony Rinehart (They/Them)
Stage Management Advisor
Bret Torbeck (He/Him)
Theatre / Performance Prodcution Department Coordinator
Rachel Brinn (She/Her)