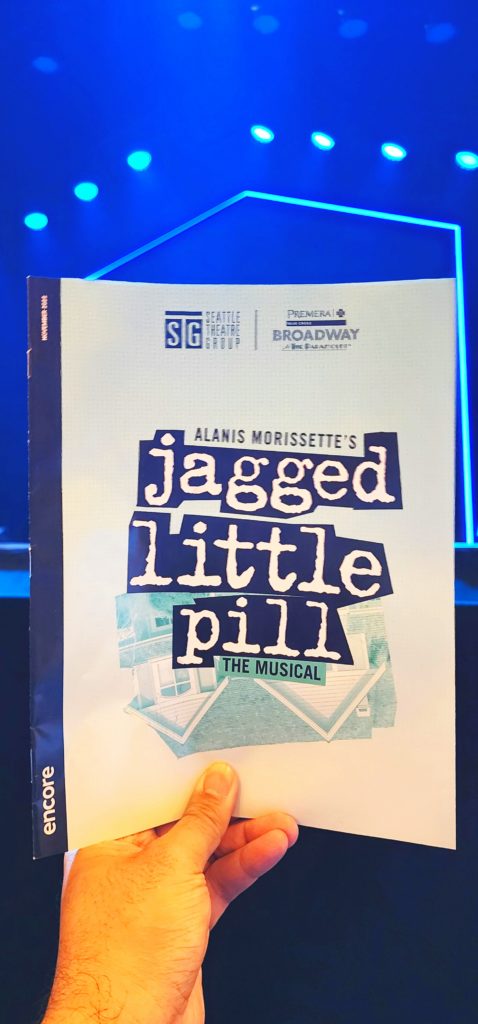 Elevator Thoughts (aka Tweet): Alanis Morissette's jagged little pill jukebox musical at the Paramount Theatre w/ Seattle Theatre Group. Love good implosions in the perfect suburbs. Wish there was a way to explore the addiction storyline more without diminishing the #meToo one. Costumes were deliciously 90s alternative grungy Seattle.
Synopsis from the Theatre: Joy, rage, love, heartache, strength, wisdom, catharsis, LIFE: everything we've been waiting to see on a Broadway stage is back, in this exhilarating, fearless new musical based on Alanis Morissette's world-changing music. Nominated for 15 Tony Awards® (the most of any show), and a recent Grammy® winner for Best Musical Theater Album, this electrifying production about a perfectly imperfect American family "vaults the audience to its collective feet" (The Guardian). You live, you learn, you remember what it's like to feel truly human… at JAGGED LITTLE PILL.
Reviewed Performance Date: 11/9/22 Evening. Sorry, I would have prioritized this review sooner if the theatre company gave me a press ticket.
Type: Musical
World Premiere: No
Live Band: Yes
Recommendation: See it whether or not you're a fan of Alanis Morissette! I actually only remotely knew 3 songs in the musical.
Would I See It Again 3 Years from Now?: Yes!
Rating (Out of 5 Stars): 4.5 stars
Equity Actors: All of them!
Length: 2 hours and 40 minutes
Intermission?: Yes
Other Rave(s)
Enjoyed the witty quips from the lesbian girlfriend (Jo). My favorite line in the whole show was "She's [your mother is] one salad away from a psychotic break."
Loved how the cast performed "Smiling" while depicting MJ's day in reverse. It reminded me of when the Hamilton cast performed "Satisfied."
Lauren Chanel's voice was so beautiful!
#meToo picket sign slogans were cleaver. Two of my favorites were "Don't tell me how to dress, tell them not to rape!" and "Don't Get Raped!"
The ensemble's alternative grungy costumes contrasted well with the perfect Stepford suburbia costumes.
Thrilled that they included my profession (pharmacy)!
Other Thought(s)
This show so woke. Liberal Seattle surely ate it it up. I hope they paid attention to the racial commentary though.
Theatre Company : National Tour Coordinated by Seattle Theatre Group
Venue: Paramount Theatre
Venue Physical Address: 911 Pine St, Seattle, WA 98101
Price: Expensive
Dates: November 8 – 13, 2022
Seating: Assigned Seating
Parking: Paid street parking and paid garage parking. The best parking garage is under the convention center w/ the entrance on Pike around the Pike and Terry intersection. Last I checked, this is one of the cheapest, least busy, and closest garages. Alternatively, you can probably find street parking as you get closer to the West Precinct (810 Virginia St, Seattle, WA 98101).
Social Media Posts: Instagram | TikTok | Facebook | Twitter | YouTube
Link(s):
Cast and Production Team: See under the multimedia below.
Other Video +/- Pictures:
Role

Name

The Chorus

Lee H. Alexander
Delaney Brown
Jada Simone Clark
Lani Corson
Jason Goldston
Rishi Golani
Zach Hess
Cydney Kutcipal
Jordan Leigh Mccaskill
Alana Pollard
Daniel Thimm
Kei Tsuruharatani
Jena Vanelslander
Mary Jane Healy
Heidi Blickenstaff
Steve Healy
Chris Hoch
Nick Healy
Dillon Klena
Frankie Healy
Lauren Chanel
Jo
Jade Mcleod
Bella
Allison Sheppard
Andrew
Jason Goldston

Sean Doherty for this performance
Phoenix
Rishi Golani
Pharmacist/Therapist
Jordan Leigh Mccaskill

Maya J. Christian for this performance
Barista
Jada Simone Clark
Jill/Teacher
Lani Corson
Denise
Delaney Brown
Courtney
Jena Vanelslander
Drug Dealer
Daniel Thimm
Doctor
Lee H. Alexander
Swings
Maya J. Christian
Claire Crause
Sean Doherty
Charles P. Way
Dance Captain
Claire Crause
Assistant Dance Captain
Charles P. Way
—
—
Conductor/Keyboard
Matt Doebler
Guitar 1
Will Yanez
Guitar 2
David Manning
Bass
Jennifer Giammanco
Drums And Percussion
Lucy Ritter
Concertmaster/Violin
Dwayne Beach
Viola
Carolina Diaz Chan
Cello
Calvin Chan
Assistant Conductor
David Manning
Music Coordinator
Michael Aarons
Music Preparation
Emily Grishman
Keyboard Programmer
Randy Cohen
—
—
Lyrics
Alanis
Morissette
Music
Alanis
Morissette
Glen Ballard
Michael Farrell
Guy Sigsworth
Book
Diablo Cody
Director
Diane Paulus
Scenic Design
Riccardo Hernández
Costume Design
Emily Rebholz
Lighting Design
Justin Townsend
Sound Design
Jonathan Deans
Video Design
Lucy Mackinnon
Hair, Wig, & Makeup Design
J. Jared Janas
Music Director/Conductor
Matt Doebler
Music Coordinator
Michael Aarons
Casting
C12 Casting
Jillian Cimini
Marketing & Publicity Direction
Bond Theatrical
Production Supervising Stage Manager
Ira Mont
Production Stage Manager
Justin Myhre
Jenn Gallo
Ashanti Smith
Company Manager
Michael Sanfilippo
Production Manager
Hudson Theatrical Associates
General Manager
RCI Theatricals
David Richards
Shaun Moorman
Exclusive Tour Direction
The Road Company
Stephen Lindsay
Brett Sirota
Music Supervisor, Orchestrator, and Arranger
Tom Kitt
Movement Director and Choreographer
Sidi Larbi Cherkaoui