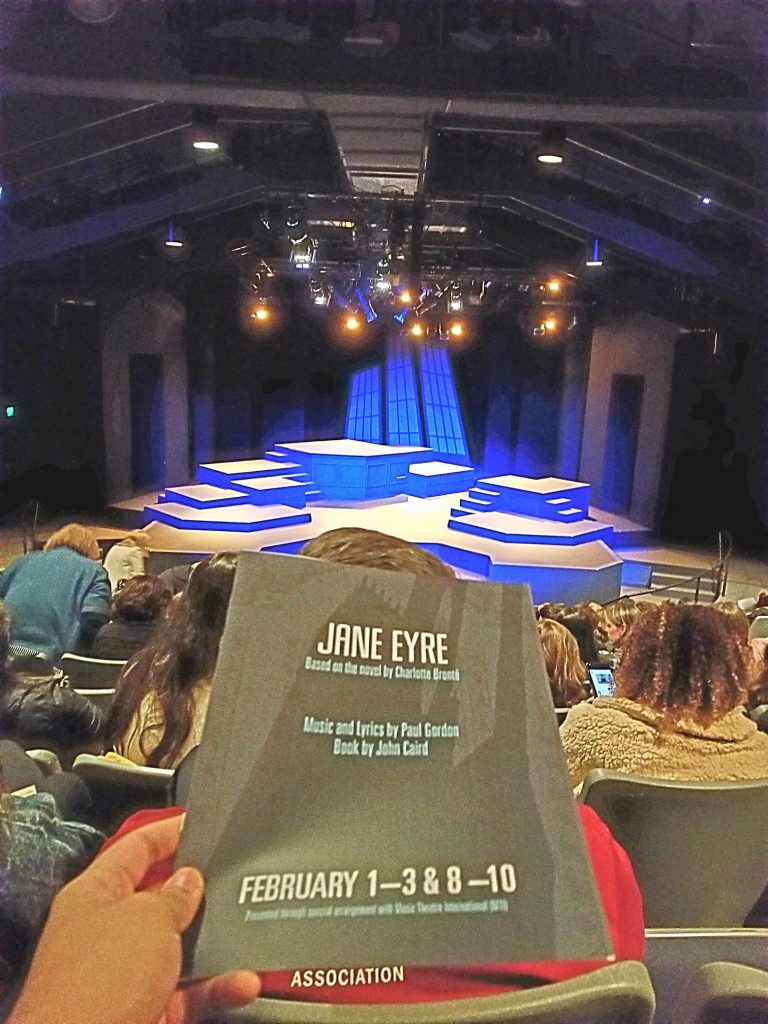 Type: Musical
Recommendation: See this if there's nothing else playing in the city or if you like dry, dense, lukewarm theatre.
Rating (Out of 5 Stars): 3 stars
Negatives: The script and music was boring. Would it kill them to lighten up … and possibly do a tap dance routine? Ha!
Story, Script, and Lyrics:  Life deals a bad hand to an Englishwoman but she still manages to stay positive and to persevere.
Cast and Theater Company:  University production. Female lead (Jane Eyre) was pretty decent. Unfortunately, it was hard to gauge the performers' talent because the musical was so dull. Furthermore, cast was critically low on male performers. I suspect it's because Seattle Pacific University is a Christian (Methodist) university and therefore cannot attract enough gay students to enroll. In the words of The Producers, "Keep it gay, keep it gay, keep it gay" … in theatre.
Venue and Set: Simple. Interesting angular stage.
Music and Audio: Microphones used (thank you!). Unfortunately, piano was the only accompaniment … so it basically sounded like rehearsal. As a piano player myself, props to the pianist for pressing on (no pun intended) throughout the entire score! His or her hands must have been bleeding. It's a shame the cast didn't acknowledge the pianist in the ovations.
Price: $ (Low-priced at $15)
Dates: February 1–10, 2018
Seating: Assigned
Link: http://spu.edu/academics/college-of-arts-sciences/theatre/current-season/current-productions/jane-eyre-the-musical