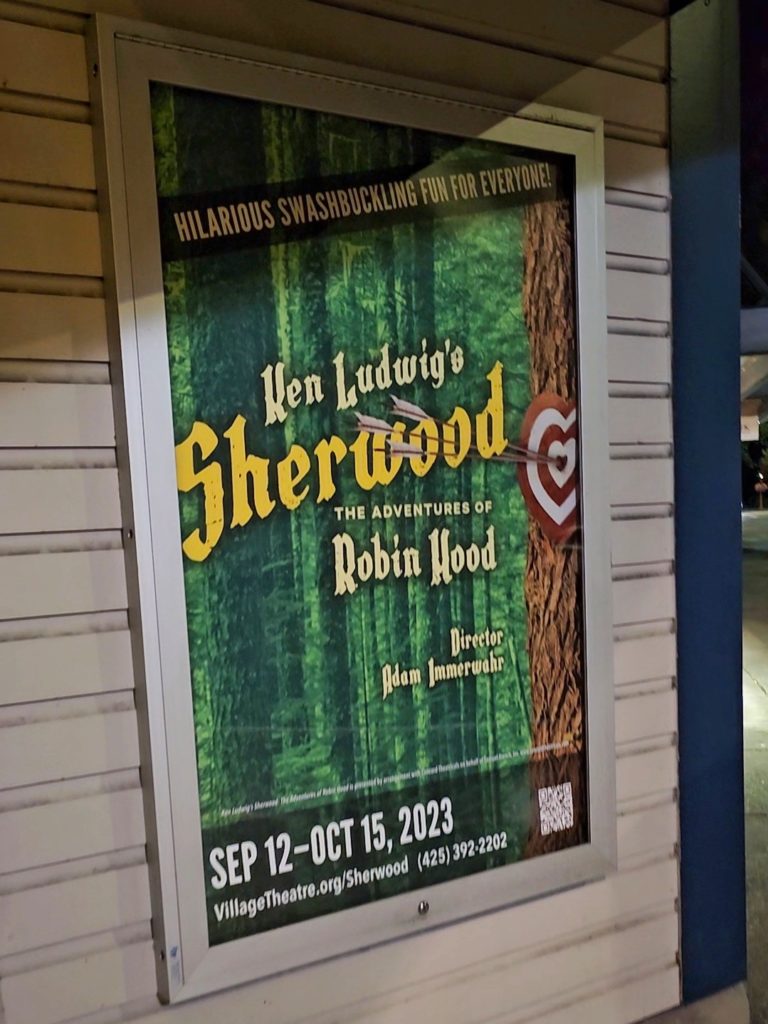 Elevator Thoughts (aka Tweet): Ken Ludwig's Sherwood: The Adventures of Robin Hood light play at Village Theatre starring Ricky Spaulding & directed by Adam Immerwahr. Lots of good fight choreography. Neat stage magic to make the arrows "fly." #robinHood
Synopsis from the Theatre: Robbing from the rich has never been so fun! A greedy prince has taken control of England, and it is up to Robin Hood and his band of Merry Men—and women!—to fight for justice and champion for the underdog. From comic mastermind Ken Ludwig (Lend Me a Tenor, Crazy for You) comes this rollicking and inventive play, packed with delightful thrills, amorous exploits, contagious laughs, and great beloved heroes like Little John, Friar Tuck, and Maid Marian. So, get ready to dodge an arrow or two—you won't want to miss a moment of this swashbuckling adventure!
Attended Performance Date: 9/16/23 (Opening Weekend)
Type: Play
World Premiere: No
Several or Few Scenes: Several
Several or Few Settings/Locations: Several
Static Set: Yes, but there was a rotating component to the stage
Prior Exposure/Knowledge Required: No, but you would probably enjoy this more if you're familiar with the major elements of the Robin Hood tales. All my knowledge comes from a Wishbone book and an MS-DOS game Conquests of the Longbow: The Legend of Robin Hood.
Defined Plot/Storyline: Yes
Equity Actors: 6 – Surprisingly, an Equity actor didn't fill the lead role Robin Hood. That being said, Ricky Spaulding has always been great in the roles I've seen him play.
Total Number of Actors: 8
Perceived Pace of the Show: Medium Speed
Length (Including Any Intermission): 2.25 hours
Was there an intermission?: Yes
Was This the First Time I Attended a Production of this Show: Yes
Would I See It Again 3 Years from Now?: Probably not
Recommendation: See it, especially if you're familiar with the Robin Hood tales or if you enjoy English-style slapstick-like comedy
Other Rave(s) Not Mentioned in Elevator Thoughts
Fight Choreography: I was reviewing the b-roll video the theatre sent to me for my TikToks and I realized the actors really could have been injured if they mistimed the fight choreography!
Other Musing(s) and Observation(s)
Breaking Character: I think I missed an interaction between Nathaniel Tenenbaum (who I often see in flamboyant roles) and the other actors where he did something so funny that they were near breaking character. FOMO!
Theatre Company: Village Theatre
Venue: Village Theatre
Venue Physical Address:
Issaquah: 303 Front Street North, Issaquah, WA 98027
Everett: 2710 Wetmore Avenue, Everett, WA 98201
Price: Medium
Ticket Affordability Options: Check out their discount tickets page. TodayTix and Goldstar usually offer good options too, but I can't seem to find any tickets for this show on their websites.
Dates:
Issaquah: September 12 to October 15, 2023
Everett: October 21 – November 12, 2023
Seating: Assigned Seating
Parking:
Issaquah: Free street parking and some free parking lot. Lot parking availablity is pretty difficult to find though. I've basically given up on that. I usually end up parking on Rainier Boulevard North. As a last resort, I think you can always find parking at the library but it's a little far. Remember, there's a bottom floor parking lot under the library's main parking lot that most non-locals don't know about.
Everett: Free street parking and some paid parking lots/garages.
Like/Comment/Share my Social Media Posts About this Performance:
Instagram | TikTok | Twitter | Facebook | YouTube | Threads
Buy a Ticket or Learn More:
Other Video +/- Pictures: See pictures in video and under video by Elise Bakketun
Cast and Production Team: See after pictures and video below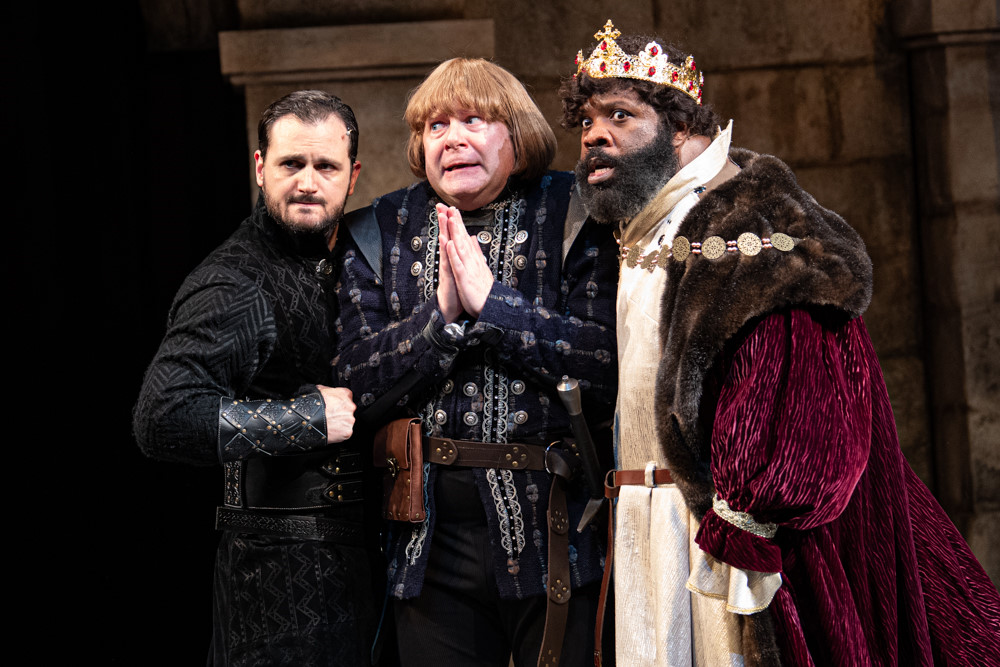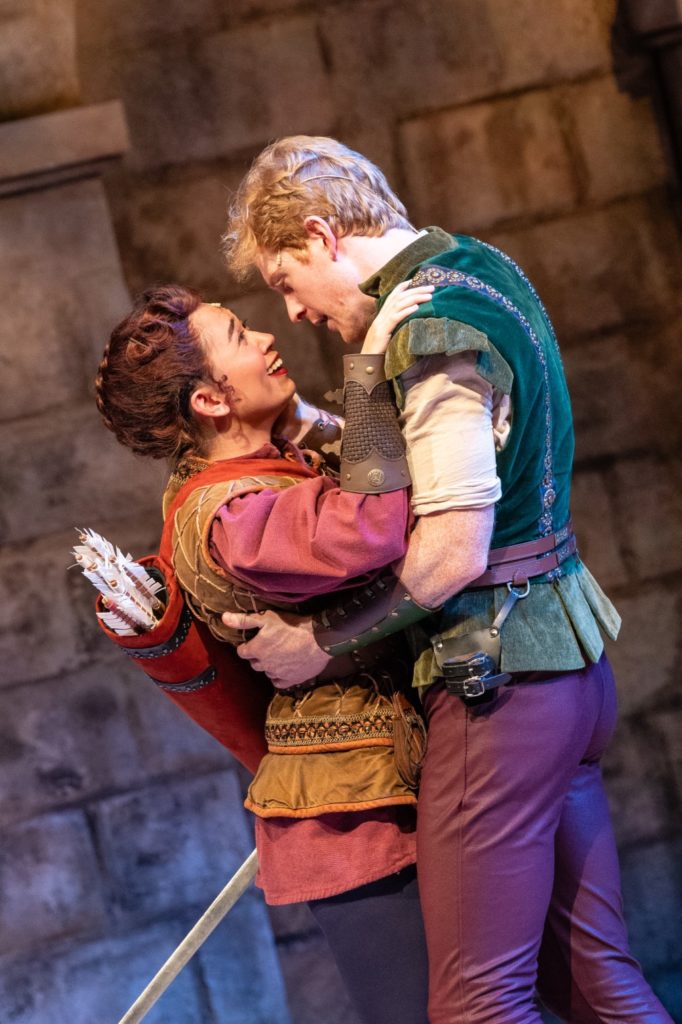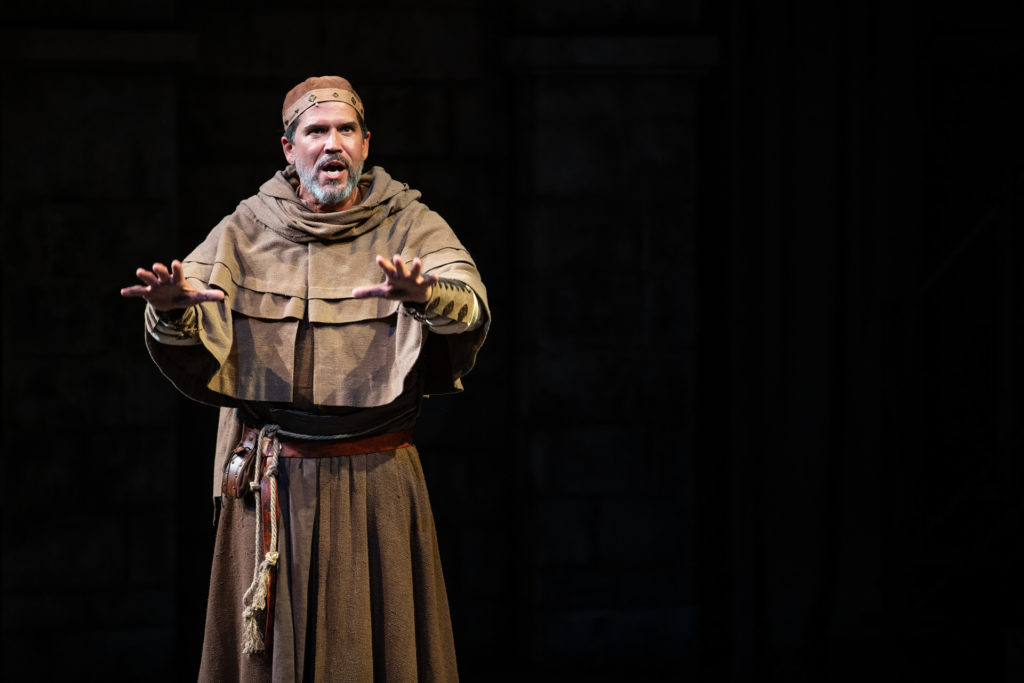 Role

Name

Maid Marian and others
Alegra Batara
Little John and others
Quinlan Corbett*
Sheriff of Nottingham and others
Mark Emerson*
Sir Guy of Gisbourne and others
Billy Finn*
Deorwynn and others (Dance Captain)
Arika Matoba*
Friar Tuck and others (Fight Captain)
Brandon O'Neill*
Robin Hood
Ricky Spaulding
Prince John and others
Nathaniel Tenenbaum*
—
—
Understudy for Little John, Prince John, and others
Kyle Henick
Understudy for Friar Tuck, Sheriff of Nottingham, and others
Jason Marr
Understudy for Robin Hood, Sir Guy of Gisbourne, and others
Michael Nevarez
Understudy for Maid Marian, Deorwynn, and others
Chelsey Sheppard
—
—
Director
Adam Immerwahr
Choreographer
Cy Paolantonio
Fight Director
J. Allen Suddeth
Stage Managers
Ruth Eitemiller*
Susannah Butler*
Scenic Designer
Misha Kachman
Sound Designer and Composer
Nick Kourtides
Original Costume Designer
Jess Goldstein
Costumes Reimagined By
Chelsea Cook
Lighting Designer
Nancy Schertler
Production Assistant
Nicola Krause
Assistant Stage Manager
Brigid Ridge
Associate Director
Jasmine Joshua
Associate Fight Director
Geoffrey Alm
Associate Scenic Designer
Brandon Riel
Associate Lighting Designer
Casey Price
Associate Sound Designer
Andrew Rovner
Dramaturg
Ellen Peltz
Casting Director
Jes Spencer
Intimacy Director
Kathryn Van Meter
Dialect Coach
Gin Hammond
Head Electrician
Paul Arnold (Issaquah)
Brandon Cullinan (Everett)
Head Sound Engineer
Evan Duckworth (Issaquah)
Steven Younkins (Everett)
Head Stage Carpenter
Whitman Paylor (Issaquah)
Chris Mikolaizik (Everett)
Lead Deck, Automation
Justin Babbitt
Lead Deck, Props
Olof Sander (Issaquah)
Kyle Morgan (Everett)
Programmer
Zac Andersen (Issaquah)
Meghan McNeal (Everett)
Wardrobe Head
Kate Simpson (Issaquah)
Lead Wardrobe
Malena Langlie
Stitchers
Kali Pohle
Michelle Grimm
Katy Morrison
* Member of the Actors' Equity Association, the Union of the Professional Actor and Stage Managers in the United States