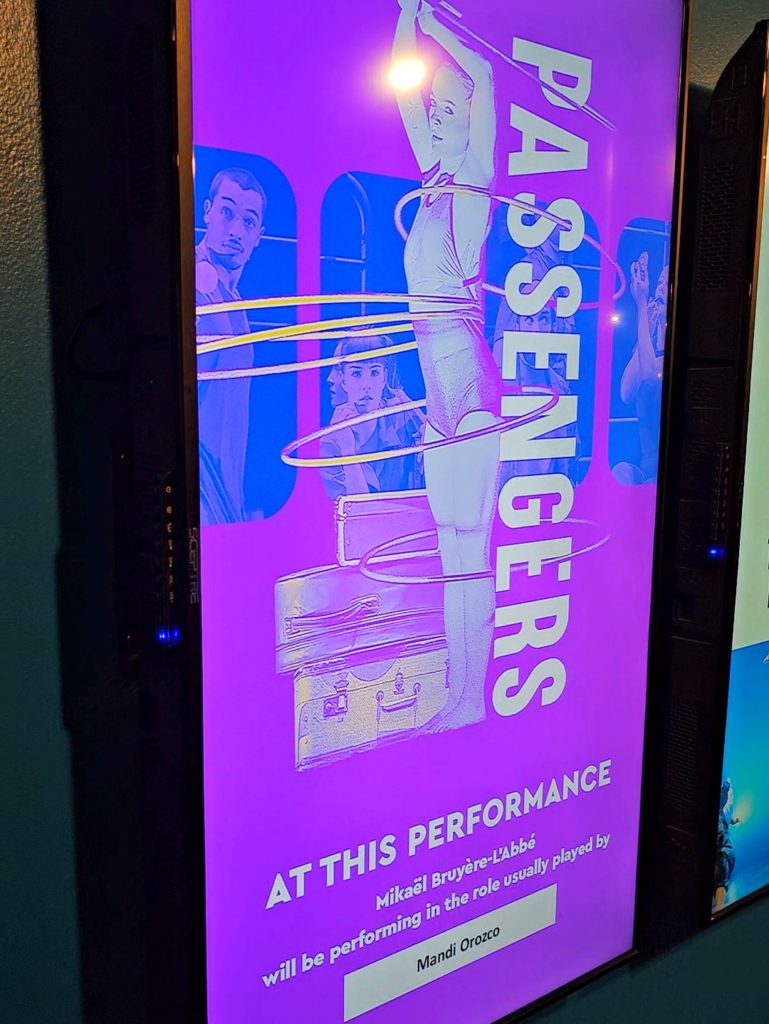 Elevator Thoughts (aka Tweet): Passengers cirque show at Seattle Rep by The 7 Fingers. Directed, written, & choreographed by Shana Carroll. Effortless #acrobatics. Included some occasional singing. #showsiveseen #theatre #circus #acrobat
Synopsis from the Theatre: Your train is about to depart the station and a cirque spectacular awaits. Through contemporary dance, music, and extraordinary acrobatics, a breathtaking series of vignettes tells the unique stories of reunions and goodbyes from the strangers that surround you onboard. From contemporary physical theater troupe The 7 Fingers comes this jaw-dropping ride you must see to believe.
Attended Performance Date: 9/30/23 (Opening Weekend) – Preview Posts
Type: Cirque Show
World Premiere: No
Several or Few Scenes: Several
Several or Few Settings/Locations: Several
Static (Stationary) Set: No
Prior Exposure/Knowledge Required: No
Defined Plot/Storyline: No
Live Band/Orchestra: Mostly no but Santiago Rivera Laugerud played the ukelele and sang during one segment. Of note, Kisha Kessalines-Wright also sang during one segment.
Equity Actors: Zero but I think it's because 1) this not an American company 2) and this show was more cirque/acrobatics and less of a play/musical.
Total Number of Actors: 9
Perceived Pace of the Show: Medium Speed
Length (Including Any Intermission): 1.5 hours
Was there an intermission?: No
Was This the First Time I Attended a Production of this Show: Yes
Would I See It Again 3 Years from Now?: No
Recommendation: See it if 1) you appreciate shows from Cirque Du Soleil or Teatro Zinzanni 2) and you're okay with no plot
Other Rave(s) Not Mentioned in Elevator Thoughts
Effortless Feats: The performers effortlessly showcased their talents with the hula hoop, aerial acts (especially Eduardo De Azevedo Grillo and Kisha Kessalines-Wright), acrobatics, and the Chinese pole (Marco Ingaramo).
Other Musing(s) and Observation(s)
Dropped Props: The hula hoop and juggling balls dropped a couple of times. I couldn't determine if this was intentionally part of the act or an actual mistake.
Concurrent Performances: Throughout the show, there were often two separate acts showcased at the same time, and it was a little difficult to appreciate both performances equally. Maybe it's because I sat really close (with a great view BTW). First world problems, right?
Theatre Company: The 7 Fingers
Venue: Seattle Repertory Theatre
Venue Physical Address: 155 Mercer St, Seattle, WA 98109
Price: Cheap to Expensive
Ticket Affordability Options:
Dates: September 22 to October 15, 2023
Seating: Assigned Seating
Parking: There are paid lots and paid street parking. I usually park on Mercer to the West of 1st Ave. There's usually also a lot of street parking around Safeway. If there's an event in Seattle Center or Climate Pledge Arena, street parking is usually limited and much more expensive.
Like/Comment/Share my Social Media Posts About this Performance:
Instagram | TikTok | Twitter | Facebook | YouTube | Threads
Buy a Ticket or Learn More:
Cast and Production Team: See after pictures and/or video below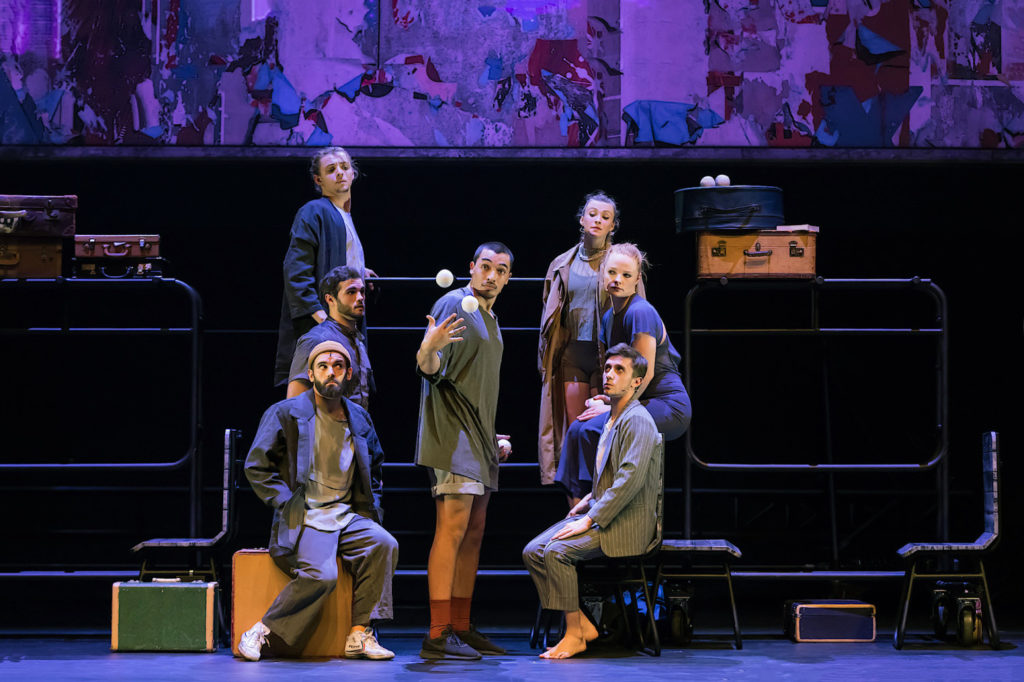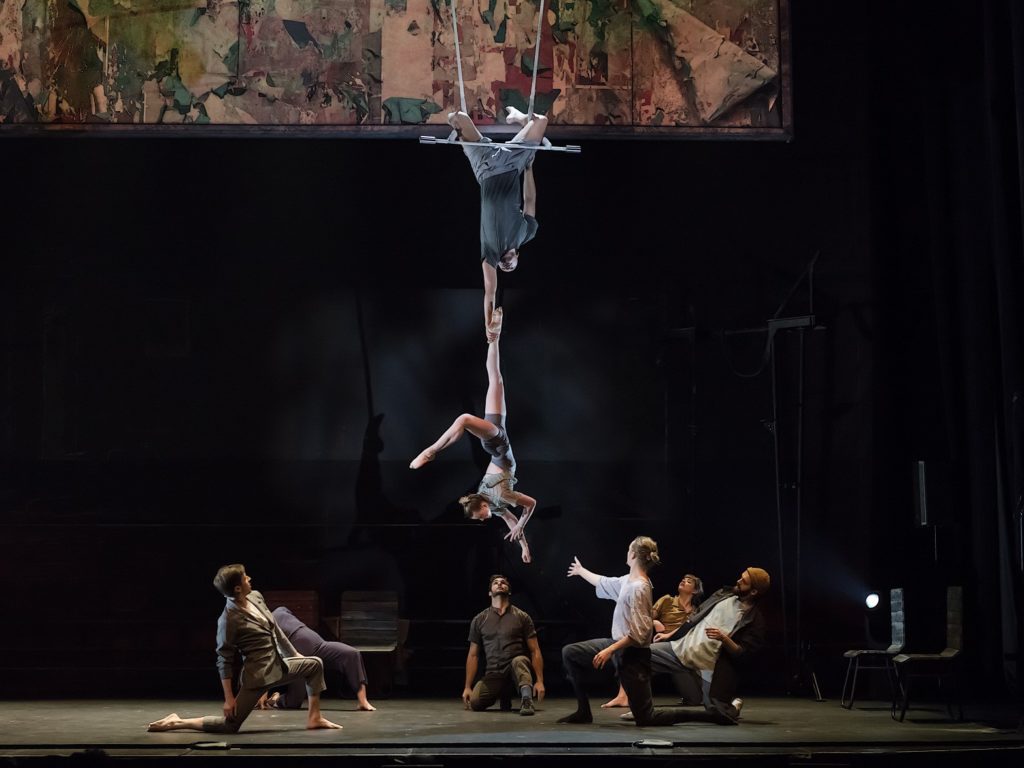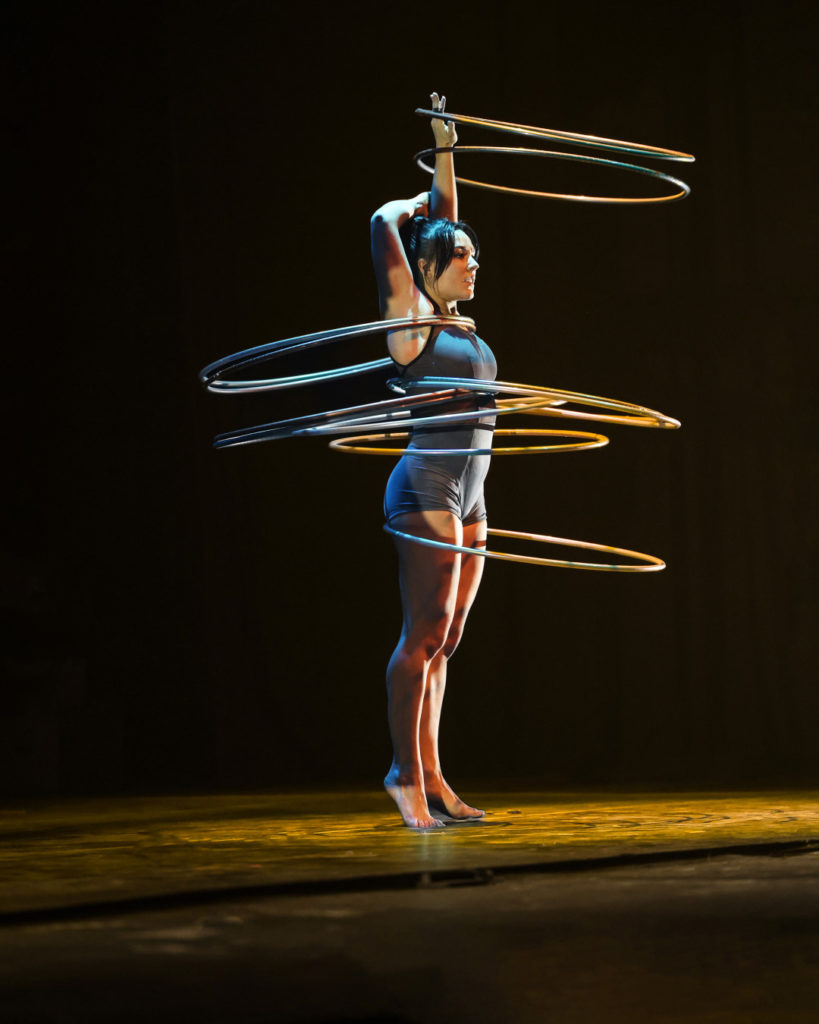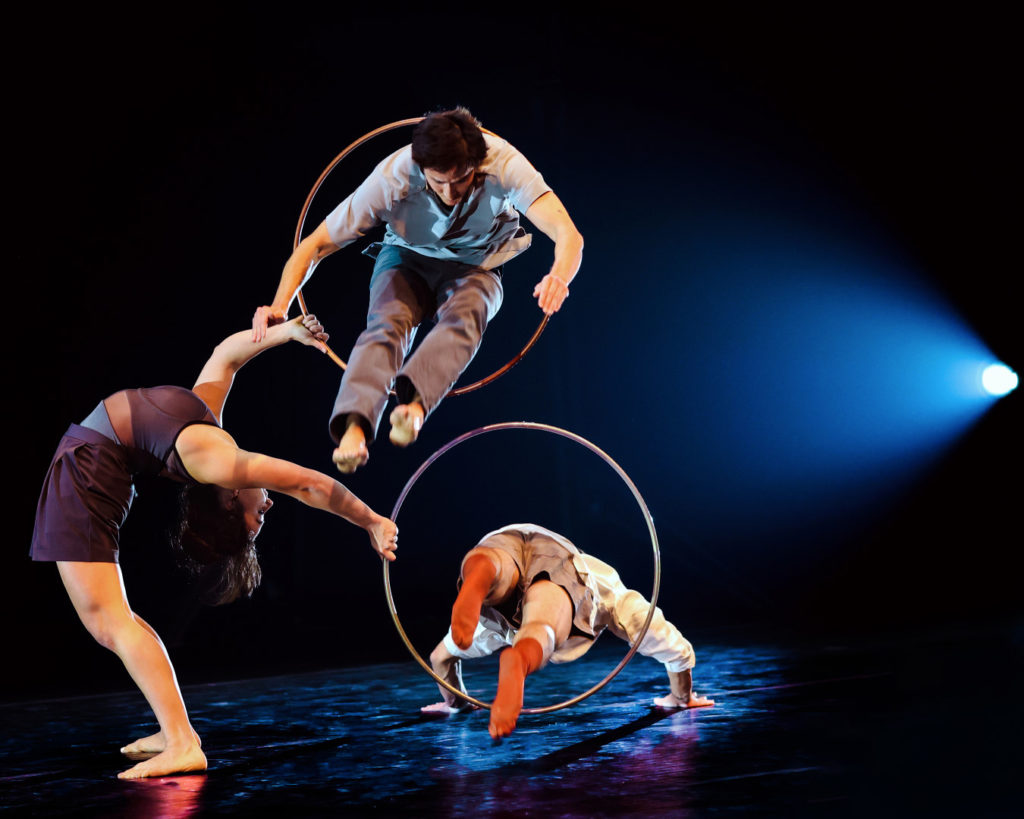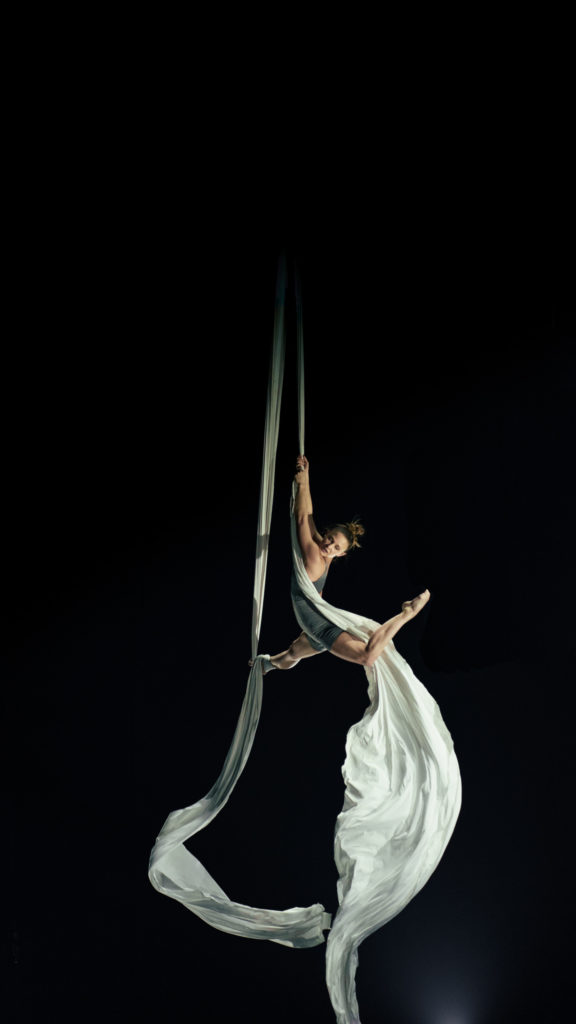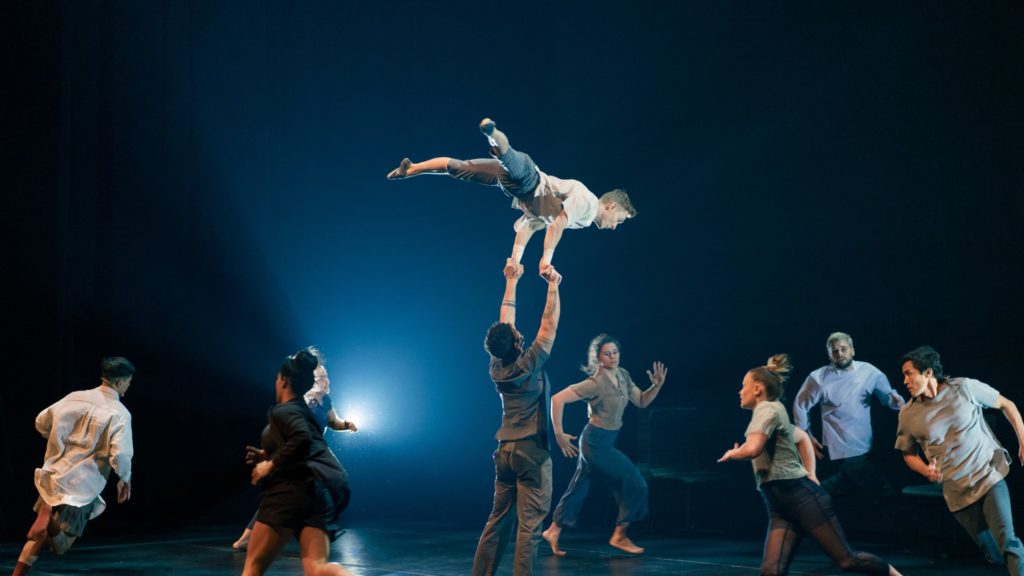 Role

Name

Cast
Eric Bates
Valérie Benoit-Charbonneau
Eduardo de Azevedo Grillo
Kaisha Dessalines-Wright
Marco Ingaramo
Nella Niva
Mandi Orozco
Santiago Rivera Laugerud
Méliejade Tremblay-Bouchard

—
—
Director, Writer & Choreographer
Shana Carroll
Assistant to the Director
Isabelle Chassé
Scenographer
Ana Cappelluto
Costume Designer
Camille Thibault-Bedard
Musical Director
Colin Gagné
Video Designer
Johnny Ranger
Video Animation
Yannick Doucet
Remi Borgeal
Head Coach
Francisco Cruz
Texts
Shana Carroll
Text, Einstein'train
Conor Wild
Project Manager
Sabrina Gilbert
Production Coordinator
Yagub Allahverdiyev
Technical Director
Simon Lachance
Michel Bisson
Lighting Designer
Eric Champoux
Stage Manager
Charlotte Legault
Karine Perron
Assistant to the Technical Director
Marie-Hélene Grisé
Video Coordinator
Dominique Hawry
Video Programmation
Laura-Rose R. Grenier
DOP – Shooting
Mark O Fearghail
Harley Francis
Sound Engineer
Jérome Guilleaume
Light Programmation
Stéphane Lecavalier
Electric Chief
Gabriel Fournier-El Ayachi
Trapeze Coach
Véronique Thibault
Creation Rigger
Stéphane Beauchet
Nicolas Lemieux
Set Design Assistant
Dominique Coughlin
Costume Assistant
Catherine Veri
Rigging Intern
Joanie Audet
Music, Lyrics, Sound Design & Arrangements
Colin Gagné
Contortion, Hula-Hoop & Trapeze Arrangements
Jean-Sébastien Leblanc
Juggling Lyrics
Boogat
Juggling Arrangements
Jérome Guilleaume
Music Composer: Opening, Tight Wire & Epilogue
Raphael Cruz
Tour Manager
Guillaume Biron
Tour Technical Director
Simon Carriere-Legris
Tour RIgger
Max Jouanneau
Tour Light Operator
Loriane Foisy
Tour Sound and Video Operator
Michael Amstadt