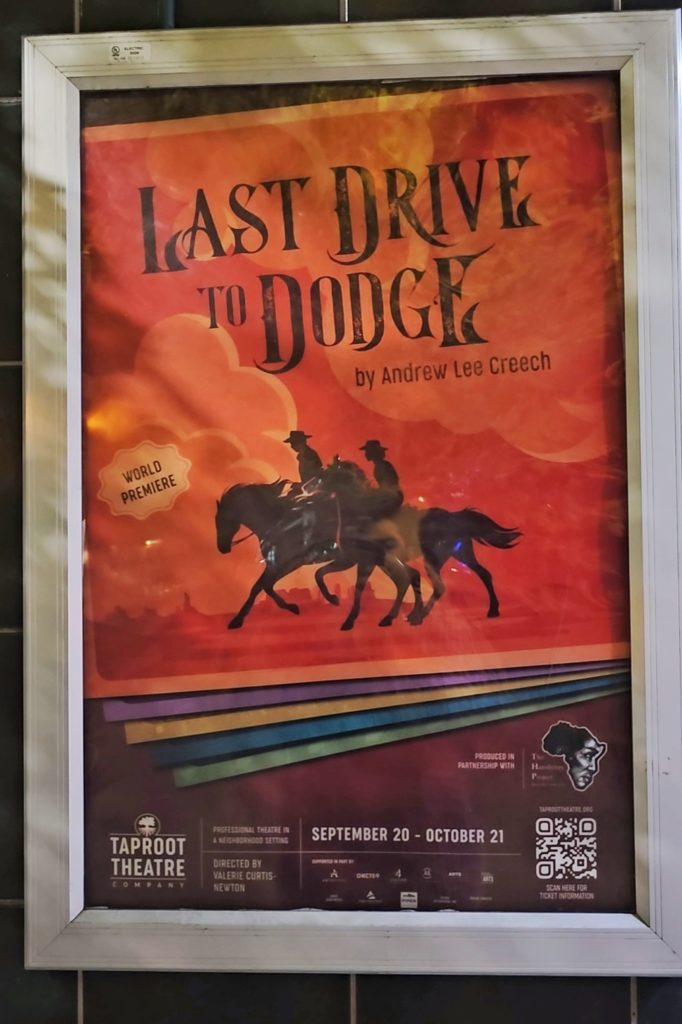 Elevator Thoughts (aka Tweet): Andrew Lee Creech's Last Drive to Dodge world premire play at Taproot Theatre w/ The Hansberry Project. Well-written dialogue, cute repartee, dimensional characters, and lots of audience reactions. #showsiveseen #theatre
Synopsis from the Theatre: Prophet and Ro are chasing dreams faintly whispered on the wind that sweeps the dusty Texas plain, where ranching is brutal work and change is on the horizon. Set at the end of the Cowboy Golden Age, Last Drive to Dodge examines race, love, and legacy in a time when everyone is scrambling for their piece of the American Dream.
Attended Performance Date: 9/22/23 (Opening Night) – Preview Posts
Type: Play
World Premiere: Yes, but it was well-developed
Several or Few Scenes: A couple of scenes
Several or Few Settings/Locations: A couple of locations on a ranch
Static (Stationary) Set: Yes
Prior Exposure/Knowledge Required: No
Defined Plot/Storyline: Mostly yes, but there's only so much that can occur on a ranch
Equity Actors: 2
Total Number of Actors: 4
Perceived Pace of the Show: Slow to medium speed
Length (Including Any Intermission): 2.25 hours
Was there an intermission?: Yes
Was This the First Time I Attended a Production of this Show: Yes
Would I See It Again 3 Years from Now?: Probably not, but it was good
Recommendation: See it, especially if you either like 1) plays about race in the USA 2) or plays that are heavier on the dialogue than action
Other Rave(s) Not Mentioned in Elevator Thoughts
Audience Reaction: You know it's a good play when you hear lots of reactions from the audience like laughter, gasps, groans, "humphs," and "hmmms." I noticed these audience reactions more in the second act. I won't spoil anything, but I specifically remember audibly groaning when somebody took off their hat in the second act.
Dimensional Characters: The characters in this play were not simply good or bad and black or white (no pun intended). The playwright added some depth to their backstory that influenced their motivations. Ironically, I enjoyed the least complex character (Millie played by Jonelle Jordan) the most since she had the funniest lines.
Dialogue: The dialogue was well-written and there were some sly funny random quips. I loved the way Ro (played by Dedra D Woods) dressed down Millie regarding Millie's ignorance of her own personal white privilege. The climactic scene towards the end of the play when Ro and Prophet (played by Yusef Seevers) debated the unfairness of black responsibility reminded me of when Michelle Obama said her family faced more scrutiny under the public eye than other presidential families because of race.
Twist: The reveal at the end of the first act was unexpected.
Rant(s)
Audience Hazard: One of the actors hammered a fence post on-stage and particulates flew everywhere. This was a potential eye injury hazard especially since the audience was so close to the stage.
Other Musing(s) and Observation(s)
Montage (Slight Spoiler): What did the "I am" video montage mean in the second act? And who were the people in it?
Prophet vs Profit: In the second act, I realized the name "Prophet" also sounds like "profit." I wonder if the playwright intentionally considered this.
Hook: They were probably taking advantage of the fact that sex sells during the play's first act hook with the post-coital scene.
Theatre Company: Taproot Theatre and The Hansberry Project
Venue: Jewell Mainstage at Taproot Theatre
Venue Physical Address: 204 N 85th St, Seattle, WA 98103
Price: Medium
Regular Tickets: https://taproottheatre.org/shows/2023/last-drive-to-dodge/
Ticket Affordability Options: Pay what you can days, GoldStar, and TodayTix.
Dates: September 20 to October 21, 2023
Seating: Assigned Seating
Parking: Paid lot or usually-free street parking. I always find free street parking on Greenwood Ave just South of the theatre.
Like/Comment/Share my Social Media Posts About this Performance:
Instagram | TikTok | Twitter | Facebook | YouTube | Threads
Buy a Ticket or Learn More:
Other Video +/- Pictures: See pictures in video and under video by Robert Wade Photography
Cast and Production Team: See after pictures and/or video below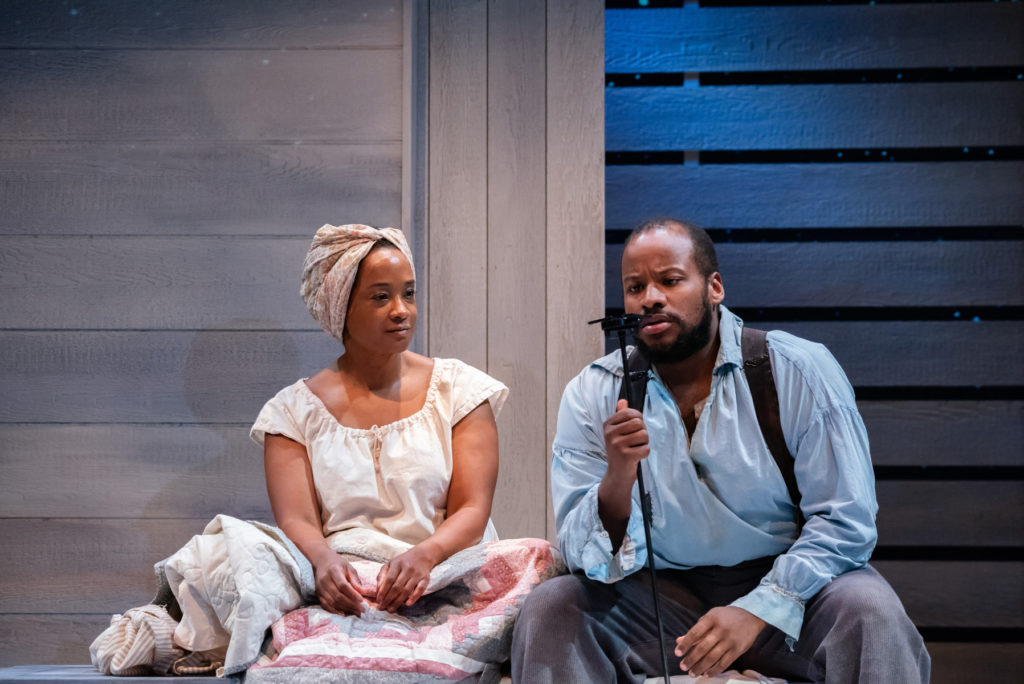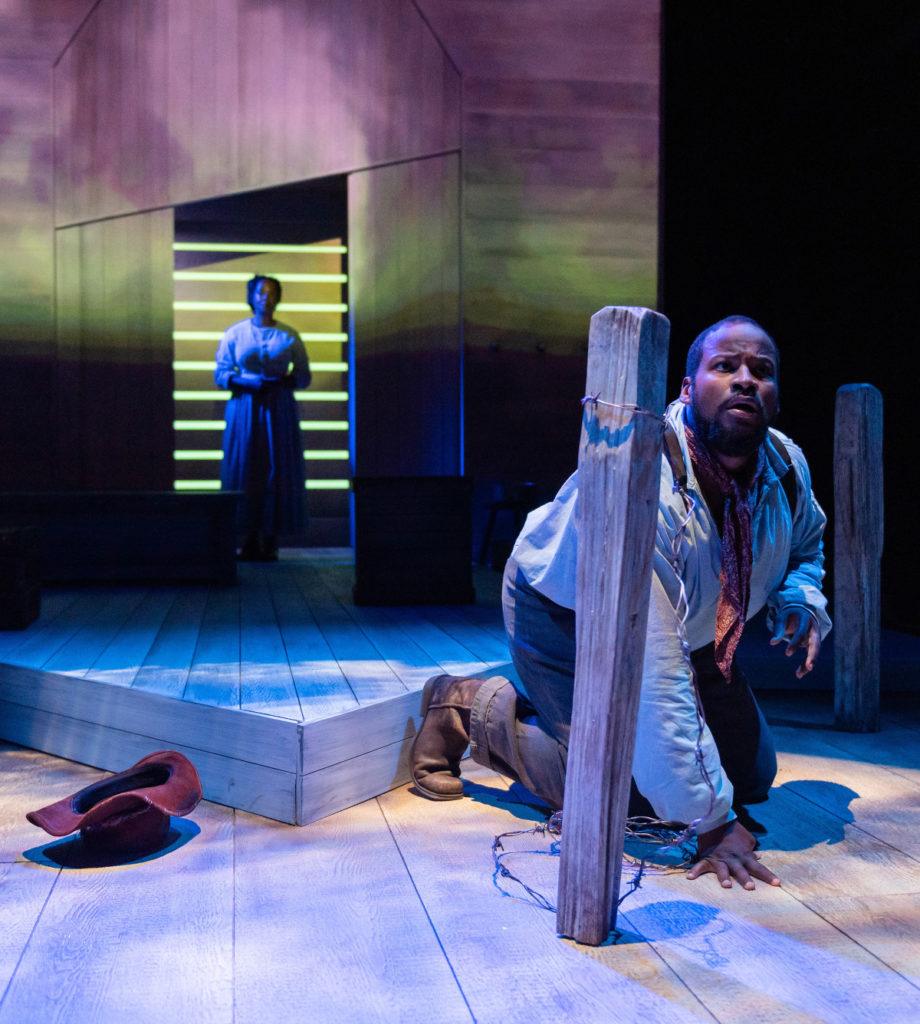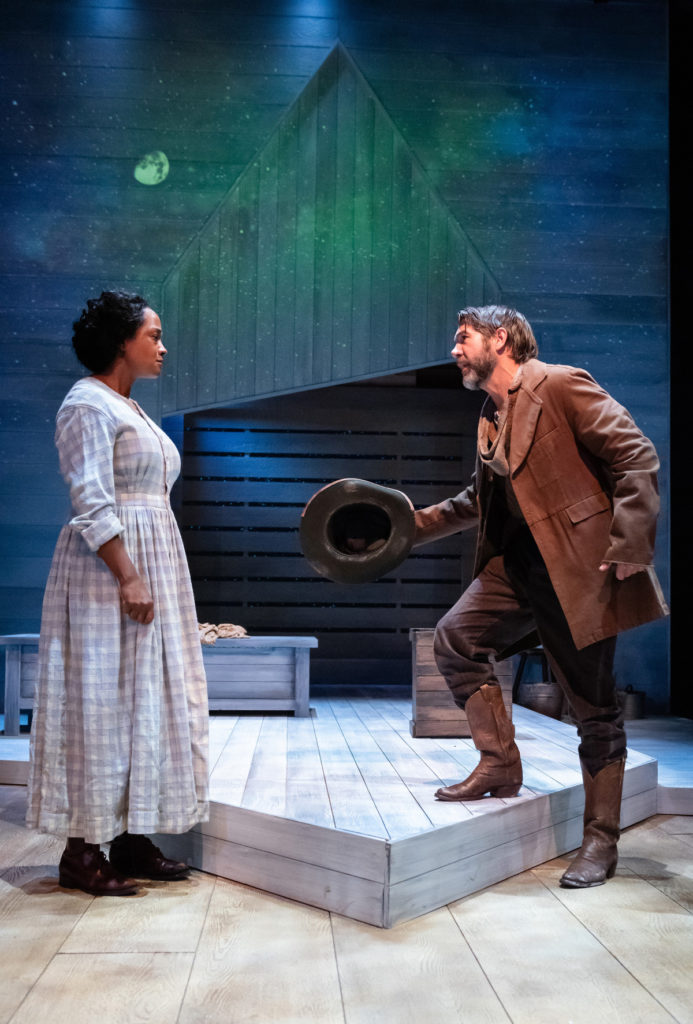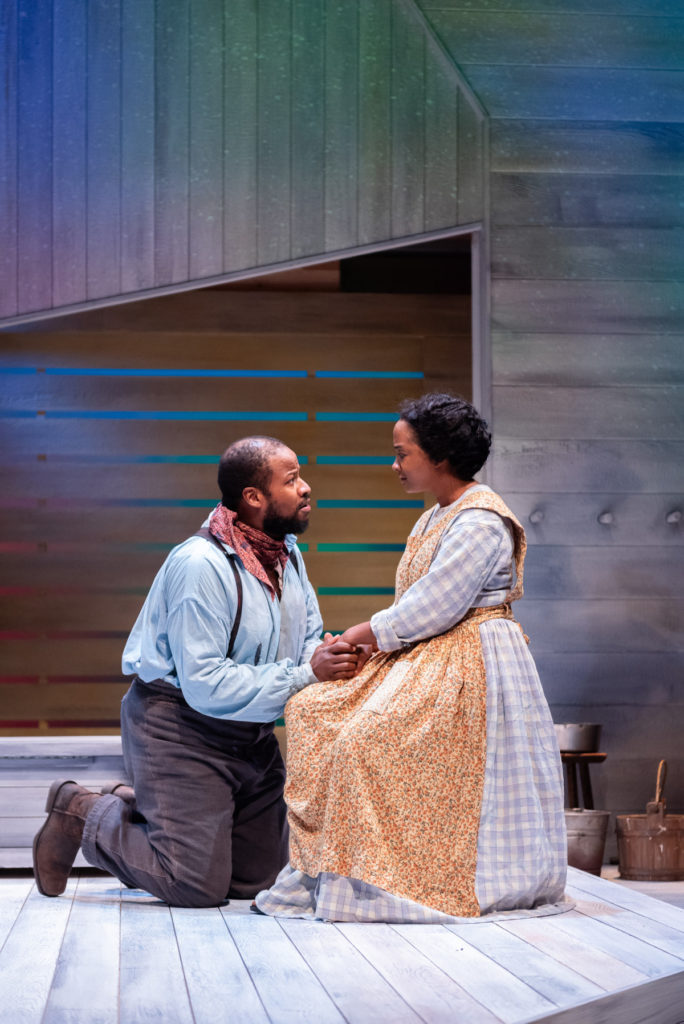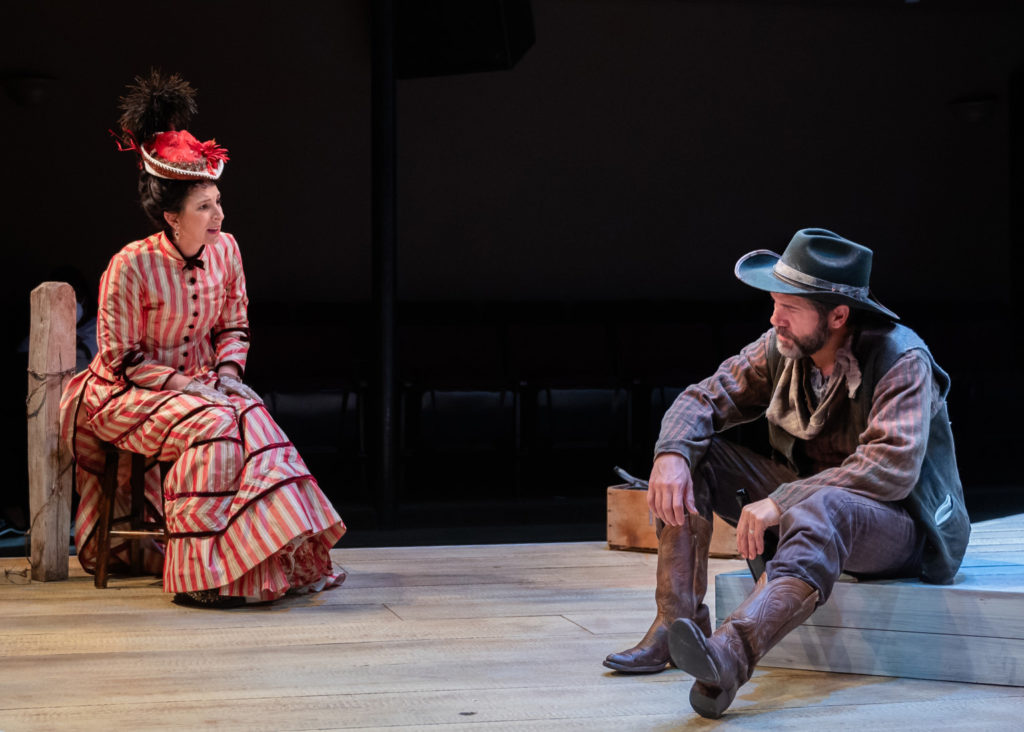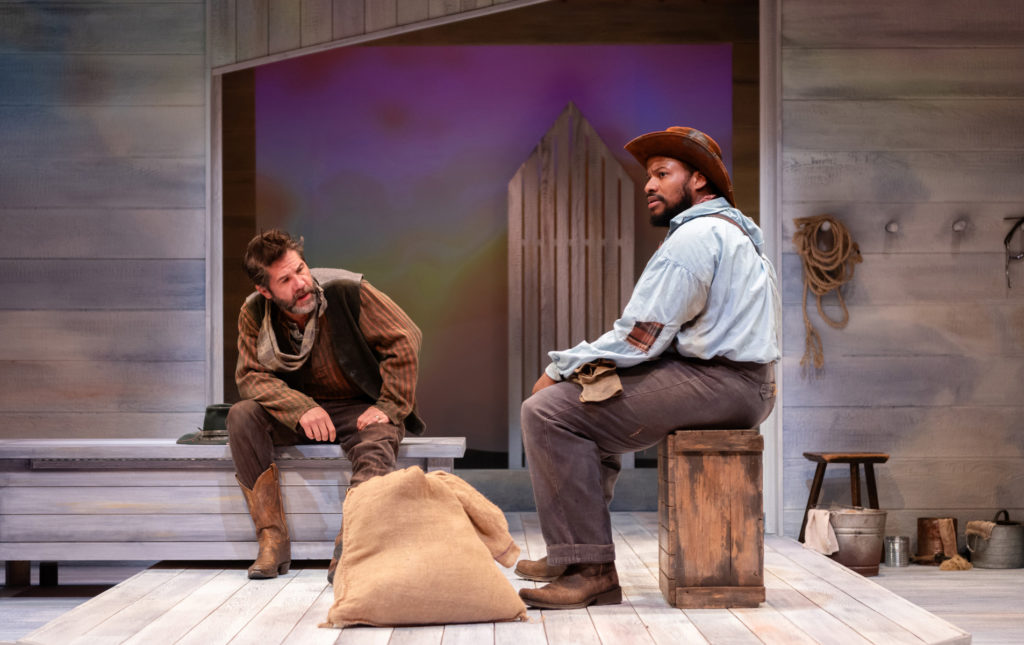 | | |
| --- | --- |
| Role | Name |
| Prophet | Yusef Seevers * |
| Ro | Dedra D. Woods * |
| Millie | Jonelle Jordan |
| Bennett | Tim Gouran |
| — | — |
| Prophet (Understudy) | Jarron A Williams |
| Ro (Understudy) | Esther Okech |
| Millie (Understudy) | Marianna de Fazio |
| Bennett (Understudy) | Nik Doner |
| — | — |
| Director | Valerie Curtis-Newton** |
| Assistant Director | Bretteney Beverly |
| Playwright | Andrew Lee Creech |
| Scenic Designer | Matthew Smucker^^ |
| Costume Designer | Melanie Burgess ^^ |
| Casting Director | Bretteney Beverly |
| Lighting Designer | Brian Engel |
| Sound Designer | Evan Mosher |
| Projection Designer | Mark Lund |
| Fight Choreographer | Alyssa Kay |
| Stage Manager | Kathryn Louise* |
| Dramaturg | Sonja Lowe |
| Dialect Coach | Gin Hammond |
| Props Designer | Bella Rivera |
| Assistant Stage Manager | Tiana Price |
| Property Master | Bella Rivera |
| Casting Consultant | Jessica Spencer |
| Dresser | Tiana Price |
| Draper | Martha Mitchell |
| Draping Mentor | Connie Rinchiuso |
| Stitchers | Veronica Dimoff, Scian Hayes |
| Wig Designer | Joyce Degenfelder |
| Wig Specialist | Kelly Schmidt |
| Scenic Carpenter | Tim Samland^ |
| Light Board Operator | Clint Bull |
| Sound Board Operators | Marty Sisk, Andi Villegas |
| Master Electrician | Aiyana Stephens |
| Electricians | Clint Bull, Jayde McCarrell, Kody Smith, Anna Van Vleet, Eric Wu |
| Scenic Strike/Load-In | Michael Adler^, Seth Branum^, Thomas Moore^ |
*Member of Actors Equity Association
**Members of the Stage Directors and Choreographers Society
^Member of IATSE No. 15
^^Member of United Scenic Artists Local 829