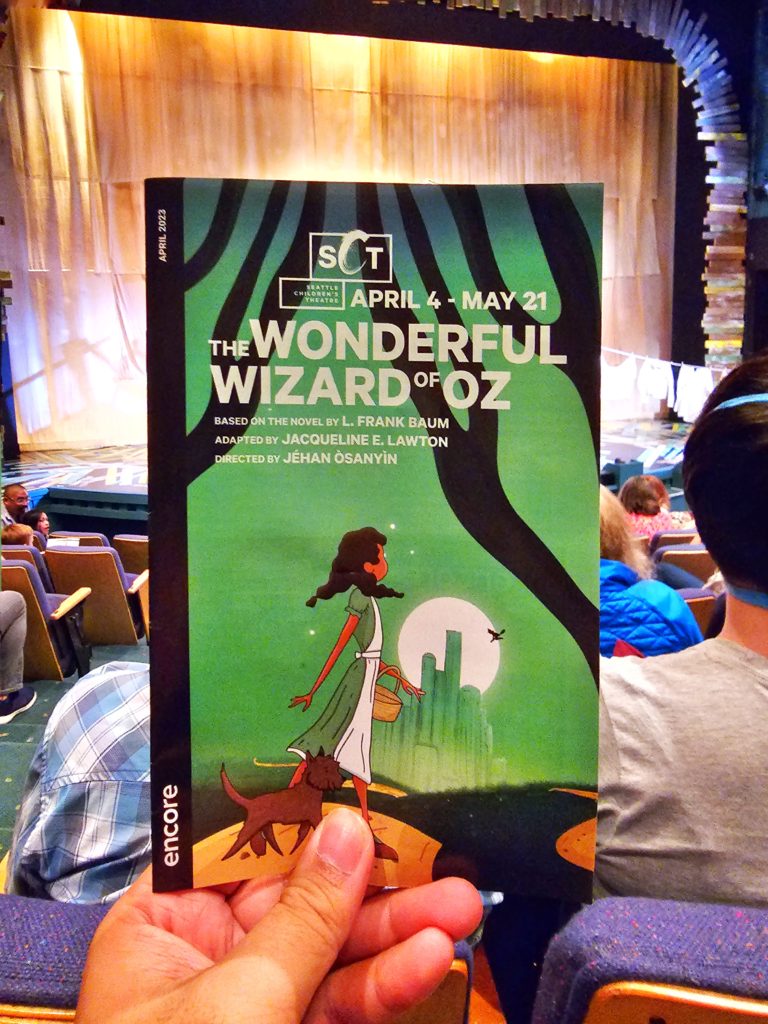 Elevator Thoughts (aka Tweet): The Wonderful Wizard of Oz play at Seattle Children's Theatre. Vibrant scenic design and costumes. Fabulous scarecrow portrayal from Nicolas Japaul Bernard.
Synopsis from the Theatre: Growing tired of her life in Kansas, Dorothy and her little dog Toto discover a new adventure in the wonderful and magical Land of Oz after a cyclone swoops them "somewhere over the rainbow." While following the yellow brick road to the Emerald City, Dorothy meets the Scarecrow, the Tin Man, and the Cowardly Lion, who quickly become her new friends. Together, they overcome their fears of witches, flying monkeys, and a haunted forest to learn if the Wizard can make their dreams come true.
Reviewed Performance: 4/7/23 Opening Night – Sorry for the late review! I was busy obtaining pictures and clarifying guidelines with the theatre. Fortunately, you still have more than a month to see this production.
Type: Play
World Premiere: No
Several or Few Scenes: Several
Several or Few Settings: Several
Prior Exposure Required: None but it wouldn't hurt to have seen the classic movie
Defined Plot/Storyline: Yes
Recommendation: See it if you want to treat your kids to live theatre. This show targeted audiences younger than teenagers. In contrast, most other Seattle Children's Theatre shows I've chosen to attend like The Boy Who Kissed the Sky and The Diary of Anne Frank could be enjoyed by adults without kids.
Was This the First Time I Attended a Production of this Show: Yes
Would I See It Again 3 Years from Now: Yes, if I had kids and it was another professional production
Rating Compared to Other Shows with the Same Production Value:
4.25 Stars (Out of 5 Stars)
Equity Actors: 2
Total Number of Actors: 12
Length (Including Any Intermission): 1 hour
Intermission: No
Other Rave(s) Not Mentioned in Elevator Thoughts
Design: The set and costumes were gorgeous. What a treat that children can experience the same level of production value as other professional theatres! See the pictures at the end of this review.
Scarecrow: Nicholas Japaul Bernard was delightful as the fabulous flamboyant scarecrow providing comic relief with Pippi Longstocking hair. His portrayal reminded me of his previous role as Pharus in Choir Boy at ACT Theatre.
Filipino Elements: Did they incorporate a barong and pagmamano (bless) in this show? If so, I'm digging the visibility as a Pinoy! It reminded me of Village Theatre's production of Mamma Mia.
Rant(s)
Mask: One of the performers was wearing a mask. While I acknowledge a person's right to continue wearing one in the workplace, this is probably the second or third time I've ever seen an actor wear a mask on-stage even when theatres reopened Fall 2021 … and I've seen almost 200 shows since COVID started! Masks on-stage are visually distracting and they muffle actors' lines. For the record, I'm not a staunch anti-masker. I actually still occasionally wear an N95 when I'm in the theatre to ensure my packed show schedule (of about 3 shows per week) is uninterrupted.
Stage Crew Visibility: It was a little distracting seeing the stage crew moving set pieces.
Tornado: I would have personally preferred the tornado scene to be more violent and treacherous … but I guess we don't want the young audience members to have nightmares!
Auditory Stimulation: The show felt a little too silent for kids, who are already accustomed to sensory overstimulation from the media. Plus, the colorful vibrant set begged to be accompanied with more sound. Maybe add more background audio.
Other Musing(s) and Observation(s)
Slippers: I didn't know the original book described the magic slippers as silver instead of the classic ruby red. Today I learned that the classic film's studio wanted to show off the new technicolor technology with more vibrant props.
Youth Actors: This production incorporated two sets of alternating youth actor casts. I'm sure the young people in the audience got a kick out of seeing their peers on stage.
Theatre Company: Seattle Children's Theatre
Venue: Seattle Children's Theatre
Venue Physical Address: 201 W Thomas St, Seattle, WA 98109
Price: Cheap to Medium
Ticket Affordability Options: Each performance has a value option available online. Also check out the theatre's discount page.
Dates: April 4 to May 21, 2023
Seating: Assigned Seating
Parking: Paid street parking or various paid parking lots/garages. Street parking is sparse when there's a major Seattle Center or Climate Pledge Arena event. I usually have good luck finding street parking around Lenny Wilkins Way next to the theatre on non-event days. I try to take the bus on event days since even the event street parking costs more than $12.
Like/Comment/Share my Social Media Posts About this Performance:
Instagram | TikTok | Twitter | Facebook | YouTube
Buy a Ticket or Learn More:
Other Video +/- Pictures: See pictures in video and under video below by Truman Buffett
Cast and Production Team: See after pictures and video below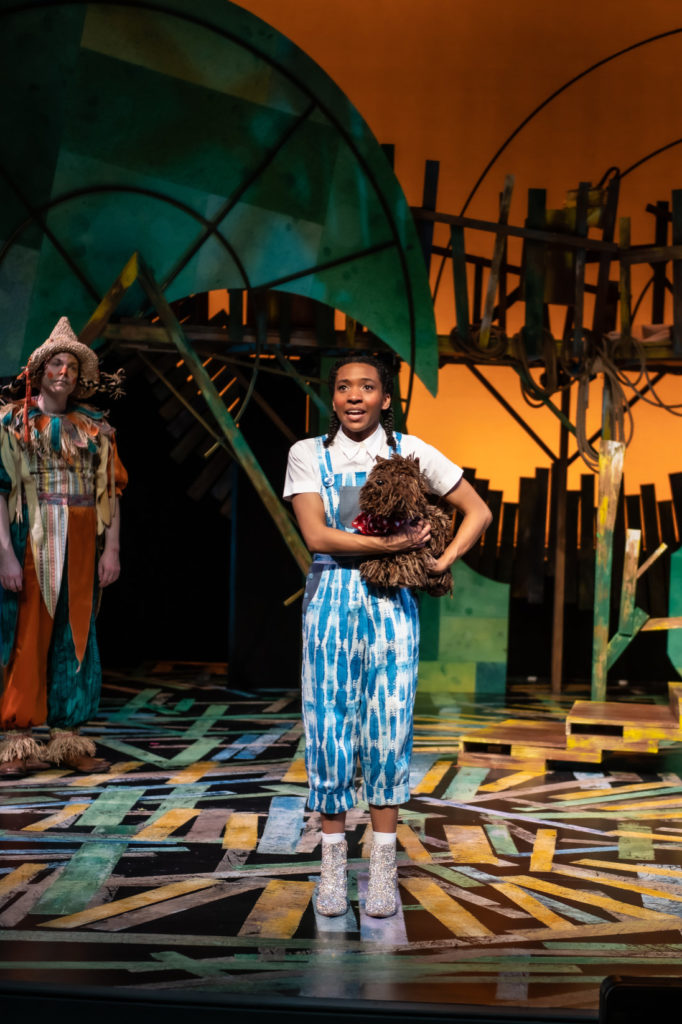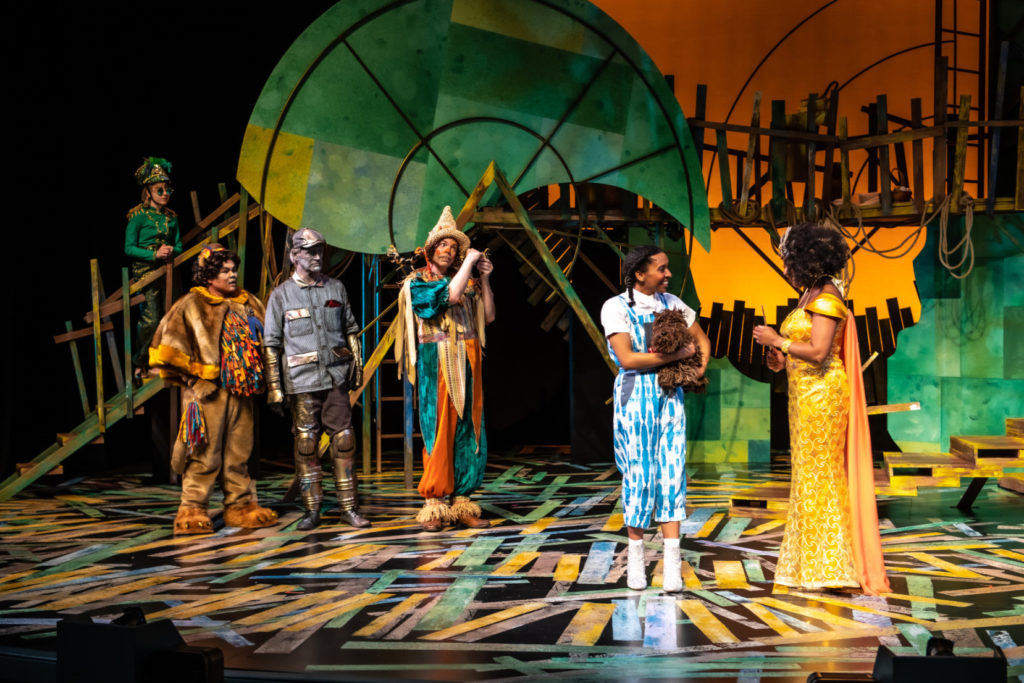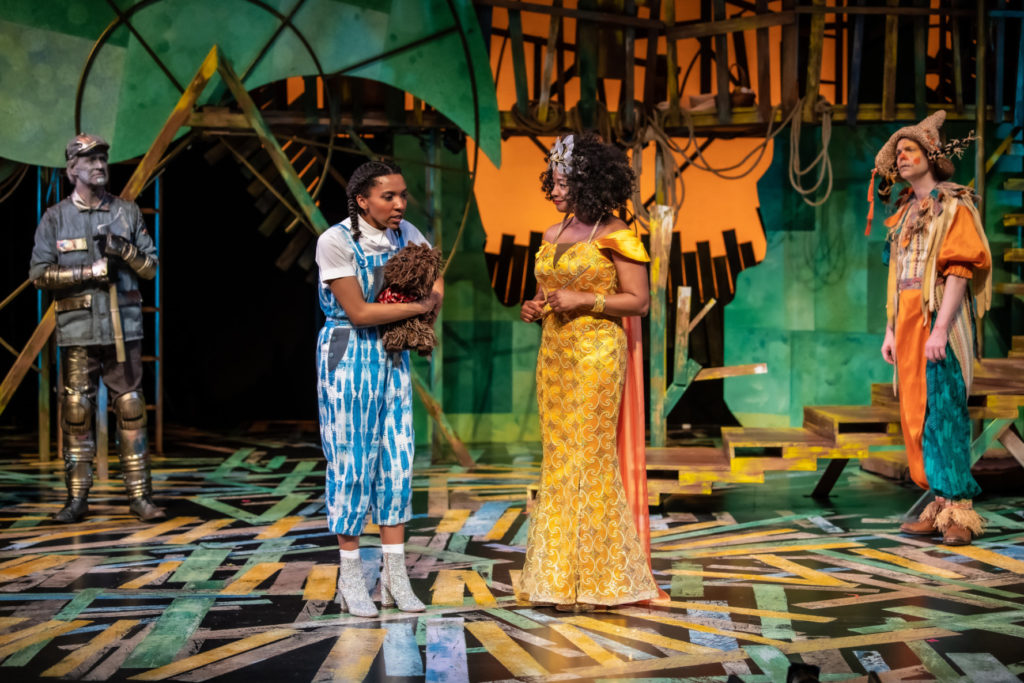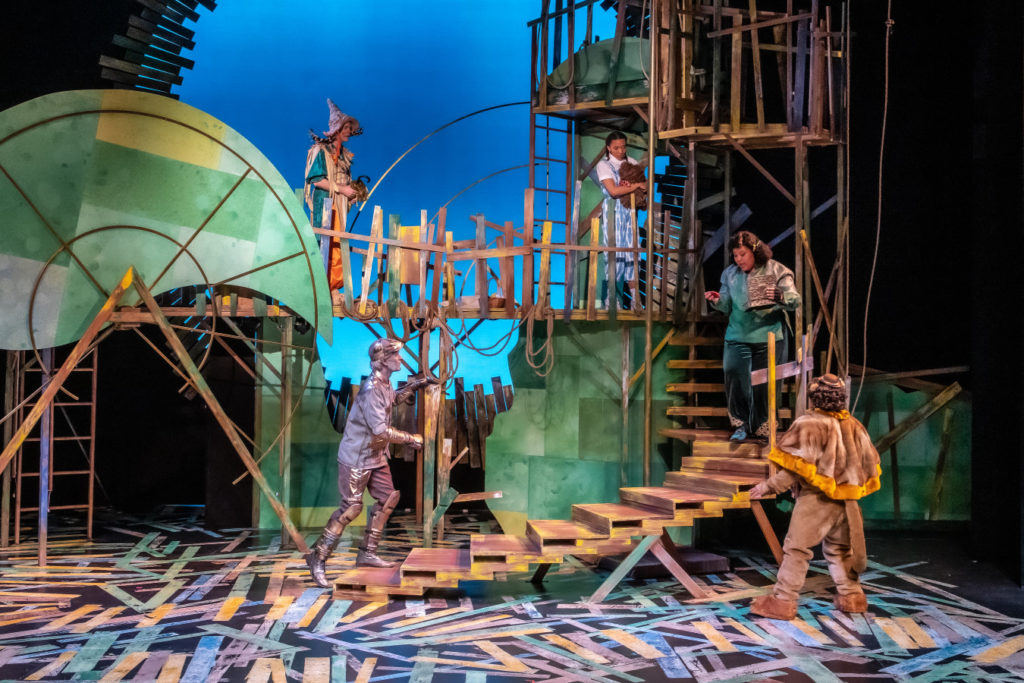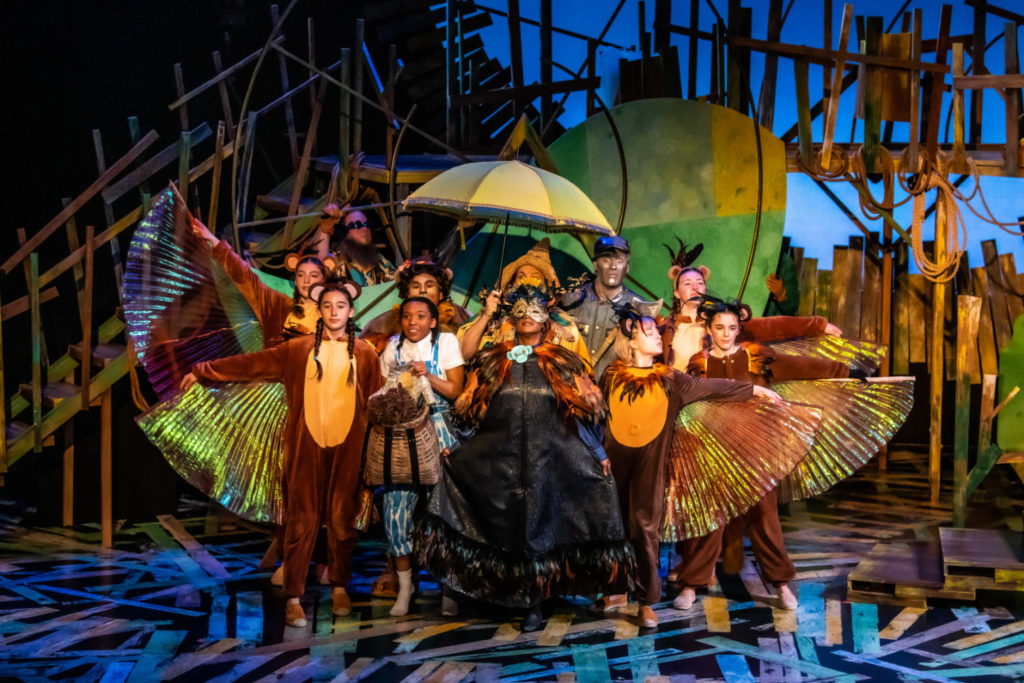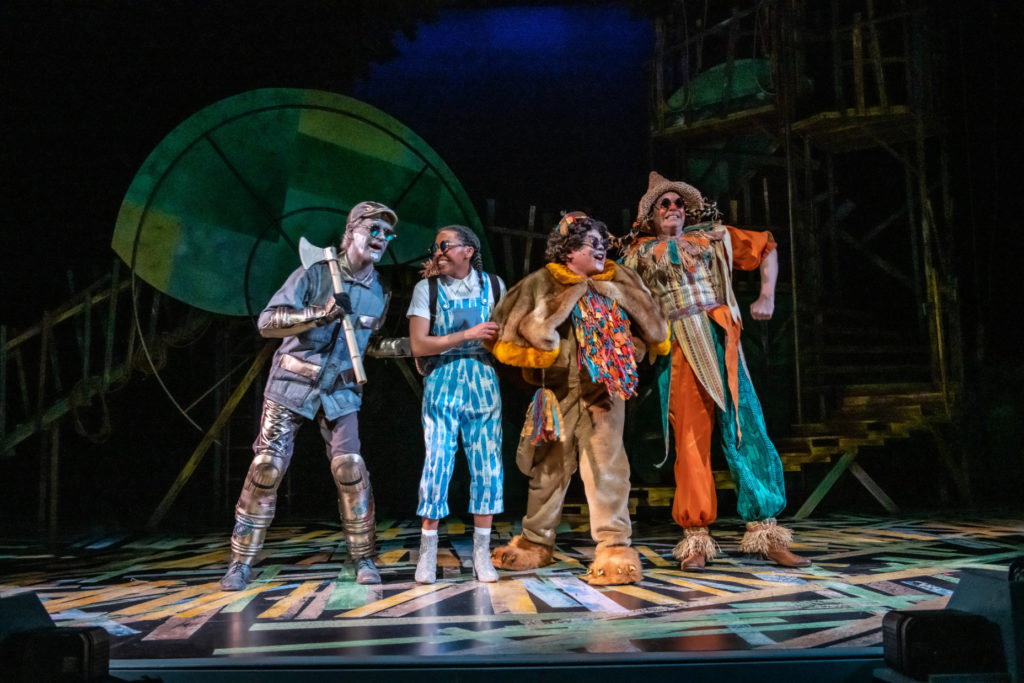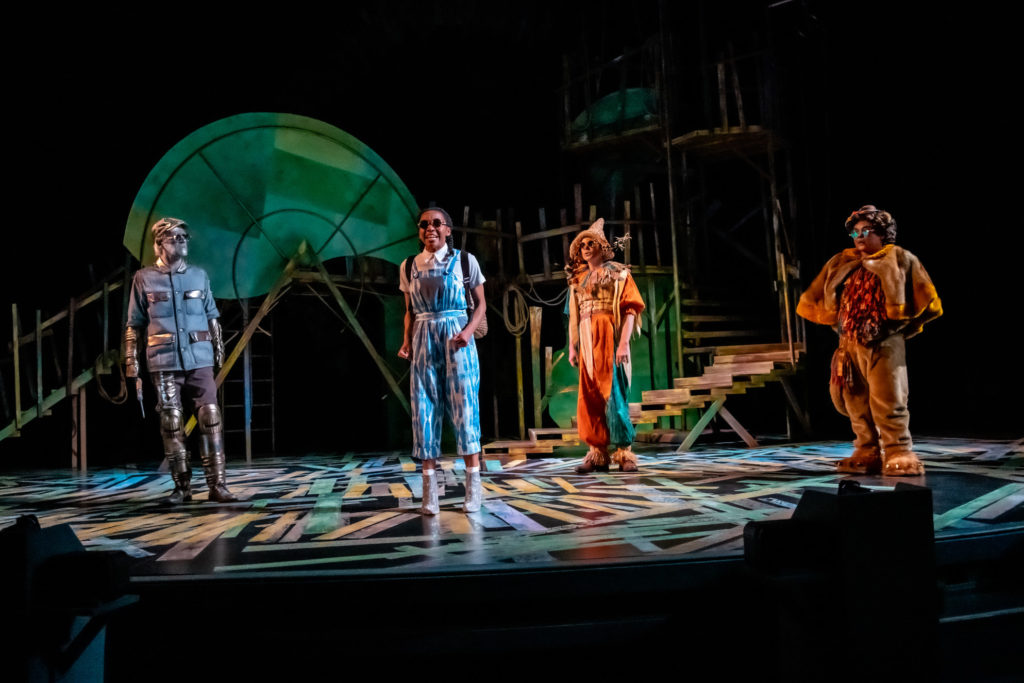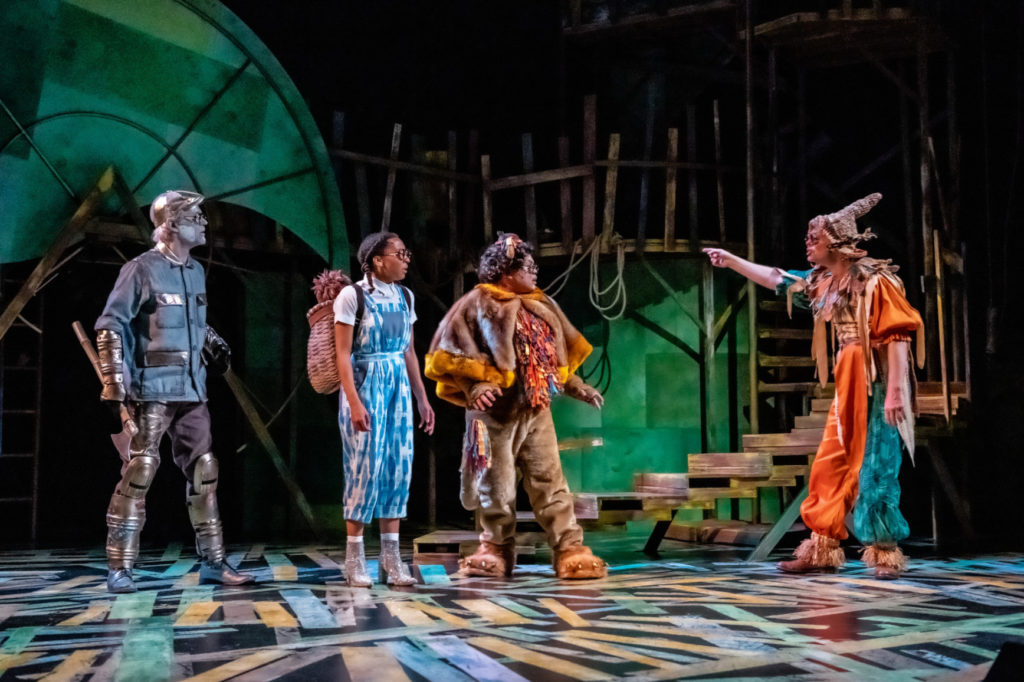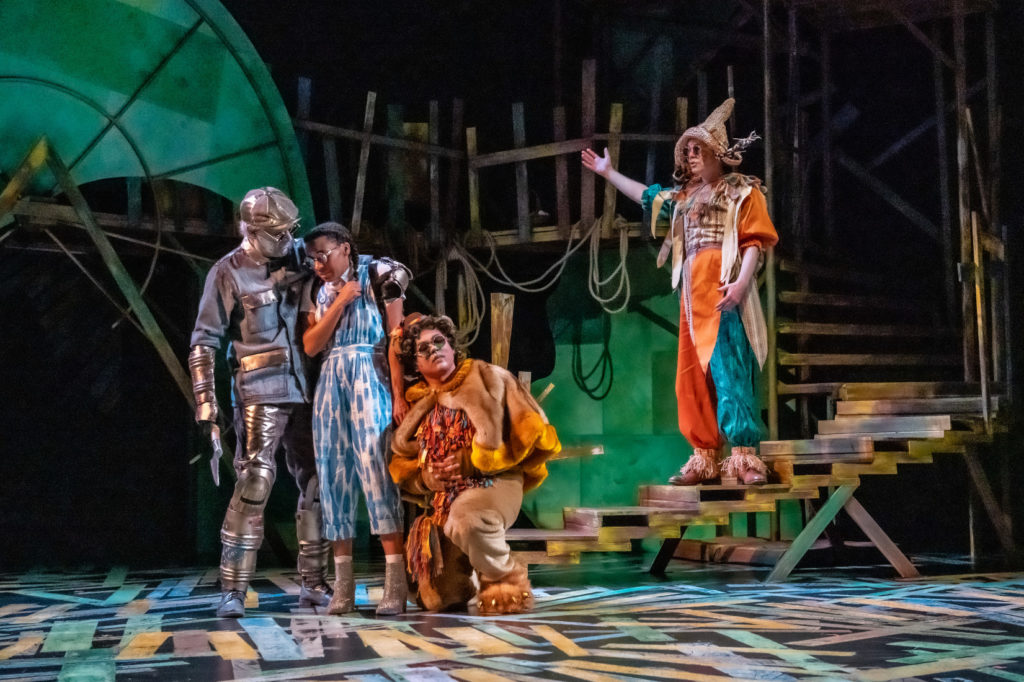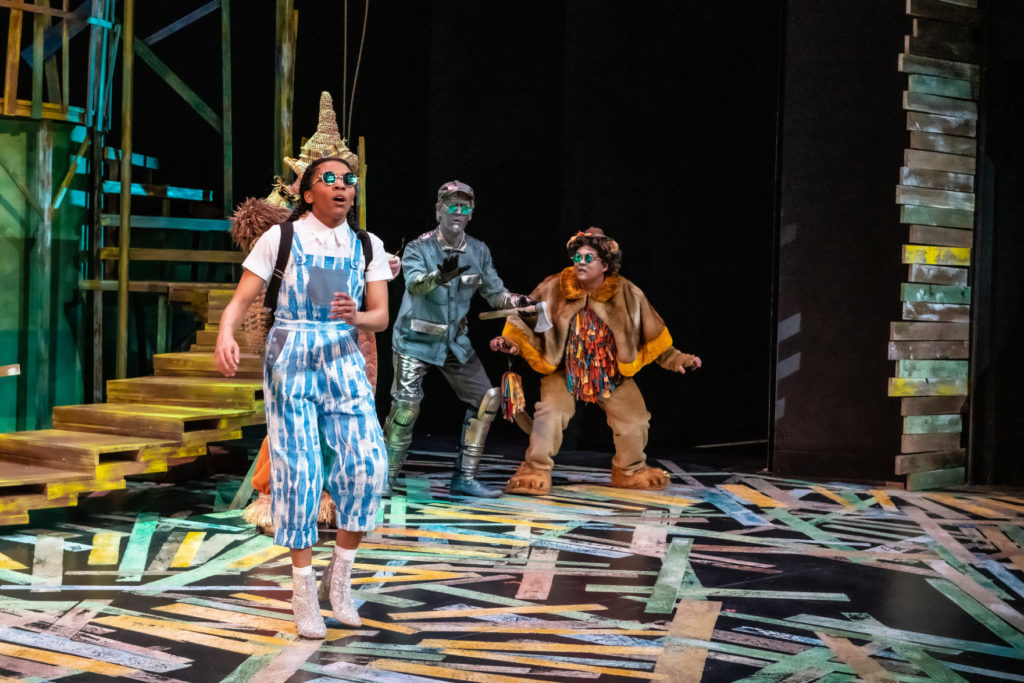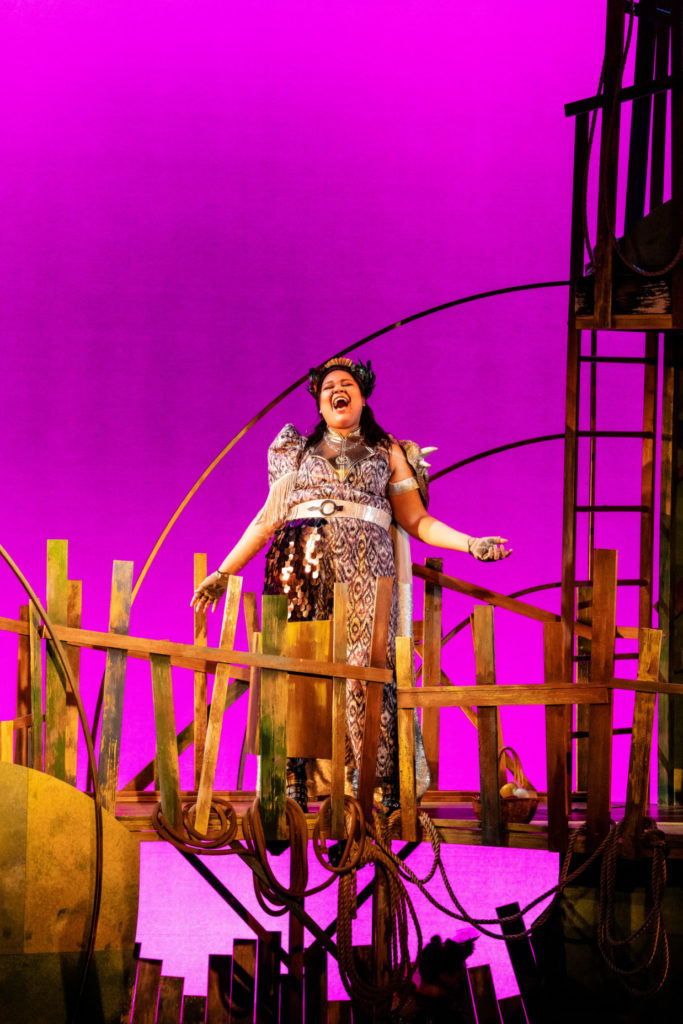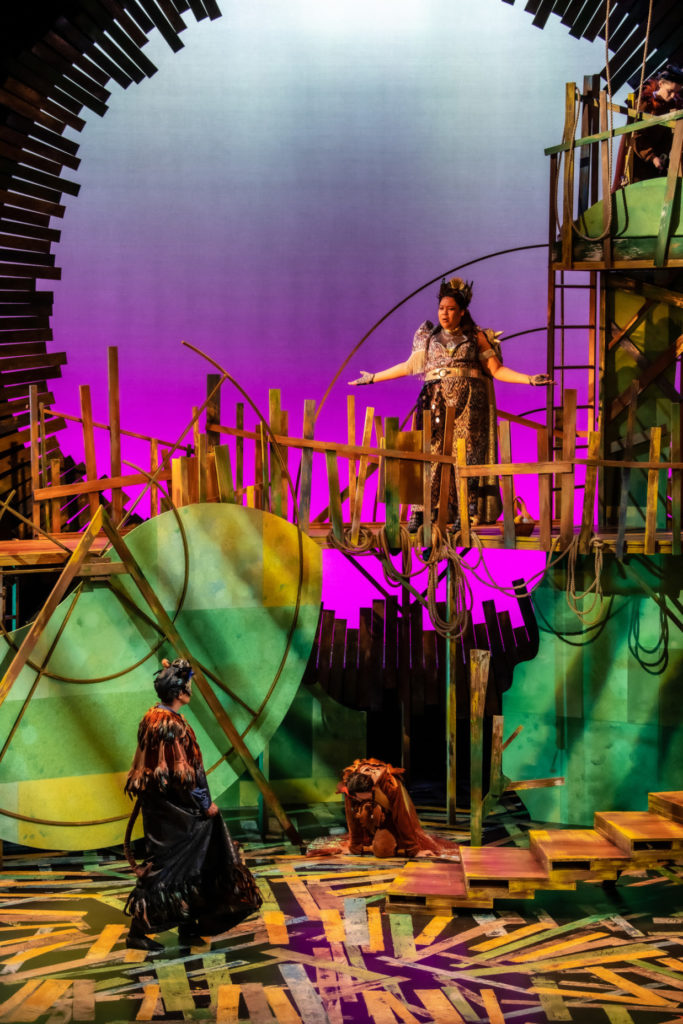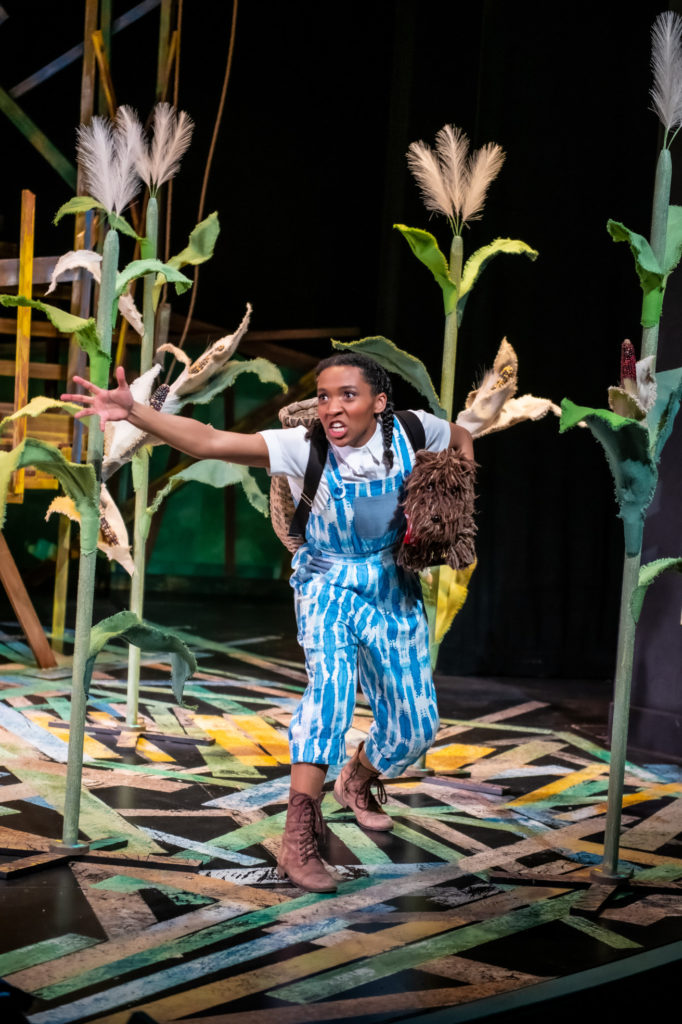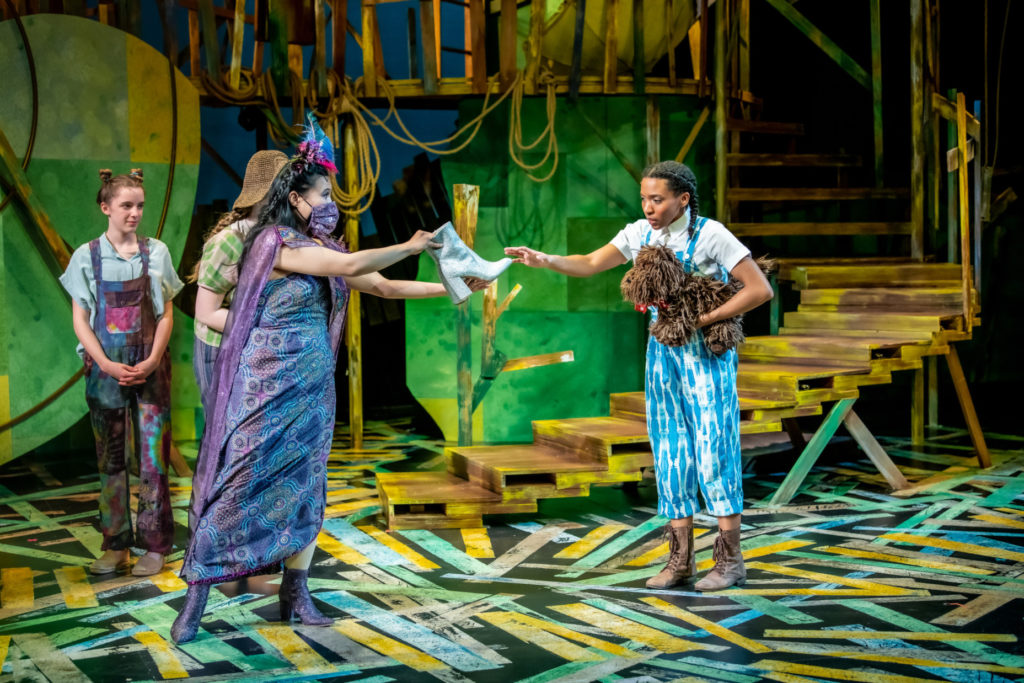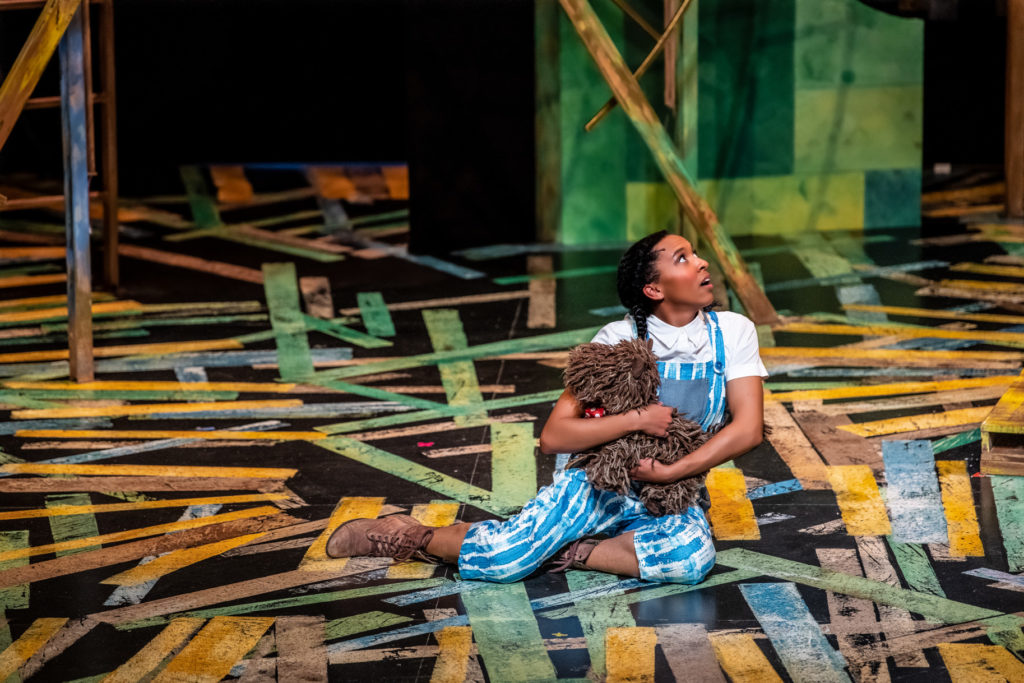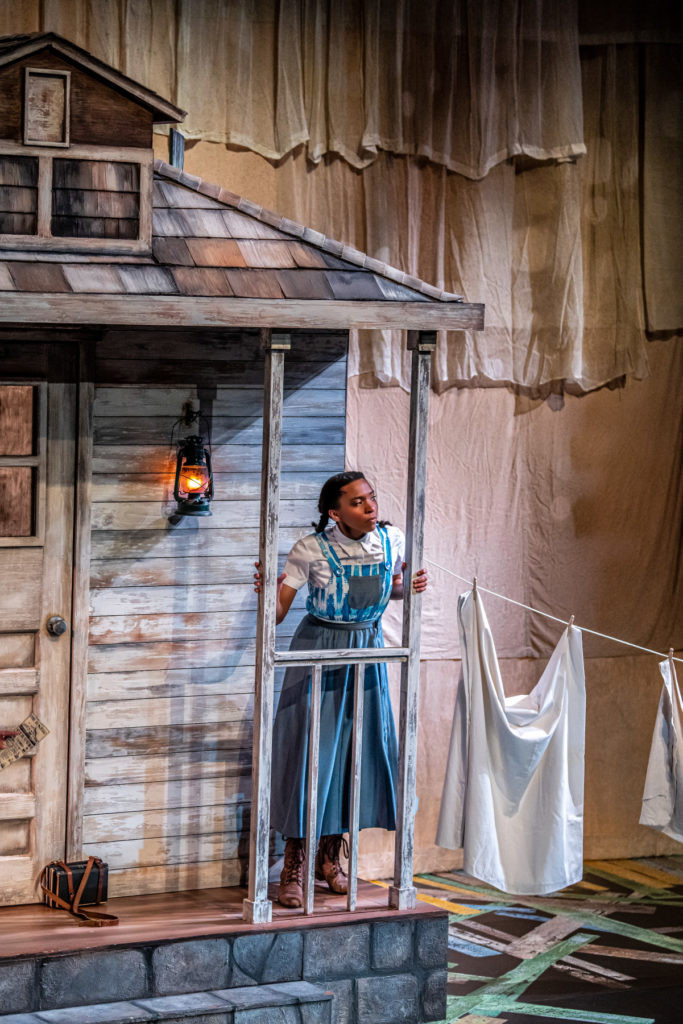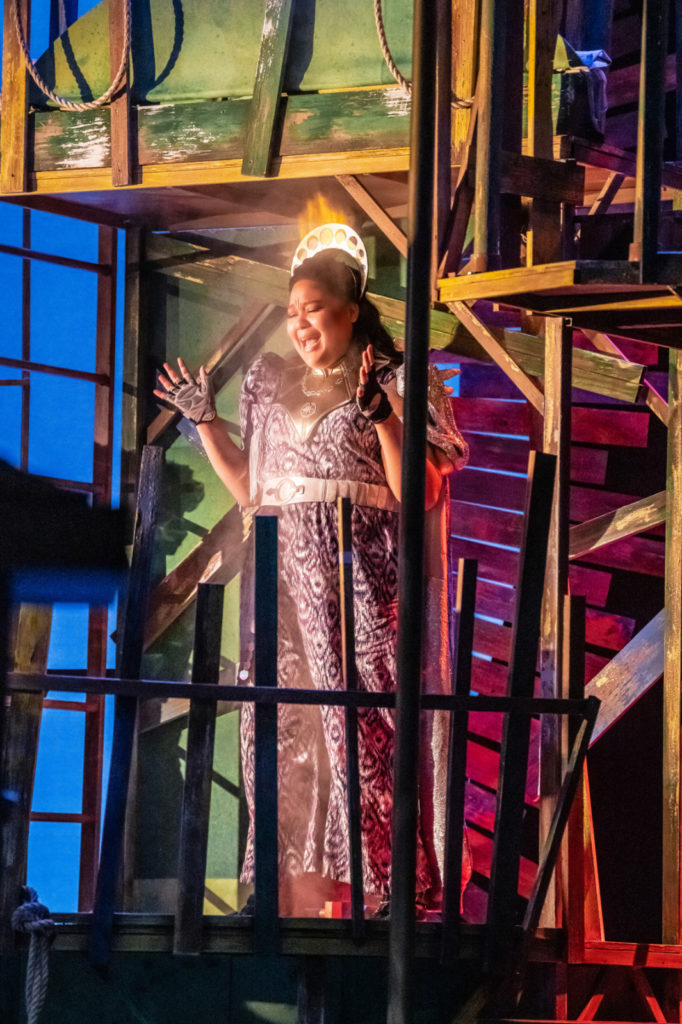 Role

Name

Scarecrow
Nicholas Japaul Bernard
Wizard of Oz/Wicked Witch Of The West
Roz Cornejo
Uncle Henry / Cowardly Lion
Jerik Fernandez
Aunt Em / Locasta, Good Witch of the North
Annelih Hamilton
Tin Woodman
Chad Kelderman*
Dorothy
Marena Kleinpeter
King of the Winged Monkeys / Glinda, Good Witch of the South / Hungry Wildcat
Dedra D. Woods*
—
—
Munchkin / Flying Monkey
Ian Bartlett, Ariadne Taw, Penelope Tobin, Emberly Hoke, Fiona Hurley, or Lillian Morris
Munchkin / Hungry Wildkitten / Flying Monkey
Zella Davidson or Tabitha Murphy Madden
Guardian of the Gates / Flying Monkey
Reagan Nino or Audrey Conner
Understudies
Gloria Alcalå
Avery Clark*
Bethanie Willis

—
—
Director
Jéhan Òsanyin**
Playwright
Adapted by Jacqueline E. Lawton from the novel by L. Frank Baum
Choreographer
Alice Gosti**
Scenic Designer
Julia Hayes Welch^
Costume Designer
Taya Pyne
Lighting Designer
Adem Hayyu^
Sound Designer
Erin Bednarz
Fight Director
Geoffrey Alm**
Wig & Hair Designers
Kafi Masika Modest Roberts
Costume Design Assistant
Natalie Shih
Makeup Artist
Meredith Keister
Stage Manager
Jamie J. Kranz*
Assistant Stage Manager
Quinn Chase*
Production Assistant
P. Alyda Sorm
Youth Cast Supervisor
Amy Jurkiewicz
Swing Youth Cast Supervisor
Lillia Nelson
* Actors Equity Association
^ United Scene Artists Member, Local 829
** Stage Directors and Choreographers Society Member