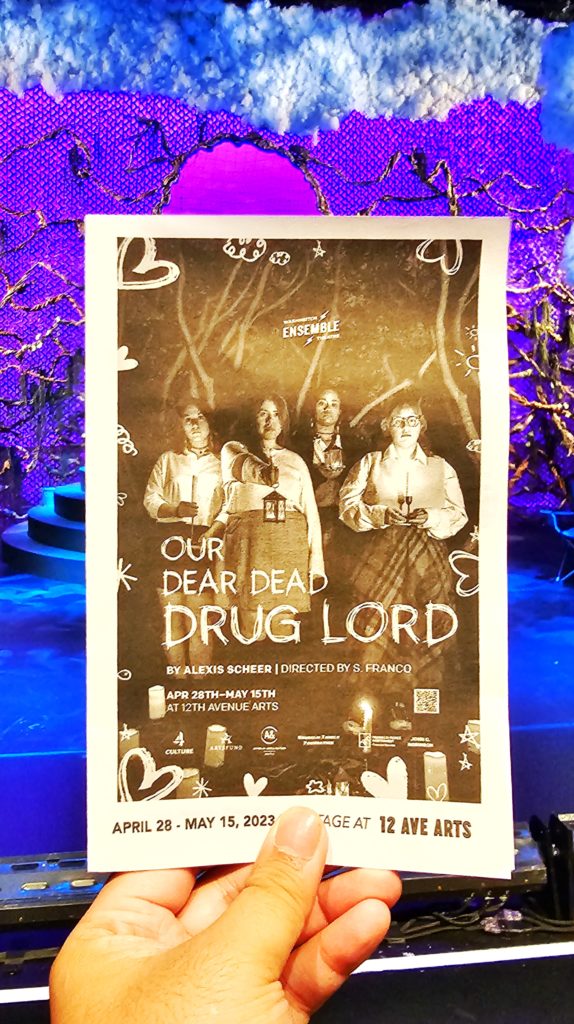 Elevator Thoughts (aka Tweet): Our Dear Dead Drug Lord play by Washington Ensemble Theatre at 12th Ave Arts. Middle-class suburban private school teens gone wild with cocaine, ouija board seances, & blood sacrifices. #PabloEscobar
Synopsis from the Theatre: Set in the face of the 2008 presidential election, the Dead Leaders Club meets in an abandoned treehouse to summon the ghost of Pablo Escobar. Are these teenage girls actually summoning the leader of the Medellín Cartel? Or are they just playing tricks on one another? This roller coaster ride through the trials and terrors of girlhood dabbles in blood sacrifice, the uncertainty of growing up, and a journey to unleash their personal power.
Reviewed Performance: 4/29/23 Opening Weekend
Type: Play
World Premiere: No
Several or Few Scenes: Several
Several or Few Settings: One, a treehouse
Prior Exposure/Knowledge Required: None
Defined Plot/Storyline: It was consecutive but not quite defined. There's only so much plot and storyline one setting can accomplish!
Recommendation: See it if you like plays that are weird and unconventional
Was This the First Time I Attended a Production of this Show: Yes
Rating Compared to Other Shows with the Same Production Value:
4.25 stars (Out of 5 Stars)
Equity Actors: 0
Total Number of Actors: 4 but there were 2 other actors mentioned in the program who I assume were the background voices
Length (Including Any Intermission): 90 minutes
Intermission: No
Other Rave(s) Not Mentioned in Elevator Thoughts
Trapdoor: The play takes place in a treehouse, so the actors entered/exited from a trapdoor, which was novel.
Tissue: One of the characters blew their nose with tissue from their padded bra. It was a funny way to show the audience how young the characters were.
Favorite Line: "I lost my virginity while watching [President] Bush II's 'we got him' speech. So basically, I'm fucked."
Other Musing(s) and Observation(s)
Meaning: I couldn't assimilate the message from this play. Was there any symbolism? If so, I missed it.
Theatre Company: Washington Ensemble Theatre
Venue: 12th Avenue Arts
Venue Physical Address: 1620 12th Ave, Seattle, WA 98122
Price: Cheap
Dates: April 28 to May 15, 2023
Seating: General Admission
Parking: Paid lot or paid street parking. Street parking is extremely limited since it's Capitol Hill. Your best luck would be East of Cal Anderson Park on 11th or 12th Ave. Cheapest paid lots are on 11th Ave next to the park. I highly suggest parking far away or taking the bus since the lots are expensive in Capitol Hill.
Like/Comment/Share my Social Media Posts About this Performance:
Instagram | TikTok | Twitter | Facebook | YouTube
Buy a Ticket or Learn More:
Other Video +/- Pictures: Sorry, I'm still waiting for the theatre company to send me press pictures. In the meantime, see my video below.