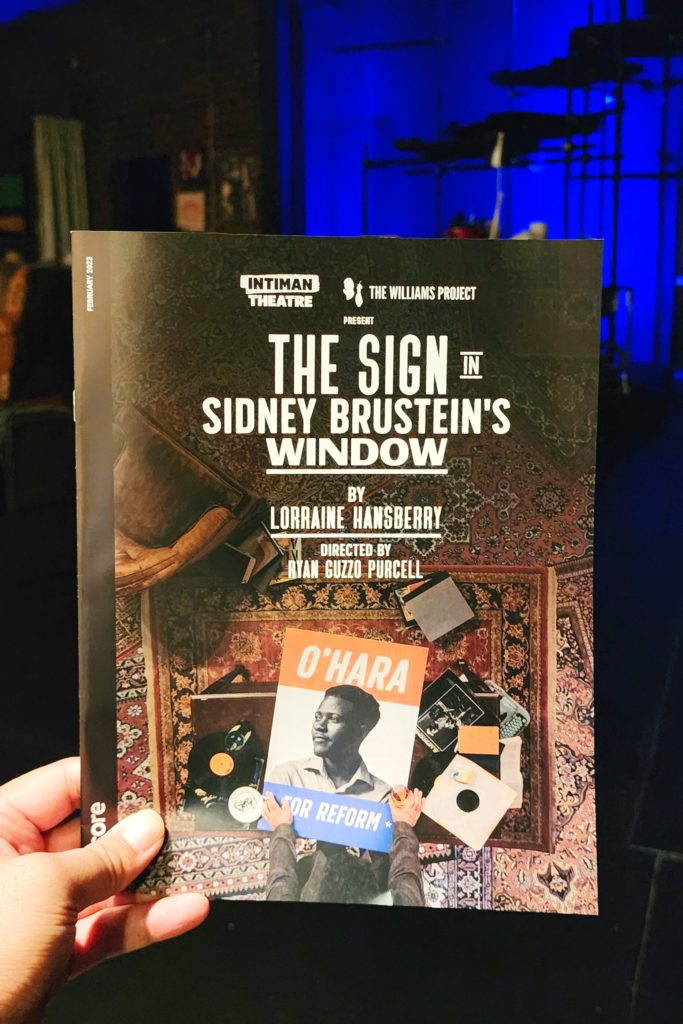 Elevator Thoughts (aka Tweet): The Sign in Sidney Brustein's Window play at Erickson Theatre w/ Intiman Theatre and The William's Project. Well-written dialogue & strong acting. Intellectual, artsy, & bohemian in an NYC way.
Synopsis from the Theatre: It's Greenwich Village in 1964, and Sidney Brustein's living room is the place to be. The neighborhood bohemians gather here to drink, listen to records, and argue about politics, art, and sex. Soon, Sidney stumbles into owning a local newspaper and the arguments become more heated. With a marriage on the rocks, no money, and friends advocating for different causes, this aging idealist is forced to decide what he truly believes. Brimming with humor and pulling no punches, The Sign in Sidney Brustein's Window asks us all: how much are you willing to sacrifice to live your ideals?
Reviewed Performance: 2/9/23 on opening night
Type: Play
World Premiere: No
Defined Plot/Storyline: No – It was a lot of talking, which I usually don't like but I still enjoyed the play because of the good scenes, writing, and acting.
Recommendation: See it if you don't hate plays with a lot of talking and little action.
Was This the First Time I Saw a Production of this Show: Yes
Rating Compared to Other Shows with the Same Production Value:
4.25 Stars (Out of 5 Stars)
Equity Actors: 6
Total Number of Actors: 7
Length (Including Any Intermission): A whopping 3 hours!
Intermission: Yes
Other Rave(s) Not Mentioned in Elevator Thoughts
Scenes: There were countless powerful scenes in this production partly because of brilliant writing and partly because of good execution. Many of the scenes were monologue-like breaks. My favorite was probably Alton's (Chip Sherman's) tense commentary about how African Americans have been accepting the scraps from white people for years. Iris's (Caitlin Duffy's) description of the actor's audtion process was also memorable with her strangely vivid storytelling.
Waterfall: There was a neat waterfall at the beginning of the second act that added artistic value to the production.
Costumes: The sparkly dresses that Iris and Gloria wore were stunning.
Rant(s)
Press Ticket/Media: I contacted Intiman Theatre twice for a possible press review ticket and for production photos but I did not receive any response. UPDATE 3/4/23: After I posted this review, the Intiman Instagram account messaged me how to get added to the press list.
Other Musing(s) and Observation(s)
Message: The playwright Lorraine Hansberry left a rich fodder for analysis with quotable lines and powerful scenes. But I couldn't grasp any cohesive central moral of the play. Was it a nihilistic commentary about the futility of idealism and altruism?
Sign: If the sign was important enough to mention in the play's title, what did the sign symbolize? Failed idealism?
Cutting Remarks: While I love watching cutting insults on-stage, why was Sidney such a dick to Iris?
Intellectuals: Was it just me or were the characters (Sydney in particular) reminiscent of pretentious highbrow hipsters who only listen to records, only drink single malt whisky, and are blissfully unaware of their privilege?
Theatre Company: Intiman Theatre and The William's Project
Venue: Erickson Theatre
Venue Physical Address: 1524 Harvard Ave, Seattle, WA 98122
Price: Cheap to Medium-Expensive
Ticket Affordability Options: The ticketing website offers honor code discount options for students, military, industry, … or anybody. There are also 20 free rush tickets 1 hour before each performance.
Dates: February 7 to 25, 2023
Seating: Assigned Seating
Parking: It's Capitol Hill … so good luck. Try to take the bus. The cheapest parking I could find was $10 on Harvard Avenue west of Seattle Central College.
Like/Comment/Share my Social Media Posts About this Performance:
Instagram | TikTok | Twitter | Facebook | Youtube
Buy a Ticket or Learn More:
Other Video +/- Pictures: See TikTok video below
Cast and Production Team: See after video
| | |
| --- | --- |
| Role | Name |
| Sidney Brustein | Max Rosenak* |
| Alton Scales | Chip Sherman |
| Iris Parodus Brustein | Caitlin Duffy* |
| Wally O'Hara / Max | Holiday* |
| Mavis Parodus Bryson | Alexandra Tavares* |
| David Ragin | Lee Lebreton* |
| Gloria Parodus | Francesca Root-Dodson* |
| — | — |
| Director | Ryan Guzzo Purcell |
| Playwright | Lorraine Hansberry |
| Scenic and Costume Designer | An-Iin Dauber |
| Lighting Designer | Geoff Korf^ |
| Sound Designer | M.L. Dogg ^ |
| Production Stage Manager | Laurel Nichols* |
| Assistant Stage Manager / Covid-19 Safety Manager | Nik Nolen |
* Member of Actors' Equity Association, the Union of Professional Actors and Stage Managers in USA
^Member of United Scenic Artists, Local USA 829, IATSE